Sports > WSU football
Recap and highlights: Defense powers Washington State past Colorado for first Pac-12 win
Oct. 19, 2019 Updated Sat., Oct. 19, 2019 at 10:52 p.m.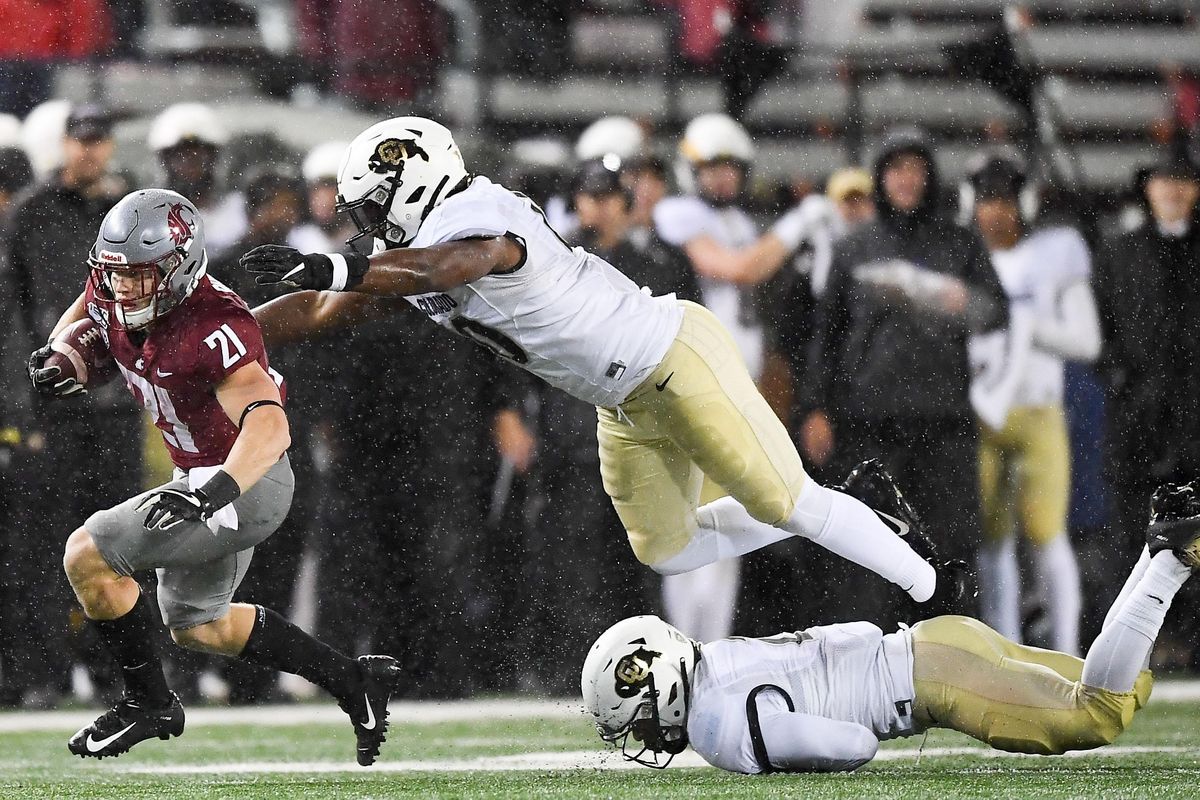 Washington State Cougars running back Max Borghi (21) runs the ball during the second half of a college football game on Saturday, October 19, 2019, at Martin Stadium in Pullman, Wash. WSU won the game 41-10. (Tyler Tjomsland / The Spokesman-Review)
PULLMAN – A date with the Colorado offense was the right antidote for the struggling Washington State defense.
The Cougars forced three turnovers and held the Buffaloes without a passing touchdown in a 41-10 home victory Saturday, their first of the Pac-12 Conference season and their third in as many seasons against Colorado.
Anthony Gordon boosted his season touchdown total to 29 with four more on a rainy evening at Martin Stadium. He threw for 369 yards, including 109 to senior Brandon Arconado, who returned after missing two games with a lower-body injury and scored his second touchdown of the season.
Sophomore Max Borghi touched the ball 21 times, a career high, for 162 yards and two touchdowns. The Colorado native now has nine touchdowns on the season, tying receiver Easop Winston Jr. for the team lead.
After giving up more than 500 yards of offense and 10 passing touchdowns in losses against Arizona State, Utah and UCLA, the Cougars' defense held the Buffaloes' offense to 320 yards. For the third straight year senior quarterback Steven Montez failed to throw a touchdown pass against Washington State (4-3 overall, 1-3 Pac-12).
Montez finished 16 of 30 for 129 yards on Saturday, and in three career games against the Cougars he went a combined 40 of 78 for 349 yards. The Cougars finished with three interceptions, doubling their season total.
Colorado dropped to 3-4 overall and 1-3 in the Pac-12. – Dan Thompson, for The Spokesman-Review
---
Highlights: Washington State 41, Colorado 10
Pac-12 Networks / YouTube
---
First quarter
10:53 – WSU 0, Colorado 0: Colorado kicker James Stefanou misses a 48-yard field goal attempt and the Buffaloes come up empty on the game's first possession.
Colorado went 39 yards in 8 plays before coach Mel Tucker decided to call on the field goal unit on fourth-and-2.
Quaterback Steven Montez completed 3 of 4 passes for 26 yards on the drive.
8:42 – WSU 7, Colorado 0: Washington State gets on the scoreboard first as Max Borghi hauls in Anthony Gordon's 4-yard touchdown pass.
Borghi was involved in three of the Cougs' eight plays in the drive. He had rushes of 3 and 19 yards.
Quarterback Anthony Gordon made two big plays through the air. First he connected with Rodrick Fisher for 13 yards on a third-and-7, then he found Easop Winston for a 30-yard completion to get WSU down to the CU 4.
6:53 – WSU 14, Colorado 0: The Cougars strike quickly after a takeaway to extend their lead early in Pullman.
Dezmon Patmon hauled in Anthony Gordon's pass over the middle, broke a tackle and sprinted in for a 22-yard, catch-and-run touchdown.
The Cougars started the drive at the Colorado 26 after Sklyer Thomas intercepted Steven Montez's pass.
Gordon is 5-of-9 passing for 83 yards.
0:22 – WSU 21, Colorado 3: Max Borghi goes up the middle for a 47-yard touchdown run.
The Cougars running back made two Colorado defenders miss before powering through a CU defensive back for his second touchdown of the game. Borghi caught a touchdown pass on WSU's first drive.
The sophomore has 69 yards on three carries.
Second quarter
0:05 – WSU 24, Colorado 3: Blake Mazza makes a 20-yard field goal to extend the Washington State lead to three touchdowns at the end of the second quarter.
The Cougars saved their best drive of the quarter for last, going 76 yards over 12 plays. WSU had first-and-goal at the Colorado 3, but three straight incompletions led to Mazza's field goal.
WSU QB Anthony Gordon, who threw for 62 yards on the drive, is up to 195 yards on 17-of-27 passing.
Cougars RB Max Borghi has 119 total yards (85 rushing, 34 receiving) and 2 touchdowns.
Halftime
Third quarter
5:06 – WSU 24, Colorado 10: Laviska Shenault Jr. caps a 51-yard drive with a 6-yard touchdown run and Colorado trims the WSU lead to 14.
Shenault, who typically lines up out wide as a receiver, stood behind center in the wildcat on third-and-5 at the WSU 6. He took the snap, followed a couple pulling blockers to his left and then, in the hole, cut back to his right and into the end zone.
Shenault also made a big play on a third-and-8 during the drive. Quaterback Stenven Montez connected with Shenault for a 24-yard gain to get the Buffaloes down to the WSU 11.
2:16 – WSU 31, Colorado 10: Anthony Gordon finds Brandon Arconado open behind the defense for a 44-yard touchdown pass as Washington State responds quickly to Colorado's score.
After the Buffaloes had found the end zone to cut the WSU lead to 14, the Cougars went 81 yards in 2:42 to reestablish a three-touchdown edge.
Gordon threw for 71 yards on the drive.
Fourth quarter
11:31 – WSU 38, Colorado 10: Anthony Gordon throws his fourth touchdown pass of the game, this one a 1-yard connection with Tay Martin on a fade route.
Gordon threw for 58 of the 65 yards during the drive. He completed six passes, to five receivers.
7:28 – WSU 41, Colorado 10: Blake Mazza moves to 11-for-11 on the season as he hits a 36-yard field goal.
Marcus Strong set the Cougs up with great field position after intercepting Colorado third-string QB Blake Stenstrom's pass over the middle.
Pregame
Local journalism is essential.
Give directly to The Spokesman-Review's Northwest Passages community forums series -- which helps to offset the costs of several reporter and editor positions at the newspaper -- by using the easy options below. Gifts processed in this system are not tax deductible, but are predominately used to help meet the local financial requirements needed to receive national matching-grant funds.
Subscribe to the Cougs newsletter
Get the latest Cougs headlines delivered to your inbox as they happen.
---