News > Spokane
100 years ago in Spokane: McDonald sisters to return to Spokane for murder trial
Mon., Oct. 21, 2019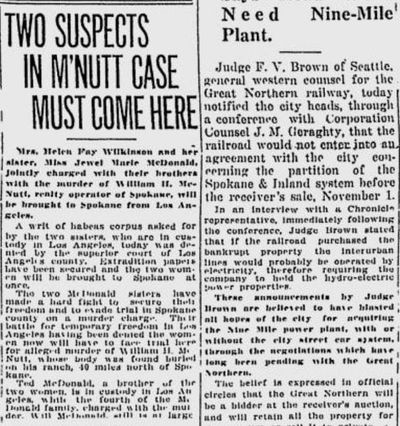 The two McDonald sisters lost their extradition fight and were bound from Los Angeles to Spokane to stand trial for the murder of Spokane real estate man W.H. McNutt.
Jewell Marie McDonald and Helen Fay Wilkinson (legal name for Fay McDonald Wilkinson) "made a hard fight" to evade extradition, but after lengthy legal maneuvers and technical delays, their writ of habeas corpus was denied and extradition papers were secured.
Their brother, Ted McDonald, was still in custody in California. He was not fighting extradition and was expected to be sent to Spokane separately. A fourth sibling, Will McDonald, was still at large.
From the immigration beat: Spokane's American Legion leadership was going after what it called "alien slackers."
The Legion had compiled a list of 30 alien slackers in Spokane, with more added to the list every day. A Legion leader said their campaign was aimed at aliens "who turned back their first papers to avoid military service" during the war.
"We will do everything we can to have some of them deported," said a Legion official. "If the present laws are not sufficient to do this, we will propose to Congress the passage of ones which will. We want '100 percent Americanism' to stand for something, and not be only a pretty expression."
Local journalism is essential.
Give directly to The Spokesman-Review's Northwest Passages community forums series -- which helps to offset the costs of several reporter and editor positions at the newspaper -- by using the easy options below. Gifts processed in this system are not tax deductible, but are predominately used to help meet the local financial requirements needed to receive national matching-grant funds.
Subscribe to the Coronavirus newsletter
Get the day's latest Coronavirus news delivered to your inbox by subscribing to our newsletter.
---