Sports
A Grip on Sports: No matter where your sports-watching tastes run, they have a chance to be satisfied this weekend
Fri., Oct. 25, 2019 A GRIP ON SPORTS • It's Friday. What's next? The weekend, of course. With football, baseball, basketball. The Big Three. All in one place. Your living room.
•••••••
• It starts tonight.
The third game of the World Series. The first in Washington D.C. since 1933. The Nationals try to take a 3-0 lead over Houston.
College football is available too, most notably USC trying not to slip on some Colorado snow. That would be embarrassing.
And basketball? The NBA is in full swing these days. You can watch the past (LeBron James), the present (Kristap Porzingis and Luke Doncic) and the future (Zion Williamson) all shine during two ESPN games. Oops, my bad. Williamson is not playing. He's out for a while, rehabbing a knee after surgery. Wonder if that portends anything?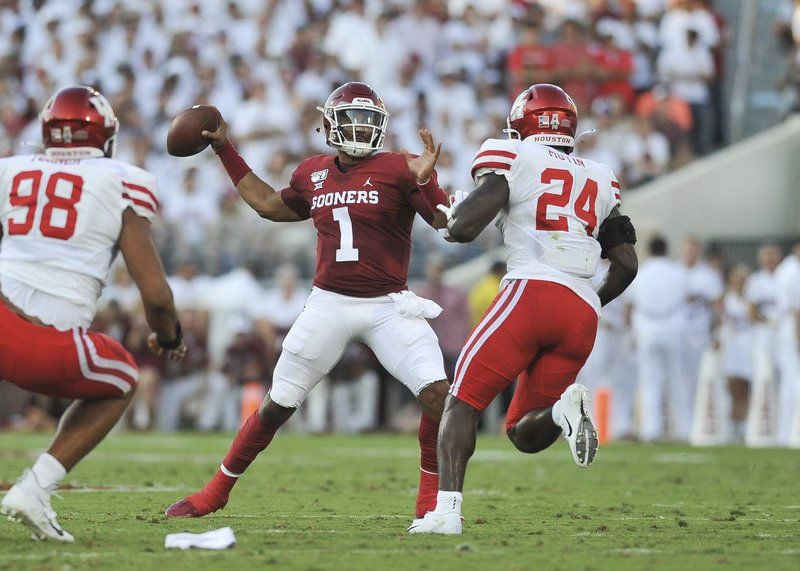 Still, no matter your preference, there is something available tonight – including Tiger playing golf in Japan, if the rain holds off.
Then comes Saturday. College football's day. You can start at 9 a.m., with fifth-ranked Oklahoma and Heisman candidate Jalen Hurts, on the road at Kansas State, or Wisconsin, ranked 13th, trying to bounce back against No. 3 Ohio State. In Columbus. Good luck.
After those games end, it's time for No. 9 Auburn at second-ranked LSU, probably the day's best matchup. Of course, if you experience a West Coast bias, you could always watch Arizona play at Stanford on the Pac-12 Network. It earns you 150 Larry Scott Points. Get enough, and you can move a late game to the afternoon for your favorite school. Right now it only takes 2.73 million (along with postage and handling) to get that done.
Speaking of late games, the Cougars are late tomorrow. Their attempt for a fifth consecutive win over 11th-ranked Oregon doesn't start until 7:30 on ESPN.
Before that happens, though, you probably want to watch Jim Harbaugh's final attempt (maybe) to defeat eighth-ranked Notre Dame in the Big House. That's ABC's featured game starting at 4:30 out here.
Of course, 30 minutes after that kickoff, the Nationals and Astros play, so there's that. It could also be the final baseball game of the year, though I doubt it.
There are also NBA games, NHL games, golf and European soccer, if that's your preference.
Sunday features the NFL as it always does.
The Seahawks have the early game in Atlanta, not only trying to bounce back from their second home loss of the season but also trying to keep up with the new kids on the block, the undefeated 49ers.
It's just your typical October weekend.
You can depend on a couple of things: A whole bunch of games to watch and even more leaves to rake.
•••
WSU: If you are interested in Cougar football, and I'm pretty sure most of you are, there is a lot to digest today. One the personal side is this Theo Lawson story covering the relationship of two of the more important players in the program, Liam Ryan and Fred Mauigoa. … On the numbers side, Dan Thompson has this on the Oregon series. … Theo also has a story on Anthony Gordon's name being added to another watch list. … The volleyball team won in Colorado while the soccer team fell at USC. … Looking for information on men's and women's basketball? The Register-Guard has a look at the Cougars' programs. … Theo spent some time talking with the Oregonian's Oregon beat writer, previewing the game. … The Ducks will try to slow down WSU's passing game and Max Borghi. … Elsewhere in the Pac-12, as we said, there is a game tonight. USC has yet to win on the road. Colorado would love to win anywhere right now. … Stanford's offensive line is just so beat up. … California will also be playing a third-string quarterback this week. … Young players are getting a chance to shine at UCLA. … Oregon State is more than halfway through its season. … Who has to step up for Washington in the season's second half? … In basketball news, expectations are high for Oregon State. Maybe too high.
Gonzaga: The second major poll was released yesterday. The Zags are ranked seventh by the coaches. Jim Meehan has this story. … Rui Hachimura's NBA career began Wednesday night in Dallas. We have this story from freelance writer Steve Hunt to pass along.
EWU: Tomorrow morning (Spokane time), the Eagles will face off with Montana (noon in Missoula) in a make-or-break Big Sky game. Both teams need to win to keep their postseason hopes alive. As in most college games, it will be the guys up front who decide it. Ryan Collingwood has this story on one of Eastern's, Chris Schlichting, who once was a Montana commit. … Ryan also spoke with Larry Weir yesterday for the latest Press Box pod.
CCS: I do believe I first met Bruce Johnson in 1984 or 1985. Out at Spokane Falls playing hoop. Other than the fact he had the knees of a 60-year-old back then, he was really good. Probably still is, especially considering the rest of his body has caught up with his knees. Bruce is retiring after the upcoming basketball season as the women's coach for CCS. Good for him. Ryan has this story on one of the more successful basketball coaches in our area.
Preps: The weekend has already begun in prep football. Mead rolled over University 52-21 last night at Albi. … There was also action in volleyball and soccer in Washington and playoff soccer in Idaho. We have roundups. … We also have this feature story on Gonzaga Prep volleyball player Hannah Wood.
Seahawks: Yes, Russell Wilson is OK physically. Of course he is. He wouldn't want to miss a chance to gash Atlanta's porous defense. … What's the deal with Rashaad Penny?
Sounders: The Western Conference finals will be in Los Angeles next week. LAFC got past the LA Galaxy in a game that ended oddly.
•••
• I'm really hoping there will be at least five World Series games. If the Nationals sweep, I won't be able to see the ending. I am contractually obligated to watch the Cougar game Saturday night, precluding any opportunity to view the last four innings or so of the baseball game. I'm free Sunday night, though, so feel free to end there if need be. Until later …
Subscribe to the sports newsletter
Get the day's top sports headlines and breaking news delivered to your inbox by subscribing here.
---