Sacred Heart nurses, health care workers head to polls for strike votes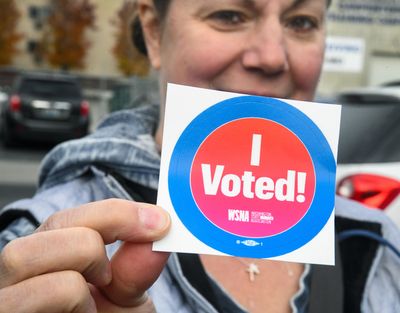 UPDATE: United Food and Commercial Workers 21 votes to authorize strike
After nearly a year of contract negotiations and little movement, nurses and health care workers at Providence Sacred Heart Medical Center began voting Thursday on whether to authorize a strike. Voting will conclude Friday.
As nurses streamed in and out of Carpenters Hall casting their votes on Thursday, bargaining unit members said the decision was an emotional one for many nurses.
"We do not want to strike," said Stevie Lynne Krone, a nurse and a co-chair of the Washington State Nurses Association, which represents Sacred Heart nurses.
Service, maintenance and support workers belonging to the other union considering a strike, UFCW 21, also cast votes on Thursday, with lines forming at some points.
Together, WSNA and UFCW 21 members make up more than 3,000 employees at Sacred Heart Medical Center.
The two unions are primarily at odds with Providence officials over proposed changes to the benefits package for employees, as well as staffing levels at the largest hospital in Eastern Washington.
Providence officials want to continue negotiations and released a statement about the strike votes on Thursday.
"We are aware that the unions are holding strike votes. While we are disappointed with this direction, we respect their right to do so," the statement said. "We are still actively bargaining in good faith, and we're hopeful that we can come to an agreement."
Hospital workers and nurses at Sacred Heart Medical Center said work environments were tense and that the negotiations have been hard on morale.
Both WSNA and UFCW 21 filed charges against Sacred Heart Medical Center with the National Labor Relations Board this month.
UFCW 21 is alleging Sacred Heart engaged in coercive actions, coercive rules and interrogation, case descriptions filed with the NLRB show. WSNA is alleging Sacred Heart has used coercive statements.
Nurses at Sacred Heart have had 14 negotiating sessions over their contract, and three of the most recent sessions have been federally mediated. Nurses have another bargaining date set for Tuesday.
WSNA plans to release the final vote count today, after voting is complete.
If nurses authorize a strike, the ultimate decision lies with a WSNA Cabinet, which will decide if and when to initiate the strike, giving Providence a 10-day notice to staff the hospital in preparation.
Jose Hernandez, an emergency department assistant and UFCW bargaining member, expressed concerns about staffing levels in his department.
He said several people on his team left earlier in the summer, and now he and his co-workers are consistently asked to work overtime. As an emergency department assistant, Hernandez supports nurses and doctors on the floor with duties that range from performing CPR and drawing blood to taking patients to the restroom.
"I feel guilty when my co-workers are working short (staffed), and that's what a lot of us do; we come in and go to work. But I think we're getting exhausted," he said. "I didn't pick up any extra shifts this week because I'm tired, and I want some time off to myself."
As Hernandez spoke, his Apple Watch dinged with an alert: Could he come in to work a 5 p.m. to 3 a.m. shift?
Austen Louden, another UFCW bargaining unit member, said the vote to approve a strike must be two-thirds in favor. He said the team worked hard to make contact with each of the 1,280 members ahead of the vote.
Tentative negotiation dates are set for UFCW 21-represented workers at Sacred Heart in November, but the union will not release specific vote count information until all of its Providence-based units statewide have voted.
Support and maintenance workers at Providence Holy Family Hospital, also represented by UFCW 21, will vote on strike authorization today.
UFCW 21 also represents workers and some nurses in other Providence locations throughout Washington, including at hospitals in Walla Walla, Olympia, Everett, Centralia, Colville and Chewelah.
Each UFCW 21 unit at a Providence facility will cast strike votes in the next week, so final vote counts will not be available from UFCW 21 until Thursday or later.
WSNA-represented nurses at Kadlec Medical Center, a Providence-affiliated system in the Tri-Cities, have negotiations set for Friday and strike votes scheduled for Tuesday and Wednesday.
If UFCW 21 members authorize a strike, the bargaining teams can decide if and when to make the final decision about whether to do so. If they implement a strike, they would send a 10-day notice to Providence.
---