News > Spokane
100 years ago in Spokane: Police chief issues list of Halloween 'don'ts'
UPDATED: Thu., Oct. 31, 2019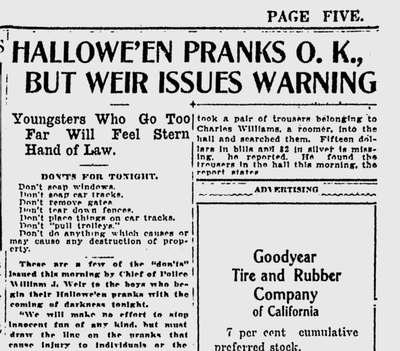 Spokane police Chief William Weir was all in favor of "innocent fun" on Halloween, but he did not consider some pranks to be innocent at all, the Spokane Daily Chronicle reported.
Here's his list of "don'ts":
Don't soap windows.
Don't soap car tracks.
Don't remove gates.
Don't tear down fences.
Don't place things on streetcar tracks.
Don't "pull trolleys" (apparently meaning, don't yank the streetcar's trolley poles from the electric wires).
Don't do anything which causes or may cause any destruction of property.
Spokane had a long record of mayhem on Halloween, and Weir said he would have plenty of officers ready to make arrests.
"The last few years have been rather quiet, but we are taking no chances on being caught unawares," said Weir. "… My advice to the youngsters is, 'Have all the fun you can, but avoid destruction to property or injury to people.' "
Did the youngsters listen? Find out tomorrow.
From the cheerleading beat: More than 600 youths were turning out daily for yell squad practice in preparation for Gonzaga University's football game against the Butte School of Mines.
Irving Draper, yell king, said they had prepared 15 "snappy yells," including this one: "Rah! Who? (Name of player) Ain't he a lulu? You tell 'em! Rah! Rah!"
Local journalism is essential.
Give directly to The Spokesman-Review's Northwest Passages community forums series -- which helps to offset the costs of several reporter and editor positions at the newspaper -- by using the easy options below. Gifts processed in this system are not tax deductible, but are predominately used to help meet the local financial requirements needed to receive national matching-grant funds.
Subscribe to the Coronavirus newsletter
Get the day's latest Coronavirus news delivered to your inbox by subscribing to our newsletter.
---