Sports > Outdoors
An island fantasy: Renting a cabin (for cheap) on Whidbey
Sun., Sept. 1, 2019 I've always dreamed of having my own island. Who hasn't?
So let's cross my island fantasy off the list, thanks to Deception Pass State Park on Whidbey Island's northern tip.
For a surprisingly reasonable price, you can effectively rent your own island in the park. It's a tiny piece of land called Ben Ure Island, and it has a spectacular cabin overlooking the wild waters east of Deception Pass.
Sure, I'm stretching the fantasy a bit. While Ben Ure Cabin is the only state park rental on the island, you do have to share your space with a couple of private residences. On the plus side, though, you never see those houses, and the park's property is all yours.
So why quibble? Let the island fantasy begin.
11:30 a.m.: After picking up a rental from Whidbey Island Kayaking, I arrive at Deception Pass State Park and get the keys to my cabin. I load up my ocean-going kayak at the parking lot on Cornet Bay and make sure to pack enough drinking water, since the cabin has only non-potable water.
11:40 a.m. The crossing takes all of 10 minutes. I step ashore and quickly unload, schlepping my gear to the cabin about 200 yards from the beach. It's gorgeous – an all-electric 12-by-24 foot cabin with a huge deck overlooking the waters of Puget Sound just east of Deception Pass. Besides a full kitchen, the cabin has a wood stove, a flush toilet and an outside, heated shower.
12:30 p.m. After unloading my gear and eating lunch, it's time to start making the rules for my new island republic. First rule: no clothing.
I got the idea from Gwyneth Paltrow, who once spent three days on a Caribbean island mostly nude, writing about the experience for Marie Claire magazine. After reading Paltrow's compelling tale, I thought, "Great idea!"
12:40 p.m.: Forget that idea. Too many boaters are rubbernecking as I walk around in my birthday suit. And let's face it, Gwyneth Paltrow looks a lot better without clothes than I do.
After some more thinking, I have finished the rules for my new republic. 1. Everybody's welcome. 2. No littering. 3. Clothing, regrettably, is permitted.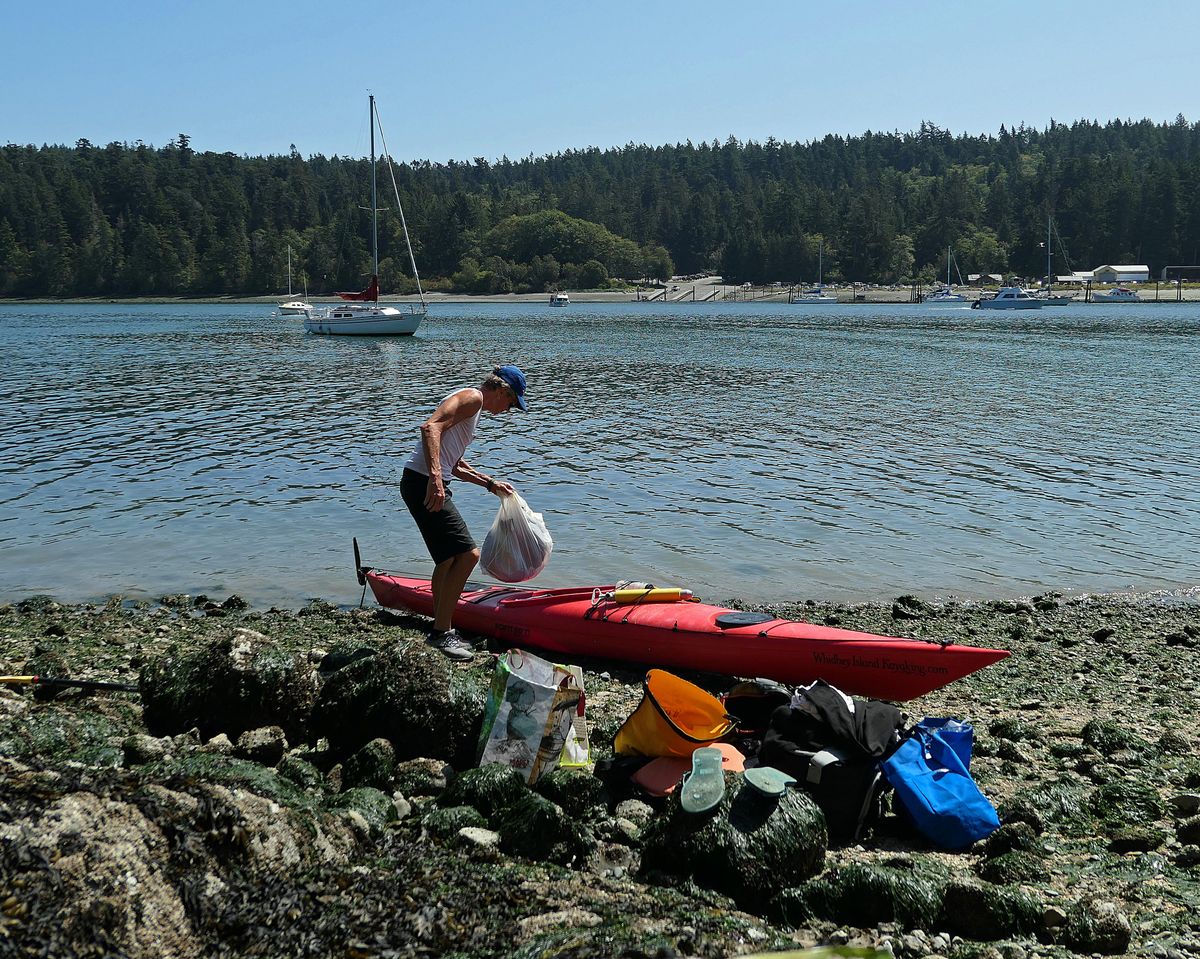 The paddle across Cornet Bay to Ben Ure Cabin is short and it's just 200 yards to the cabin from the beach. (John Nelson / The Spokesman-Review)
1:30 p.m. It's time to survey my island. I launch from the protected southern shore and begin paddling clockwise. When I hit the north shore, the water changes dramatically as the tide pulses through Deception Pass. The middle of the pass looks like the Spokane River at flood stage, creating a dull roar as the torrent pounds the rocks of nearby Strawberry Island.
I imagine I'm on a journey – although it's much smaller in scale – that Joseph Whidbey himself took in 1792. That was when the explorer George Vancouver came upon a perplexing piece of land that he thought was a peninsula. Vancouver sent his intrepid navigator to investigate, and it was Whidbey who "discovered" the island when he circumnavigated it.
Meanwhile, the native people already knew it was an island, not that anyone asked. Their name for the long, skinny landmass was "Tscha-kole-chy."
3 p.m.: The currents of Deception Pass rocket me eastward as I explore the waters nearby. Just across the pass is Fidalgo Island, but I keep it on the Whidbey side, exploring the shoreline before paddling back in the tidal flood.
Landing back on my private island, I find a footprint in the sand. Who's here?
3:05 p.m.: I meet a nice guy named Bill, caretaker of the Ben Ure Cabin, who has come to check on me. "Everything in good shape?" he asks. "It's perfect," I say. He tells me where everything is, and to call 911 if I have an emergency. "Have fun!" he says, and with that, he's off.
3:50 p.m.: With temps in the upper 70s, it's a dreamy summer day in the Pacific Northwest as I settle down on my private beach to sit in the sun and read from "Whidbey Island: Reflections on People & The Land." I learn about old Joe Whidbey, about Ben Ure (in the late 1800s, he was a smuggler of booze, drugs and people) and about Deception Pass. Pretty soon, my eyes start to droop and before I know it …
4:30 p.m.: I wake up as the sun dips behind the trees and roll onto my back, gazing at the cloudless sky as bald eagles pinwheel high above me. I'm tempted to just lie here and watch them, but I decide to go out for another paddle before dinner.
This time, the water is completely different, a lesson I quickly learn about the ever-changing currents of Deception Pass. During this part of the flood stage, water roars around the west tip of Ben Ure Island and afternoon winds create rough, choppy conditions along the north shore.
I let the seas do their splashing and opt for some quality time inside my cabin.
6 p.m.: My outdoor shower feels amazing as I clean up from my paddling adventures. Even though it's the height of summer, it's actually a bit chilly in the cabin, so I make a small fire in the wood stove.
I prepare a dinner of salmon, with two salads and bread that I bought in nearby Oak Harbor, a celebration of Northwest freshness.
8:15 p.m.: After the wild tidal flood, it's slack water at Deception Pass, so I decide to take one more paddling tour at sunset.
I'm rewarded with remarkably calm seas. Three hours earlier, these waters were so fearsome that I was downright scared. Now, it's as if I'm paddling around on glassy Priest Lake.
As the sun dips behind the bluffs of Fidalgo Island, I watch the bumper-to-bumper traffic go over the Deception Pass Bridge. Here on my kayak, I'm all alone, except for the seagulls, eagles and seals – just the way I like it on my own private island.
Day 2, 7 a.m.: My night in the cabin is cozy and peaceful, and I watch the sunrise over the shoulder of Mount Baker from my futon bed. During the night, I heard nothing at all except the always-churning water of Deception Pass as it ebbed and flowed.
After a large cup of coffee, it's time to pack up and abdicate my island to the next visitors – who will no doubt want to create their own island fantasies.
John Nelson is a freelance writer and co-author of the Going Mobile column in Friday's Auto section.
Local journalism is essential.
Give directly to The Spokesman-Review's Northwest Passages community forums series -- which helps to offset the costs of several reporter and editor positions at the newspaper -- by using the easy options below. Gifts processed in this system are not tax deductible, but are predominately used to help meet the local financial requirements needed to receive national matching-grant funds.
Subscribe to the sports newsletter
Get the day's top sports headlines and breaking news delivered to your inbox by subscribing here.
---