News > Spokane
100 years ago in Spokane: Spokane prepares for President Wilson's visit; bunco men nabbed
Thu., Sept. 5, 2019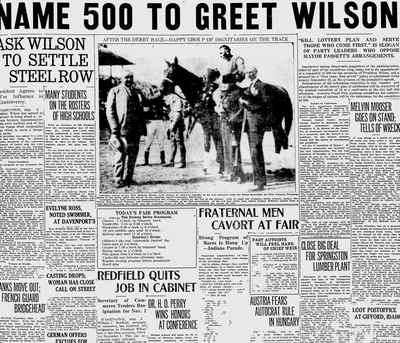 President Woodrow Wilson was coming to visit Spokane in a week, the Spokane Daily Chronicle reported, and Spokane had appointed a Committee of 500 to welcome him.
A smaller committee had originally been formed, but people complained that it was not fully representative. The Committee of 500 was formulated to be "absolutely nonpartisan" and included Democrats, Republicans, Red Cross women, the Jewish Welfare League, the Salvation Army, the Knights of Columbus and the American Legion, among many others.
The Committee of 500 was planning to gather en masse at the Northern Pacific Depot to welcome Wilson.
Yet this was only a fraction of the number of people who wanted to see Wilson speak. At first, local officials instituted a lottery system to distribute tickets to Wilson's speech at the Spokane Armory. Yet they said it had "evolved itself into a gambling device." People were winning tickets and then selling them.
So officials scrapped the lottery plan and declared that tickets would now be distributed on a first-come, first-served basis.
From the fraud beat: Two "first-class bunco men," John "Humpy" O'Keefe and Mark "Hoppy" Wray, were arrested by Spokane police at the Interstate Fair.
They were known to travel the Northwest and attend large gatherings. Wray was also described as a clever pickpocket.
Hoppy Wray also was found with a "package of morphine tablets and a needle" when he was searched at the station.
Local journalism is essential.
Give directly to The Spokesman-Review's Northwest Passages community forums series -- which helps to offset the costs of several reporter and editor positions at the newspaper -- by using the easy options below. Gifts processed in this system are not tax deductible, but are predominately used to help meet the local financial requirements needed to receive national matching-grant funds.
Subscribe to the Coronavirus newsletter
Get the day's latest Coronavirus news delivered to your inbox by subscribing to our newsletter.
---