Sports > Area sports
Averie Collins, Washington State quickly sink Gonzaga women's soccer in overtime
Sept. 5, 2019 Updated Thu., Sept. 5, 2019 at 10:57 p.m.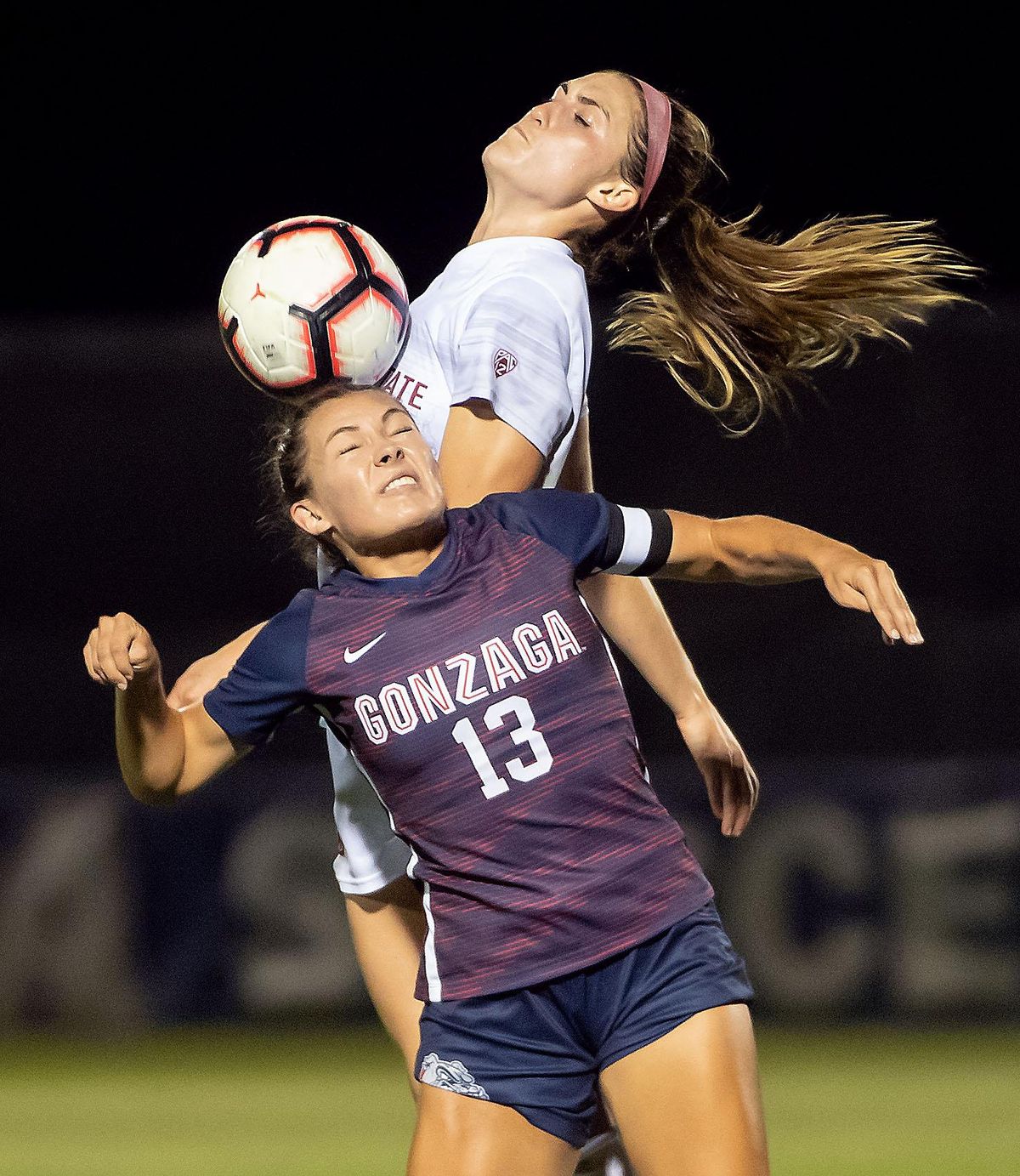 Gonzaga forward Madeline Gotta (13) heads the ball as WSU midfielder Averie Collins defends, Thurs., Sept. 5, 2019, at Gonzaga University. (Colin Mulvany / The Spokesman-Review)
Averie Collins had seen enough.
Washington State's senior midfielder went 90 minutes without seeing the 17th-ranked Cougars – the country's top-scoring women's soccer team – slip one by pesky Gonzaga on Thursday.
"We choose to end this when we want to end this," Collins said to her teammates moments before overtime.
Nine seconds into the extra session, Collins kicked a laser past Gonzaga goalie Isabel Jones, lifting WSU to a 1-0 nonconference win over the Bulldogs in front of hundreds of crimson and blue-clad fans at Luger Field.
The last time Collins fired a walk-off goal, the graduate transfer from Stanford handed WSU a loss in 2015.
This time, she kept the Cougars (4-0) unscathed.
"I was looking to pass to (Morgan Weaver ) out wide, (Gonzaga) never stepped (up)," said Collins, who hit the goal from about 22 yards out. "And we all know how the rest went."
WSU, which averaged just over five goals a game before's Thursday's win, was challenged by a ascending Gonzaga (3-2) program that's been a best for major-conference teams.
The Bulldogs led 19th-ranked Texas last month before being edged 4-3 and dropped a season-opening exhibition to Washington 2-1 in double overtime.
The Cougars missed all 23 of their shots in regulation on Thursday, 14 more attempts than Gonzaga.
Against a physical, defensive-minded Gonzaga team, this was about the result WSU coach Todd Shulenberger expected.
"This game has been on our schedule for a while and I've been nervous about it since Day 1," Shulenberger said. "Their coach has done a great job. They're athletic, and their goalie was fantastic tonight."
If not for the play of Jones in goal and the Bulldogs' defense at midfield, Gonzaga wouldn't have been put a position to upset the Cougars in overtime.
Jones was quick and sometimes acrobatic in net, totaling seven saves before Collins' winner got past her.
"We stuck to our game plan and slowed the game down," Jones said. "That's a team that averages five goals a game, so keeping them to zero was our game plan, and we stuck to that. I'm proud of our girls."
Ella Dederick totaled four saves for WSU in a shutout effort.
Under third-year Gonzaga coach Chris Watkins, the Bulldogs went 10-8-1 in 2017 and 10-4-4 in 2018 before being picked to finish fifth in this year's preseason West Conference Conference poll, the program's highest preseason ranking since 2006.
"Gonzaga was really our first true test this season," Collins said.
Schulenberger agreed.
"This was felt like a Pac-12 game for us," he said.
Local journalism is essential.
Give directly to The Spokesman-Review's Northwest Passages community forums series -- which helps to offset the costs of several reporter and editor positions at the newspaper -- by using the easy options below. Gifts processed in this system are not tax deductible, but are predominately used to help meet the local financial requirements needed to receive national matching-grant funds.
Subscribe to the sports newsletter
Get the day's top sports headlines and breaking news delivered to your inbox by subscribing here.
---