News > Spokane
Front Porch: A big deal, no-big-deal wedding
Fri., Sept. 6, 2019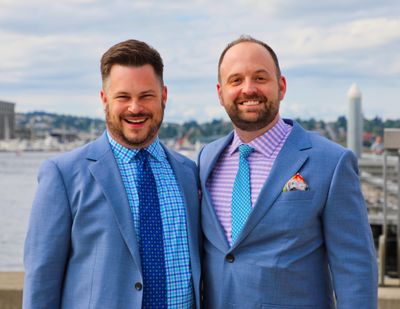 My son Sam is married.
This summer he and his fiance, Ryan Short, said "I do." In Seattle, on a boat and before friends and family on a warm and lovely night in July.
Two things are important about this event, what it's not and what it is – two sides of the same thing, in fact. What it's not, happily, is a big deal. Sure, a big deal to those of us who love these men, but no longer is it remarkable, in either the headline or the footnote, that it's two men who have pledged their lives to one another, with the blessings and benefits and all the legal protections that marriage affords.
So, I hope that should I write about them as a married couple in the future (and I suspect I will), I no longer need to observe that this is a same-sex union. Hooray for that.
As to what it is – it is simply and happily, a marriage, a marriage that creates a new family. It's about two people who saw something special in one another when they had their first date aboard Argosy's Lady Mary on Elliott Bay and who said their wedding vows aboard the same boat four years later.
They took their time. The year they merged their two households and lived in a small one-bedroom apartment on the sixth floor of a building on Capitol Hill (and with an Old English Sheepdog) – well, that was telling. "If we could navigate that, we started to feel pretty sure we could navigate anything," Sam told me back then.
Next came the duplex they now live in, a one-year engagement, a second dog and then a wedding, attended by 80 people and officiated sweetly by their friend Loni. And it was fun, from beginning to end.
There was a whole pre-wedding "thing" going on about fascinators, those light feathery headpieces that British ladies wear at rakish angles to weddings and other special events. Two of the attendees, Patrick and Sean, sported fascinators for the occasion. We knew we were off to a festive start.
Sam has a friend who is a stage manager and who served in that capacity at the wedding. With her clipboard in hand, Cassie gracefully moved everyone along, so everything happened when it was supposed to, smoothly and without anyone seeing the gears turning. For the pre-ceremony picture taking, she had a call sheet and got everyone on their marks, with the next-to-be-photographed waiting close by. We got done with photos a half-hour early. Theater people are great.
The day before the wedding, Sam, his dad, Bruce, and I went to Pike Street Market to buy flowers – on a sunny Friday in the summer. Yikes. Believe it or not, after 50 years of going to Seattle, we actually parked in one of those diagonal spots right in front of the Market. We took the flowers in buckets to the home of friends of the grooms (who have a cool basement), and the next day, Sam and Ryan returned. While Chris and Casey served Ryan champagne, Sam – a theater guy who once had a side job at a florist shop – arranged the flowers into centerpieces for the tables.
On the evening of the wedding, Sam's best man and best friend, Rob, and I walked from where the photos were taken to where we boarded the boat on Lake Union. My balance is only fair, so Rob assured me that I could lean on him. "I am the best man. I am here to serve."
During the onboard ceremony, I began to puddle up, and lo and behold, there was Rob's hand with a tissue for me. Rob whispered a reminder: "I am the best man. I am here to serve." He is a good friend to Sam and a good man overall.
And one bit of near-drama – when the grooms exchanged their vows and the ceremony ended, the captain sounded the boat's horn. A nearby Seattle police boat sent over a quick inquiry: Was the Lady Mary in distress? Nope, just a nautical sealed-with-a-kiss moment.
And it was all followed with delicious Northwest fare, including salmon and Washington wines.
But before all that, we spent a couple of pre-wedding days getting to know Ryan's family and doing a host of fun things. Ryan is from Texas and comes from a big, rollicking and interestingly structured family. There's mom and step-dad (Ceslie and B.J.), dad and step-mom (Richard and Bonnie) and a host of full-, half- and step-siblings and their spouses or significant others (too many to name). I'm pretty sure just about all of them were there.
When Ryan's half-brother divorced, the family held on to his ex-wife because they simply love her. Shannon remains a family member, so much so that she, too, came to the wedding with her second husband. How cool is that! There were assorted other Texans in attendance, and I'm not sure I got all the connections, never mind the names, straight.
But a large contingent from the Lone Star state was there – not an inexpensive thing to fly up from Texas and stay in a downtown hotel in Seattle at the height of the tourist season. Some relatives took turns staying with the grooms to limit expenses, but still …
And more important than just their attendance and obvious love for Ryan, they love my son. And I love them for that. They welcomed him into their generous Texas arms with great affection. Ours is a tiny family. Sam now has a big new family. I cannot express the joy that it gives me to know this.
And we hope that Ryan, too, knows he is loved by his new Spokane-based in-laws.
So, this no-big-deal wedding really is a big important thing for this newly formed family, with branches in Dallas, Seattle and Spokane. Texas barbecue meets Puget Sound salmon meets Inland Northwest huckleberries.
Sounds like the perfect meal.
Voices correspondent Stefanie Pettit can be reached by e-mail at upwindsailor@comcast.net.
Local journalism is essential.
Give directly to The Spokesman-Review's Northwest Passages community forums series -- which helps to offset the costs of several reporter and editor positions at the newspaper -- by using the easy options below. Gifts processed in this system are not tax deductible, but are predominately used to help meet the local financial requirements needed to receive national matching-grant funds.
Subscribe to the Coronavirus newsletter
Get the day's latest Coronavirus news delivered to your inbox by subscribing to our newsletter.
---