Sports
A Grip on Sports: It may have been a short work week, but there is nothing short about the S-R's sports coverage
Fri., Sept. 6, 2019 A GRIP ON SPORTS • It's Friday already? It seems as if we lost a day this week, somewhere. Besides that, it's raining in Spokane. That's not supposed to be happening yet.
•••••••
• Holiday weeks always seem short. But this time of year, there is never a shortage of links to pass along.
Lately, though, it's gotten tougher and tougher for lots of you to access them. Heck, it's become harder and harder to access this column. The Spokesman-Review has erected a paywall around its content.
This has led to a few angry emails my way. I understand the frustration. I read a lot of stories at a lot of different newspapers all over the nation. It would be too expensive for me to buy subscriptions to every one of them. So I pick and choose. If only there was some way for a reader like myself to pay one monthly subscription and have access to every newspaper. That would make sense.
(Sorry to interrupt, but years and years ago, when the Internet was in its infancy, my boss, assistant managing editor Neil Pattison, shared an idea. Pattison, who recently retired as the Everett Herald's editor, thought there should be a clearinghouse for every newspaper in America, one site with all the newspapers on it. It would be behind a paywall – though that term wasn't used; it hadn't been invented yet – and the Associated Press would run it. Each paper would get a cut of the profits based on their print circulation. This way readers wouldn't have to use AOL or something to search for stories. He fleshed out the idea, took it upstairs to the publisher, and hope it would be shared with AP and other publishers. Nothing came of it. My guess? Back then it was too visionary.)
If you pick and choose which papers to subscribe to, this is the one. Why? Because of this column, of course. Not only do you get history lessons like the one shared above and thoughts on topics ranging from the Seahawks to the Vandals and everywhere in between, you also have one spot to shop for Pac-12 coverage and Northwest regional sports.
No need to search for stories on the Cougars. They are right here. No need to search for stories on the Mariners. Right here. No need to search for stories on preps. Yep, right here.
We will continue this column until, well, the plug is pulled. And I don't mean by the S-R, if you get my drift. This is such a habit these days, it would be harder to stop than back in the day when I gave up scarfing Milky Ways.
•••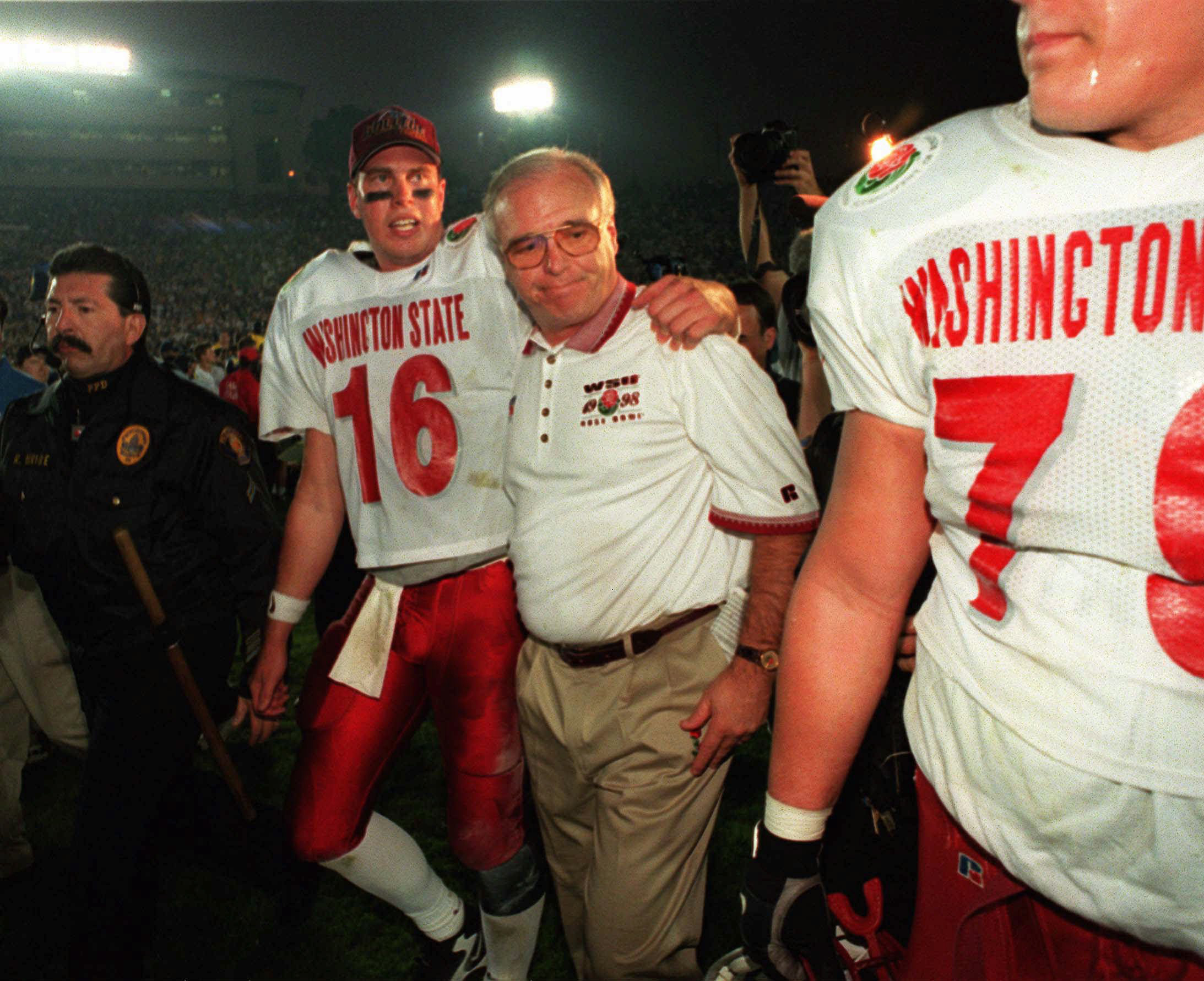 WSU: It's Hall of Fame weekend in Pullman and Theo Lawson delved deep into Ryan Leaf's time at Washington State to give you stories you may have never heard before. It's worth your time. But we want to sing some praises of another person about to be inducted, former sports information director Rod Commons. Rod, who still spends time around WSU, camera in hand, was a resource to every sportswriter who ever covered the Cougars. Much of the help he provided can be filed in the above-and-beyond category, especially in the old days. Thanks Rod. It's a well-deserved honor. … Theo also has a story on how much better these Cougars do these days with foes from lower divisions. For a while there it was a crapshoot. … The women's soccer team remained undefeated, but it took an overtime goal at Gonzaga for that to happen. Ryan Collingwood was there and has this story. … Dezmon Patmon is good and only getting better. … Elsewhere in the Pac-12, the Cougars are the ones squeezed out on the Pac-12 Network this week, being shunted to Pac-12 Washington only. It's not in high definition in most cable packages. (I do get it in high-def, but I'm paying mightily for it.) … California knows Washington's defense is much better than what it just faced and the Bears struggled to move the ball against UC Davis. The Huskies also have new offensive weapons. … There is one game tonight, with Arizona State hosting Sacramento State. … With K.J. Costello ruled out, it will be freshman quarterback vs. freshman quarterback when Stanford meets USC on Saturday. … There are deep-seated connections between Northern Arizona coach Chris Ball and Arizona coach Kevin Sumlin that date back to Pullman. … It's been hard for UCLA to draw crowds at the Rose Bowl. … Utah expects to draw this weekend even if the game is early. That's happened before for the Utes. … Colorado faces a local kid playing for Nebraska. … If you have The Facebook, then you can watch Oregon State try to stop Hawaii's pass offense. … Though it's not a rivalry, there are elements of rivalry games when Oregon faces Nevada. … In basketball news, want to know the differences between the haves and have-nots in college hoops? When Northern Arizona head coach Jack Murphy left to become an assistant at Arizona, he received a huge raise.
Gonzaga: The U.S. team concentrated on stopping Rui Hachimura, which is a testament to his ability, and thus stopped Japan at the FIBA World Cup. Jim Meehan has all the particulars in this piece.
EWU: Ryan had time yesterday to pick each of this weekend's Big Sky games. He did well last week, missing just one. … Around the Big Sky, there was one game last night, with Idaho State opening its season with a 38-13 win over Western Colorado. … There is more in the Pac-12 section above, but Northern Arizona plays at Arizona on Saturday. … There are some connections between Montana and this week's opponent. … Montana State's defense has to adjust quickly.
Idaho: The Vandals' Charles Akanno was one of the few bright spots in the season-opening loss at Penn State. Peter Harriman talked with the pass rusher and has this story.
Indians: Elimination on the line, Spokane won 5-1 against Tri-City last night and forced a decisive third game tonight in the Northwest League playoffs. … Whoever wins tonight will play Hillsboro, which swept Salem-Keizer out of the playoffs.
Preps: It's time to start picking games. Our Dave Nichols and SWX's Sam Adams do just that this week, though they only differ on one outcome. … Dave and Larry Weir talked yesterday for the latest Press Box pod.
Seahawks: Jadeveon Clowney is a high school legend at South Carolina. … The Hawks have pass rushers on both ends. … The weekly injury reports are sometimes hard to decipher. … DK Metcalf says he is 100 percent. … I've been saying this for a while. Actually, I've been writing this for a while. … Russell Wilson can still improve. … The Hawks were able to keep a couple players who could have gone elsewhere.
Mariners: A seven-run lead vanished and the M's lost in 13 innings last night. … Some M's have seized their opportunity this season.
Sounders: A rescheduled game forces Seattle to play with 10 players on international duty. Nice. … The Timbers Army isn't going to sit quietly while the MLS suspends some of its members. Or maybe it will.
•••
• We had some opinions about the Cougar game last Saturday that ran in the S-R's print edition. This week though, we are changing paths a little bit. And we will be following that new path the rest of the season. We'll let you know more tomorrow. Until then …
Subscribe to the sports newsletter
Get the day's top sports headlines and breaking news delivered to your inbox by subscribing here.
---