Sports
A Grip on Sports: If you want to watch the Cougars in high definition today, it may take a little work but it's not all that hard
Sat., Sept. 7, 2019 A GRIP ON SPORTS • It's Saturday. It's late, late summer. College football is being played all over America. All you want to do is sit down in the Laz-e-Boy, put your feet up and watch a million games on your cost-more-than-your-first-car, 72-inch-wide, ultra-high-definition TV. Is that too much to ask?
•••••••
• Nope, not at all. As far as I know, that's protected somewhere in the Bill of Rights. Heck, I counted. There are 30 – that's 3-0 – college football games available on cable in Spokane today.
One of those is Washington State's 2 p.m. contest – OK, that might be too strong a word – with Northern Colorado from the cozy confines of Martin Stadium. It's going to be broadcast – to use an old, maybe outdated, term – on Pac-12 Washington.
If you are a Cougar alum and live in, say, Washington D.C. or Galveston, Texas, don't even bother checking through your cable lineup. You probably won't find Pac-12 Washington listed. And certainly not listed in high definition.
Which, at first, probably ticks you off no end. But take a page from those Washington State fans (and fans of any other Pac-12 school) throughout the nation who cling to their DirecTV subscription like my mom used to cling to her S&H Green stamps. There are ways to watch the game on your TV (or, if it's your habit, phone or tablet).
In our never-ending search to make your life better (yes, really, that's why we do this; we're the Mother Teresa of the morning column set), we talked with the Pac-12 Networks' public relations director, Josh Ishoo, yesterday.
And he explained in simple terms how to access the game in high-def no matter where you live or how you attract electronic pixels to you abode.
Just wander around the neighborhood until you run into a 12-year-old kid and ask them. They'll explain it to you.
Just kidding. You do that and you might get arrested. Anyhow, it's pretty easy. All you really need to know is the password to your cable provider. And if it's "password111," like mine, then you really are set.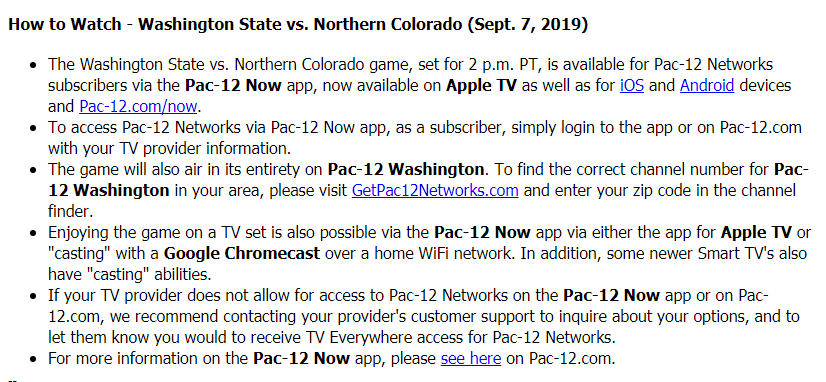 The game is available, in high-def, on the Pac-12 Now app. We all are good with apps by now, right? (Even you Bertram. I know you can handle it.) You can stream it from there on your preferred device or use AppleTV (if you own it) or Google Chromecast and watch on a TV. It may seem hard, but it isn't. The accompanying Pac-12-provided visual, posted on Twitter last night by our Theo Lawson, helps explain it all.
Of course the easiest way to watch is available to those of us who live in Washington and are supplied Pac-12 Washington on our cable system. I discovered I actually receive it in high-def (that's a new development, though I can't tell you when it happened as I'm still trying to figure out when I lost Cinemax) on Comcast channel 1330 in Spokane.
See Kim, I knew paying for every sports channel available would pay off someday. Your husband is smart. Not dumb, not like people say.
• I'll be watching the game in high definition. And then I'll be writing about the broadcast. Yep, after a week of trying something new, the brain trust of the S-R (so to speak), of which I am a part, decided we had made a mistake and are returning to a broadcast-based column. I will be your surrogate this afternoon. And somewhere in there I will explain how the game happened to end up on a regional network, not the Pac-12's national one. It has to a little to do with math, so I may just screw it up.
But I also wouldn't mind hearing from you. Send me an email before it's over (the address is just under my byline above) and let me know how you plan to watch or how you watched the game. On your TV? On your phone? In high-def or not? Was it easy? Hard? Or did you just give up and listen to Matt Chazanow, Alex Brink and Jessamyn McIntyre on the radio? I may use your thoughts in the column or tomorrow morning here.
•••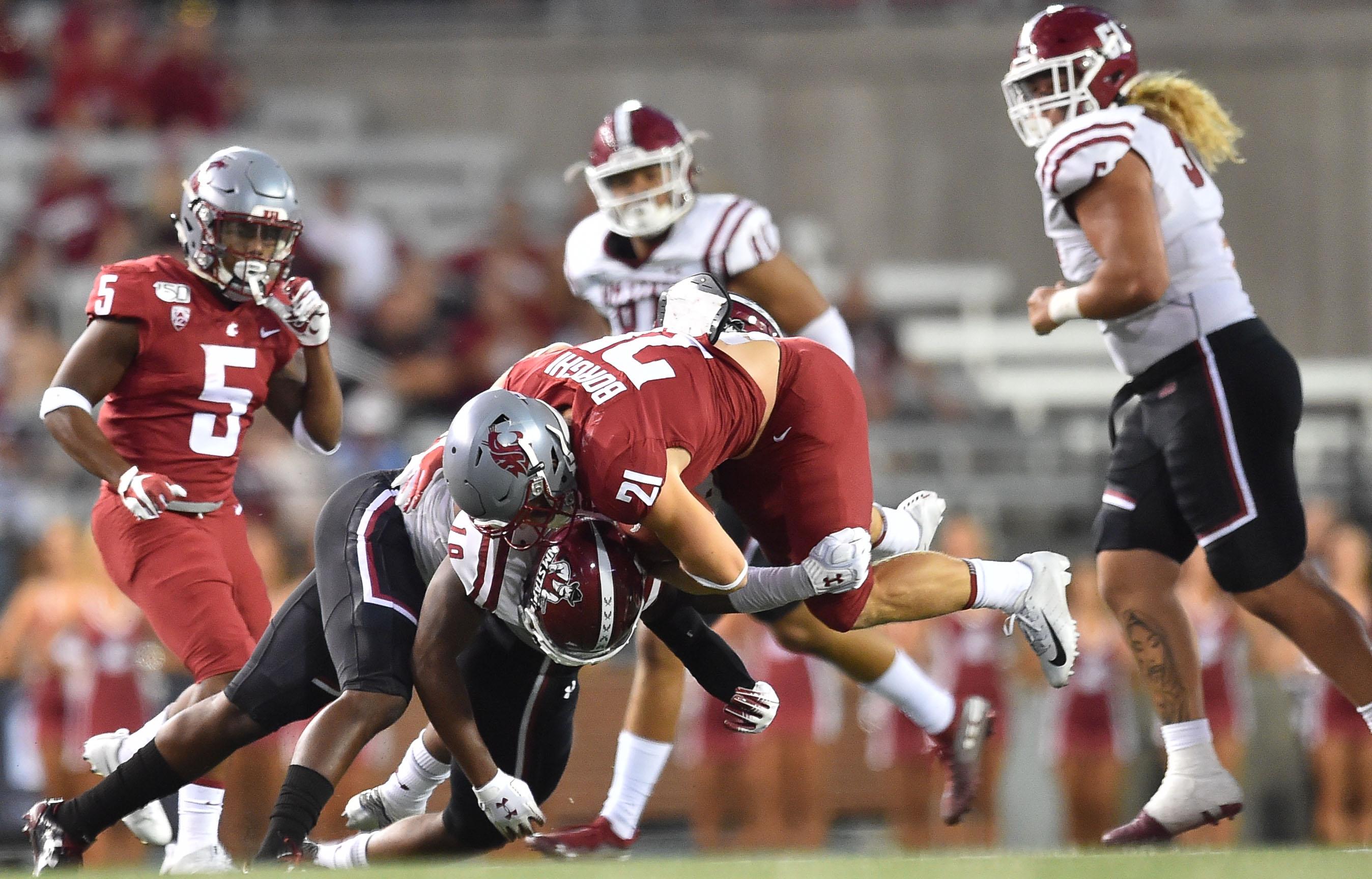 WSU: Quick, a show of hands. How many of you think Northern Colorado is going to win today? Put your hand down, Steve, you always think Washington State is going to lose. Everyone else, thanks for being truthful. Theo certainly does, picking the Cougars by about 50 touchdowns. … Theo also has a preview of today's game (and yes, it is in the middle of the day) and the keys for both teams. … Northern Colorado is learning Mike Leach doesn't really know his opponent all that well on Mondays, the day of his press conference. … Elsewhere in the Pac-12, the heat is on some in the conference. … There was one game last night and it didn't bode well for the conference. Arizona State struggled with Sacramento State, but won 19-7. … Washington's test today comes from California's defense, one of the best in the conference recently. … Oregon is a bit leery of Nevada's kicker, who helped beat Purdue last week. … The Oregon State defense is leery of everyone and face a tough assignment in Hawaii. The Beavers did a bit of sightseeing this week. … Nebraska was once Colorado's top Big 12 rival, but both are in different conferences now. Still, the game is a sellout. … Northern Illinois knocked Utah back early last season. … The biggest game of the night? Stanford at USC. Expect a little #Pac-12AfterDark action. Both teams are playing backup quarterbacks. … UCLA needs to find a way to get past San Diego State, no matter what. … Arizona hosts Northern Arizona (which I have christened "The Gary-Paul Bowl," as two friends attended the respective schools) needing a statement win.
Gonzaga: And on about his seventh straight month, Rui Hachimura is going to rest. The former GU star has been playing basketball continuously for, in actuality, nearly a year. After Japan was eliminated from World Cup advancement, Hachimura played against the U.S. and now will shut it down until NBA camps open. Jim Meehan explains it all in this story. … Jim also spoke with Larry Weir yesterday for the latest Press Box pod. Not only does he talk about the Zags, but he mentions the new-look Shock as well.
EWU: If this was the first time Eastern Washington had proposed remodeling Roos Field, we may have spent the morning dissecting its plans. But we've done that before. Actually, though, I'm pretty sure something will get done. The school seems more motivated than it has in previous years. Ryan Collingwood attended the press conference designed to kickoff the $25 million fund-raising campaign. … So did John Blanchette and he has a column in which he asks some pertinent and needed questions. You be the judge of the answers. … The Eagles open the home part of the 2019 football schedule today and Ryan has a preview. … Around the Big Sky, Weber State host Cal Poly. … Montana will try to go 2-0 and win its home opener. … Montana State is back in Bozeman trying to even its record.
Idaho: The Vandals also open their home schedule tonight, hosting Central Washington. Peter Harriman previews the game.
Whitworth: The Pirates won't play at home until October, but the football season begins today in La Verne, Calif. Actually, it begins this morning at 11. Dan Thompson has a preview of the contest.
Indians: A season of promise ended in the North Division finals, as Tri-City, playing its second game of the three-game series at home, scored in the bottom of the 10th and defeated the Indians 3-2. The Dust Devils move on to play Hillsboro for the Northwest League title.
Preps: In the first full Friday of high school football, we had three games covered and the rest contained in this roundup. … At Gonzaga Prep, the Bullpups prevailed over Coeur d'Alene 45-13 in a matchup of interstate powers. Dave Nichols has the story. … Lake City defeated Lewis and Clark 45-21 with Kevin Dudley providing the coverage. … In the third cross-border contest, Mead handled Post Falls 42-21 at Whitworth's Pine Bowl. Ryan has the game story.
Seahawks: There is no doubt the Hawks have gotten better recently. How much is up to debate. … We start to find out Sunday against the Bengals. … Numbers are important to players.
Mariners: Another game against Houston, another loss. It's been a tough year against the Astros. … Jerry Dipoto is shaking up the front office again.
•••
• Anybody see the Cougar flag wave this morning on GameDay? Just kidding. Of course you did. It always does. Until later …
Subscribe to the sports newsletter
Get the day's top sports headlines and breaking news delivered to your inbox by subscribing here.
---