Sports > WSU football
National reactions from Gardner Minshew's NFL debut with the Jacksonville Jaguars
Sept. 8, 2019 Updated Sun., Sept. 8, 2019 at 8:43 p.m.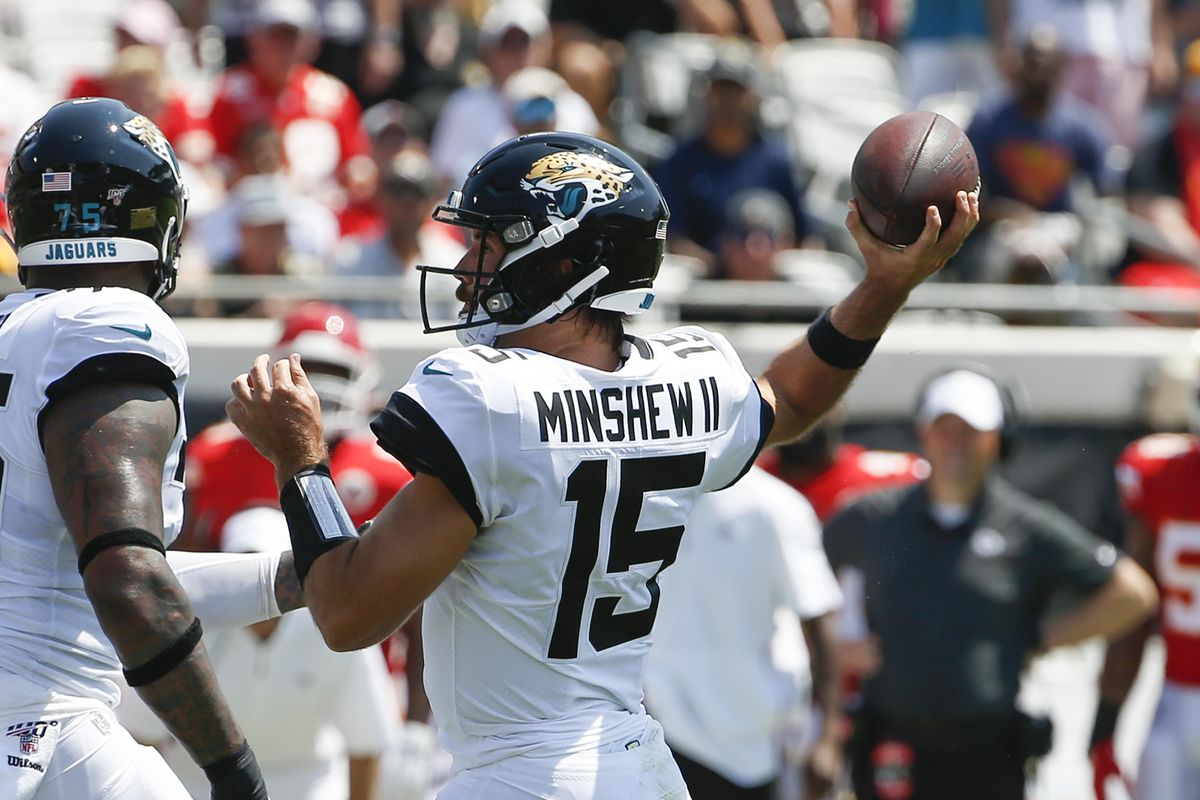 Jacksonville Jaguars quarterback Gardner Minshew (15) throws a pass against the Kansas City Chiefs during the first half of an NFL football game, Sunday, Sept. 8, 2019, in Jacksonville, Fla. (Stephen B. Morton / AP)
In case you spent Sunday afternoon beneath a bunker, former Washington State quarterback Gardner Minshew made his NFL debut for the Jacksonville Jaguars, replacing Nick Foles when the franchise QB left the season opener against the Kansas City Chiefs with a shoulder injury.
Minshew, the only other signal-caller retained by Jacksonville when the team trimmed its roster to 53 players more than a week ago, was under center for the final three-plus quarters of the Jaguars' 40-26 loss to Kansas City. Minshew and his trademark mustache introduced themselves to the NFL with an impressive stat line: 22-of-25 passing for 275 yards, two touchdowns and one interception.
The fifth-place Heisman Trophy finisher, Johnny Unitas Golden Arm Award winner and reigning Pac-12 Offensive Player of the Year hit on his first 13 passes before finally throwing incomplete. Minshew drove the Jaguars into Kansas City territory on his first two drives, but offensive holds set Jacksonville back, forcing two Josh Lambo field goals.
Jacksonville's Leonard Fournette fumbled on the first drive coming out of the half, but Minshew eventually pieced together his first pro touchdown, leading a seven-play, 79-yard drive that ended with the QB hitting Dede Westbrook on the run for a 15-yard score.
Minshew's first NFL interception came next, but he finished on a strong note, guiding the Jaguars on six-play, 75-yard drive that finished in the end zone as Minshew lofted a 21-yard TD to Chris Conley.
Here are the national reactions from Minshew's NFL debut and what Jacksonville players and coaches said about the Jags' rookie backup:
– First off, we direct you to this impressive statistic, reported by ESPN's Michael DiRocco via the Elias Bureau. Minshew's 13 consecutive completions marked the longest streak by a player making his debut in 40 years. Brad Johnson, in 1994, was the last player to have that many straight completions, with nine.
– Albert Breer of the Monday Morning Quarterback also points out Minshew became the first quarterback of the 2019 NFL Draft class to take a professional snap.
– ESPN's Adam Schefter reported after the game Foles had suffered a broken left clavicle, which indicates the quarterback could be at 2-4 months – the average rehabilitation time for such an injury. Minshew is the only QB on Jacksonville's active roster, but the Jaguars have former Marshall signal-caller Chase Litton on their practice squad.
– In the postgame interview, Foles praised Minshew for how he approached the situation and how he executed once on the field.
"I look forward to getting back out there with the guys, but at the same time Gardner did a great job today stepping up," Foles said. "That's not easy being a rookie against a talented team like the Chiefs. I thought he did a really nice job of moving the chains, throwing a couple of touchdowns and being really efficient. So I was really proud of him for stepping up and I'm going to be here to help him in any way possible."
– Once Foles left the postgame podium, Minshew stepped up and reflected on the journey that brought him to the NFL, the circumstences around his unexpected debut and how he plans to approach the remainder of the season with Jacksonville's starter presumably shelved for the foreseeable future.
"(God's) been with me through having no offers in high school, to Northwest Mississippi Community College to East Carolina, Washington State to now," Minshew said. "He's been so faithful to me, so all the glory goes to him. I'm extremely grateful to be where I'm at. Not happy with the circumstances that it happened, obviously."
Minshew credits Foles for being a key mentor in the rookie's development and immersion into the NFL.
"Breaks my heart to see what happened to Nick, because he's been one of the best people I've ever played with, had the pleasure to be around," Minshew said. "To see him go down like that was awful, but I know he's going to be there with me and we're going to have this team where we need to go."
– Minshew was asked if he thought he showed enough in his debut to be handed the reins to Jacksonville's offense until Foles is healed.
"Oh, that doesn't matter, my plan is to prove that I'm the best I can be for this team every day at practice, every snap I get in a game" Minshew said. "So that's my job. My job's not to figure out if we need to sign a new quarterback or whatever, my job is to go out there and be the best I can be for our team."
– And Minshew also singled out Jacksonville center Brandon Linder for helping the quarterback along Sunday afternoon.
"One guy in particular, Brandon Linder, made sure I was comfortable and made me feel like they trusted me," Minshew said. "And I trusted them. That's where you really start building big things."
– DJ Chark, Jacksonville's leading receiver with four catches, 146 yards and a touchdown, was enthused about Minshew's hot start and said he's "optimistic" about the Jaguars' season knowing his locker mate will presumably be under center for the time being.
"It's hard to ask for that kind of performance out of a rookie, definitely Game 1 against Kansas City Chiefs," Chark said. "To see he did that, we're just very optimistic about the season. I feel like this is a brotherhood and we're not going to back down, and I'm not just saying that because he's my locker mate."
– Yahoo! Sports author Jay Busbee writes why Minshew "is going to become your new favorite football player" – something that happened on the Palouse well before Sunday afternoon.
"There are rapid career ascents, and then there's the path of Minshew, the mustachioed folk hero who's rocketed from obscurity into the brightest of spotlights," Busbee wrote.
– Sporting News has "five things to know" about the Jaguars' new starting quarterback in a story titled "Who is Gardner Minshew?" Hmm, that sounds awfully familiar…
– In this article, SB Nation speculates what's next for the Jaguars with Foles' injury. Option A: Ride the Gardner Minshew train. Option B: Sign a veteran off the street. Option C: Trade for a starter. SB Nation does note Minshew's QB rating from Sunday was better than any Blake Bortles posted for Jacksonville last season.
Local journalism is essential.
Give directly to The Spokesman-Review's Northwest Passages community forums series -- which helps to offset the costs of several reporter and editor positions at the newspaper -- by using the easy options below. Gifts processed in this system are not tax deductible, but are predominately used to help meet the local financial requirements needed to receive national matching-grant funds.
Subscribe to the Cougs newsletter
Get the latest Cougs headlines delivered to your inbox as they happen.
---