A&E > Music
Q&A: Music director James Lowe prepares for first season with the Spokane Symphony
Sept. 8, 2019 Updated Sun., Sept. 8, 2019 at 11:16 a.m.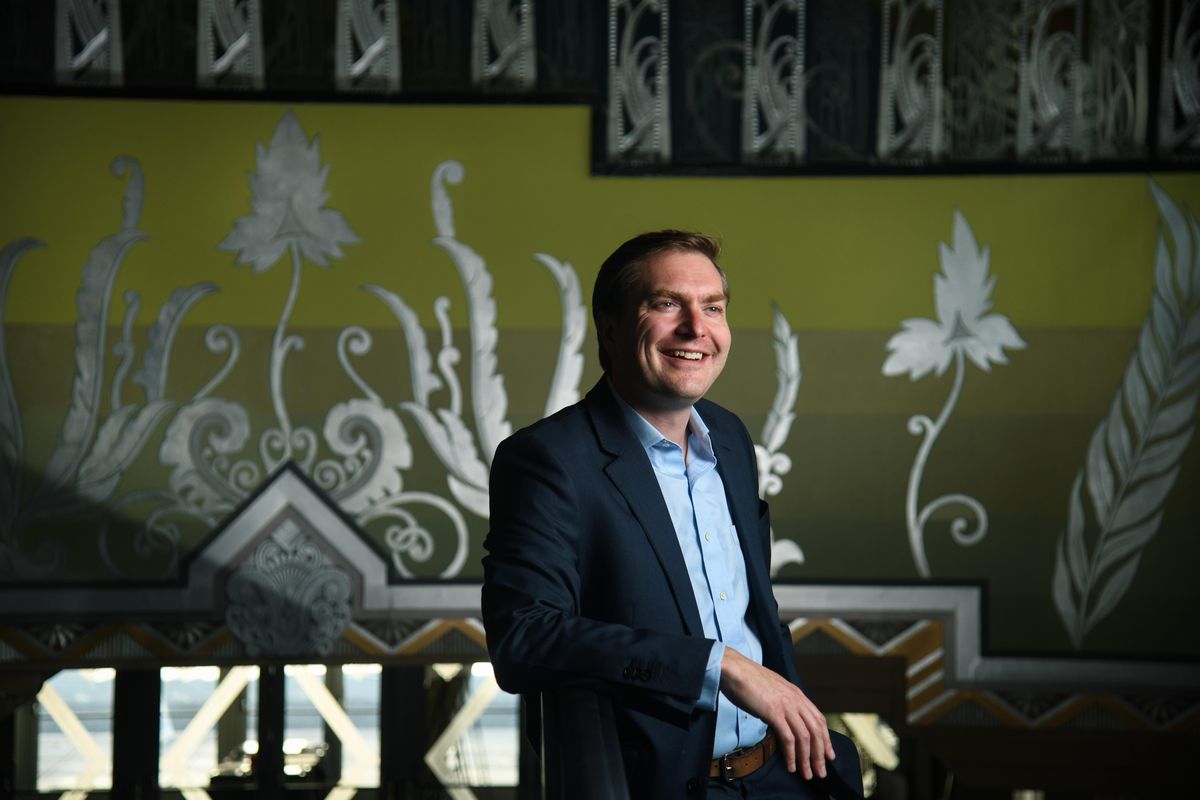 James Lowe is the new Spokane Symphony music director. (Dan Pelle / The Spokesman-Review)Buy a print of this photo
"Hey! Are you the guy with the face on the side of the Fox?"
Since being announced as the newest music director of the Spokane Symphony, and having his image displayed on the Martin Woldson Theater at the Fox, in June, James Lowe has had some interesting conversations with members of the community this summer.
And what a busy summer it's been for Lowe.
On a personal note, he recently became engaged to food educator Charlotte Maberly.
On the professional side of things, he has been hard at work on a number of symphony-related projects in advance of season opener "Masterworks 1: American Rhythms," Saturday and Sept. 15, which features guest pianist William Wolfram.
"The only people I haven't seen is the orchestra," he said Thursday afternoon.
But Lowe and the symphony were reunited Saturday during the Pavilion celebration in Riverfront Park.
"It's the perfect first gig for me because obviously the symphony belongs to the whole city, and this is the ideal way of launching my music directorship," he said.
Before Lowe dives into the 2019-20 Spokane Symphony season, he talked with The Spokesman-Review about "Masterworks 1" and his plans for this season and beyond.
Your Fox debut will be "Masterworks 1: American Rhythms." Aside from them all being written by American composers, what about the pieces on the program make them so American?
This is something Aaron Copland himself was really preoccupied with because he went to study in Paris, and what he came back with was the realization that French music sounds really French, and he wanted American music to sound really American. He very consciously set out, and the first work he did when he came back from studying in Paris was to incorporate jazz into what was very modernist at the time.
So Copland's style went through many iterations, and I think when people think of Copland now, they think of a very folksy, homey, life of the farmstead kind of sound, which was certainly part of it but came a little bit later. …
The third symphony is a wonderful thing because it combines all of these elements into one huge summation of what America had been through in the Depression and two World Wars with this incredibly positive affirmation looking ahead to a new America, an America that was open and energetic and optimistic about the future.
What about George Gershwin and John Adams?
I'm not sure to the extent Gershwin consciously set out to write American music. In a way, I think the sound of Gershwin is the sound of American music. … I grew up with "Tom and Jerry." Scott Bradley, who wrote a lot of this music, who interestingly Stravinsky said was one of the most talented composers he'd ever met, he based a lot of it on Gershwin sounds.
There are some bits in Gershwin, particularly the "I Got Rhythm" variations, which we're doing, there's one bit where I can see Tom swaggering along. I don't mean that to lessen the music at all, but, for me, things associate themselves with certain sounds.
It's the same way you listen to a song you heard when you were a kid and you haven't heard for five, 10 years, and suddenly you're back in that summer when you heard the song. Music has these wonderful associations for us, and I think that's great. Gershwin, it is the sound of I would say big city America.
The Adams is a much more recent one, and what I love about the Adams is it takes elements of all the Americana that went before it, and he distills it into something that is entirely new. … He had a friend with a Maserati or Lamborghini, and his friend said, "Hey, I'll take you for a ride."
He took him for this absolutely terrifying, hair-raising ride, and he thought, "This is a really cool feeling. I wonder if I can transplant that into the orchestra," and he really does. It's a really hard piece because it's fast, rhythmic and repetitive, but it doesn't riff, so the second you feel you've got into a pattern, he switches it out. It's really cool, and it does give you this feeling of exhilaration as a piece of music. It's the perfect concert opener.
Are there any pieces you're looking forward to conducting this season?
Tons of them. Pretty much all the "Masterworks" programs have works for me. We end the season with Mahler's Second Symphony, which is an Everest of a piece. It's huge. It's one piece of music for the whole evening, and it deals with nothing less than someone's death and resurrection. By the end, you're in heaven, quite literally, and it's a piece of music that is really transformational. You come out a different person than when you went in.
A few weeks before that, we have Bruckner's Symphony No. 9, which is an absolute monumental piece. Earlier in the season, we have Ravel's ballet "Daphnis et Chloé," which is stunning. Copland's Symphony No. 3 next week is an amazing piece with an incredible ending. There's a ton of stuff, then of course we're getting to the education work now.
We're in the process of designing and planning out what we're going to be doing, and I know that is going to be a huge part of my work here. I would just point out that education doesn't end when you're 18. It's a lifelong thing.
You wanted to talk about the role of an orchestra in the 21st century. I feel like it's not just to entertain.
Somebody (in a recent meeting) said, "These interactions are either transactional or they're transformational." Transactional would be the "sit there, shut up, listen to this" thing, and transformational is using music in a way which will change you and enrich your life. That can happen in a concert of listening, and I hope it consistently does. But also the work I'm seeking to do here not on the concert platform is where I think we can really have an impact. …
The opportunity to get stuff done here is astonishing, and the appetite is there. I'm looking at what is the added value. What can the symphony do to enrich the community whether it's working with young people, whether it's working with older people? Is there a role within health care? Is there a role within rehabilitation that we can play?
We're looking really broadly right now, and we're having hundreds and hundreds of ideas of the work we can do, and, for me, like I said, education doesn't stop when you're 18. Education is from 0 to 125 years old, and it's also across the whole of society. It's not just the people that normally come to the concert hall; it's for everyone. I would hope that we have a portfolio of experiences where we can reach everyone in town. That is my overarching aim for the next years.
This is not a click your fingers and we change the whole thing. … What seeds are we going to plant now that will actually bear fruit five years down the line, 10 years down the line, and what projects can we do that will have high impacts next month? This whole range of stuff, we're really looking at all of this and how we utilize the orchestra and how we can use the very special talents of these people to have an even higher impact on people's lives. …
The idea of planting seeds that will hopefully have a deeper impact on the community and on the symphony long after I am a forgotten name, long after my portrait has faded on the wall. I would love to feel that there is, again it's nothing to do with me and ego, but that there's a legacy built. Of course, we already have a legacy.
What is it about classical music that makes it applicable to those different avenues?
I think it's music in general. Music is, I think, one of the most direct forms of communication because you're conveying meaning and emotion without words, and words are always open to interpretation. I always quote this record producer for Decca, Suvi Raj Grubb. He said "When you listen to a piece of great music, you suddenly feel a connection with someone long dead and you think, 'Ah, someone else has been here before. I'm not alone.' " That for me is this thing.
That's why I think classical music is alive for me. It's not a museum piece. It's not like, "Come listen to what music 300 years ago sounded like." It's this "come and feel this emotion that somebody 300 years ago had and caught on a piece of paper, and you can now actually hear and be moved by." …
Mahler was supposed to have said, "Tradition is not the worship of ashes but the preservation of fire." It's the same with Shakespeare and great literature. … Shakespeare had a way of putting down an idea, a feeling, an emotion. I often read Shakespeare or see a play, and there will be a line and I think, "Oh my God, that's a thought that I had half formed in my head, and he's put it down so beautifully and so perfectly," and it's the same with great music.
Local journalism is essential.
Give directly to The Spokesman-Review's Northwest Passages community forums series -- which helps to offset the costs of several reporter and editor positions at the newspaper -- by using the easy options below. Gifts processed in this system are not tax deductible, but are predominately used to help meet the local financial requirements needed to receive national matching-grant funds.
Subscribe to the Spokane7 email newsletter
Get the day's top entertainment headlines delivered to your inbox every morning.
---