News > Spokane
Purchase would double Sullivan Park as Spokane Valley seeks to add green space
Sept. 9, 2019 Updated Mon., Sept. 9, 2019 at 6:35 a.m.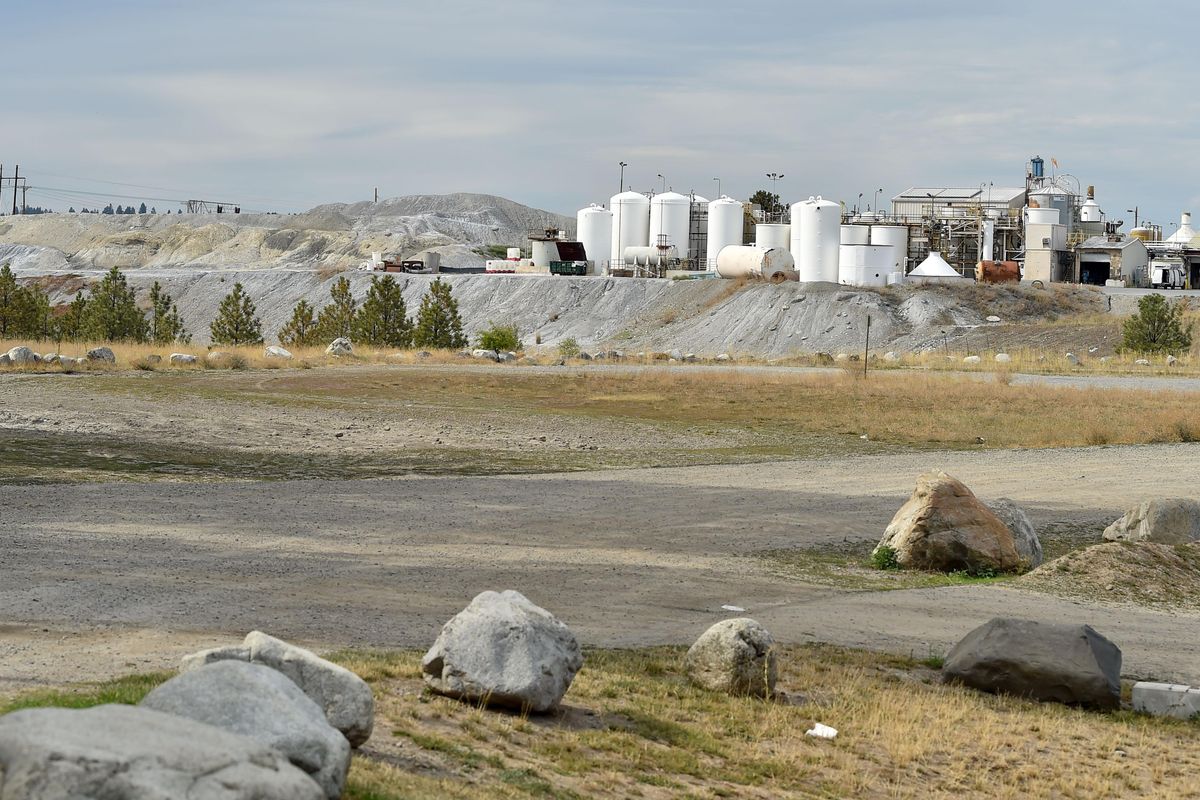 A portion of property adjacent to Sullivan Park that was a dumping ground for Kaiser, the railroad and a gravel area for the Department of Transportation is seen on Thursday, Sept. 5, 2019, in Spokane Valley, Wash. Spokane Valley Parks and Recreation plans to develop the property. (Tyler Tjomsland / The Spokesman-Review)
Spokane Valley Parks and Recreation Director Mike Stone is on a mission to find available land that can be turned into parks before it's too late.
"My concern is that if we don't start looking at these types of opportunities, acquiring this property for future generations, we're going to be all covered in asphalt and concrete," Stone said.
But he and the city of Spokane Valley are making progress on acquiring one of the few open parcels left in the city: an almost 14-acre parcel owned by the Washington State Department of Transportation that is largely empty, except for spots of vegetation, gravel and aluminum dross contamination.
After getting approval to purchase the land Tuesday from City Council, the city hopes to ensure it is free of contamination and add it to its neighbor: Sullivan Park, an island of green in an industrial and commercial area in northeast Spokane Valley.
With those additional 14 acres from its adjoining lot, Sullivan Park would become the city's second biggest park.
But first there's the clean-up to deal with.
The property was contaminated when Union Pacific Railroad was using it. Spokane Valley won't pay the full $844,000 assessed value for the land until the Department of Ecology confirms the property is uncontaminated.
City Attorney Cary Driskell estimated it would take between one and two years for the property to be cleaned up.
When Spokane Valley acquires the property, Sullivan Park will be about 30 acres, second in size only to Myrtle Point at the Centennial Trail, which is almost 32 acres, and surpassing Valley Mission Park, which is about 24 acres and includes a pool.
There are about 240 acres of developed and undeveloped park land in Spokane Valley, much of which was turned over to the city by Spokane County when it incorporated in 2003. Spokane, in contrast, has about 4,100 acres in protected green space and has been expanding its parkland for a century.
Stone said the purchase of the property north of Sullivan Park has been in the works for about three years, but there isn't yet a plan or funding to develop the park. He said the Spokane Valley City Council, which unanimously approved the motion to begin purchasing the property, is prioritizing creating parks and green spaces in the city.
Spokane Valley City Councilman Ben Wick said the city's parks master plan calls for acquiring more property, and he sees this purchase as an opportunity to create a park that would not only attract people to Spokane Valley but also improve the park for current residents.
Currently, the two most avid users of Sullivan Park are a Western dance club, which uses the dance center beside the parking lot, and a remote control car club that maintains a public dirt track adjacent to the parking lot. Stone said any new development would include those groups' input and allow them to continue their activities.
The park has also had issues with people living in the parking lot in vehicles and in the picnic areas along the river. Stone said he hopes increasing activities for all residents will discourage people from using the park inappropriately.
Once the city officially owns the property, Stone said, it will first work to get water to the new parcel and possibly replace the well system for the entire park. The portion currently owned by the Department of Transportation doesn't have running water.
Stone said they also would likely temporarily gate the new property to try to keep people from off-roading on the land and damaging native vegetation. He said he also hoped to develop a master plan for the park, so officials can start applying for grants to help restore the old Sullivan Park and develop the newly purchased portion.
He said Sullivan Park's river access could attract grants and tourism. Some of the land is prime for whitewater rafting upstream and could be incorporated into the existing Centennial Trail, which is just across the river from the shoreline of Sullivan.
Sullivan Bridge, which was recently replaced, now has a pedestrian path that connects the park to the far bank.
Stone said the future of the park could include a new trail system, food and recreation, depending on what Spokane Valley citizens say they want in the coming years.
It will be a few years before the entire 30 acres will be a usable park, but buying the 14-acre parcel is a start.
"Even if we don't develop this for 50 years, our citizens down the road are going to be thankful that we had the foresight to try and grab this property," he said.
Local journalism is essential.
Give directly to The Spokesman-Review's Northwest Passages community forums series -- which helps to offset the costs of several reporter and editor positions at the newspaper -- by using the easy options below. Gifts processed in this system are not tax deductible, but are predominately used to help meet the local financial requirements needed to receive national matching-grant funds.
Subscribe now to get breaking news alerts in your email inbox
Get breaking news delivered to your inbox as it happens.
---