Washington State players, coaches were following closely as Gardner Minshew made NFL debut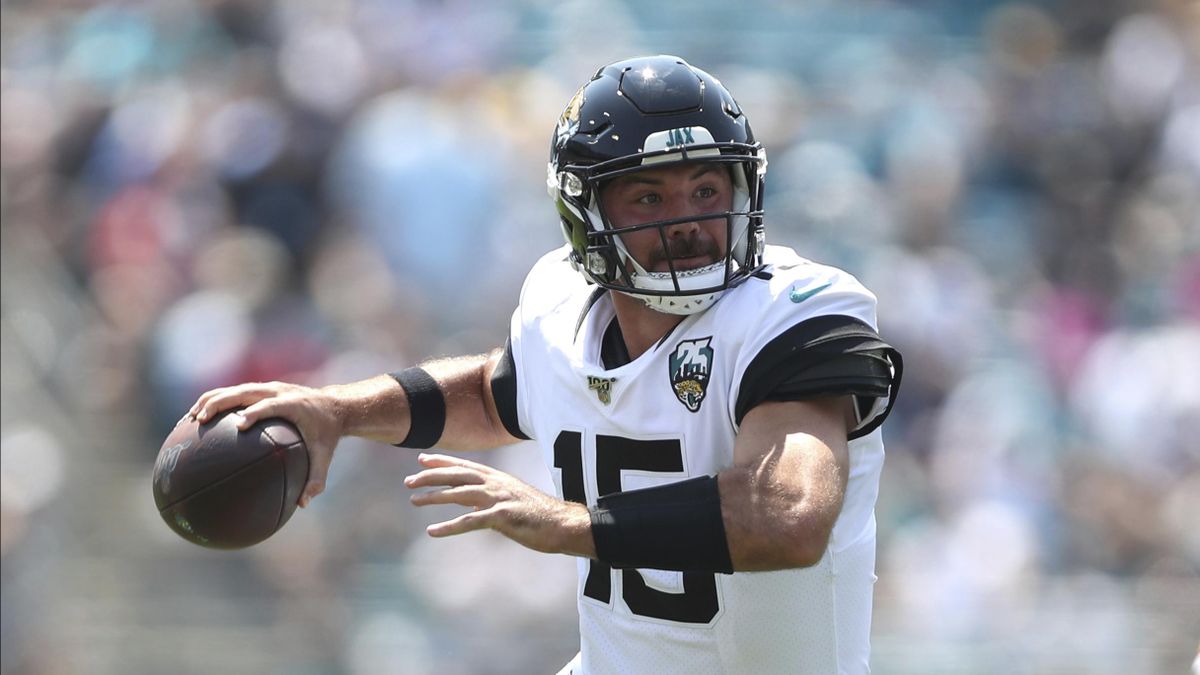 PULLMAN – Just about every member of Washington State's football team had the same reaction sometime after 10:30 a.m. Sunday. Pull out a cell phone, click on a television, text a friend.
Give or take a few minutes, that's when former Cougars quarterback and fan favorite Gardner Minshew was pressed into action for the Jacksonville Jaguars, shortly after starting QB Nick Foles suffered what was later learned to be a broken clavicle.
The Cougar players that weren't streaming the CBS feed were religiously checking their ESPN mobile app or following along on Twitter as Minshew played his first NFL snaps – and lots of them – in Jacksonville's 40-26 loss to Kansas City.
The former WSU QB and reigning Pac-12 Offensive Player of the Year replaced Foles near the end of the first quarter and was behind center for Jacksonville from there on out, completing 22-of-25 passes for 275 yards, two touchdowns and one interception.
"Yeah, I did," said Max Borghi, asked if he tuned in to watch his former teammate. "It was pretty awesome to see my buddy go out there and get that opportunity and obviously he did a real good job. You can't ask for much more than Gardner, that's what we expected of him. He got the opportunity and he really came out and did what he always does."
Wide receiver Brandon Arconado was doing schoolwork at a friend's house when Minshew took the stage in Jacksonville. He wasn't able to stream the action on TV, but Arconado assured he was tracking closely.
"I wasn't surprised, I know Gardner, he got his chance and he took full advantage of it," Arconado said. "I feel like he's just playing, being him, so I think that's really awesome."
Because their next game, against Houston at NRG Stadium, takes place on Friday, WSU coaches have had to adjust to the short week and most were already busy game-planning and studying their next opponent on film when Minshew took his first professional snap.
Coach Mike Leach received frequent updates on his old quarterback and exchanged text messages with Minshew afterward. Leach also shared a tweet congratulating Minshew: "One of a kind. Good game today."
"Well, he threw the ball really well, I thought took command, didn't have any of those jitters guys will have," Leach said Monday during his weekly news conference. "Went out and played well, almost broke a record."
Like he did one year ago at WSU, Minshew entered the NFL without much hype or fanfare, as a sixth-round draft pick who made the Jaguars' 53-man roster as a backup. But just like last season on the Palouse, it hasn't taken Minshew long to adapt to a new environment, and thrive in it.
And his old college teammates aren't the least bit surprised to see it.
"Absolutely not. It's Gardner Minshew, the Mississippi Mustache," Borghi said. "It didn't surprise me at all or any of Cougar nation. He's now starting to prove himself to the NFL. I actually read a tweet today that says his jersey's sold out in the NFL shops, so that's not a surprise at all. Just nothing but love for that guy and I'm happy to see how he's doing."
With Foles out long term, Minshew's expected to make his first career start this Sunday at NRG Stadium, the same venue that will host WSU two days earlier in the AdvoCare Texas Kickoff. The Jaguars and Texans will kick off at 10 a.m. Pacific time on CBS.
---