News > Spokane
Huckleberries: Would we call it Idawa?
Wed., Sept. 11, 2019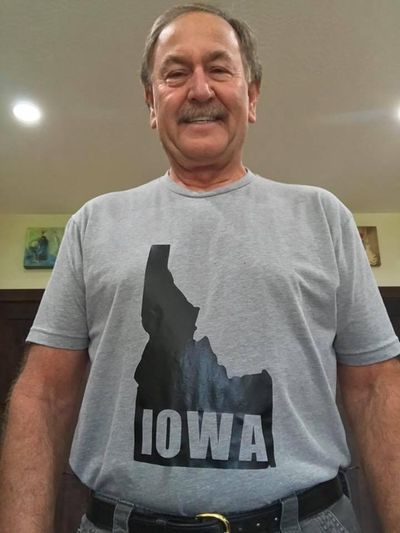 A funny thing happened to Kelli Bruce-Aiken, of Coeur d'Alene, while she pumped gas at a Safeway station.
She was removing the nozzle when the wind blew the door shut on her 2004 Toyota Highlander. And for some reason locked all the doors with her keys inside, on the passenger seat. Then she realized her phone was charging inside the car.
In this age of technology, this is what you call a perfect storm. But it got better – or worse – depending on your point of view.
Kelli used the phone at the gas station kiosk to call hubby, Barry, who was working and didn't pick up. Then she tried to think of friends who could come to her rescue. But she couldn't remember their cell numbers, which were stored in her phone.
She considered walking home. But it was too far away. Finally, the station employee called a cab. The cab driver couldn't find Kelli until she chased him down while he was weaving through the Safeway lot.
Kelli finally made it home, snagged a spare pair of keys, and returned to Safeway, an $11 journey plus nice tip. The gas station employee applauded her perseverance and asked for a nice review.
Moral of the story? Kelli offers several, including: Always use the bathroom after work (even if you don't think you have to go). Never leave your cellphone on a car charger. Never throw your keys on a car seat.
And, most important: Memorize the cell numbers of your close friends.
No-growther
So, what had Cecil Meyer worked up 50 years ago? Growth, according to the Coeur d'Alene Press. In the Sept. 11, 1969, edition, the Post Falls mayor groused: "Many California people are moving to the area, and they settle in Post Falls rather than Spokane because they don't want to live in the city." Déjà vu, anyone? At the time, head counters predicted a 1970 census of 3,500 for Post Falls. Ten years earlier, the town's population was 1,971. Meyer had moved to Post Falls in 1946, hoping to get away from the city. Like many others, then and now, Meyer worked in Spokane. Growth in Post Falls hasn't slowed down. Although the River City still works, plays and flourishes in the shadow of Coeur d'Alene and Spokane, the population jumped from 17,247 in 2000 to 27,574 in 2010, to 33,290 in 2017. Someday, many suspect it will be bigger than Coeur d'Alene. Wonder what Cecil would have said about that?
Huckleberries
Poet's Corner: Be sure to recall/ before striking the blow/ they come down real fast,/ but they go up real slow – Tom Wobker, The Bard of Sherman Avenue ("Cutting Trees") … Mixed Message: On a black Nissan Frontier in Dalton Gardens, one bumpersnicker read: "Don't Californicate Idaho" and the other said: "Coexist and pray." So much for coexistence … For Those Keeping Score at Home, Chris Guggemos of Handshake Productions canceled one of his Coeur d'Alene concerts this summer, for the first time in 28 years. A key performer came up sick shortly before the concert. Chris would have given refunds. But his swell concerts are free … Another Mixed Message: On the wall of the delightful Atticus coffee shop in downtown Spokane: "It's a sin to kill a mockingbird. But shoot all the blue jays you want." On the opposite wall is a stuffed bird that may be a mockingbird … Yesteryear: 25 years ago, Coeur d'Alene Playhouse reps lauded local actress Patty Duke and hubby Mike Pearce for their performance of "Love Letters." The show raised $10,000, which helped erase a $30,000 theater debt. Yeah, Huckleberries misses Patty, too.
Parting shot
Doug Eastwood had to buy that street fair T-shirt, showing a black outline of Idaho with the word "Iowa" superimposed on the southern half. The former longtime CdA Parks & Rec chief was born in Iowa but has lived in Idaho most of his life. Rather than fight the confusion that occurs at times when easterners try to distinguish the two states, Eastwood embraces it. He thinks Idaho should annex Iowa: "Think about it, we would be famous for two vegetables, potatoes and corn." Wonder how Doug's idea would play in Cedar Rapids?
D.F. "Dave" Oliveria can be contacted at dfo.northidaho@gmail.com.
Local journalism is essential.
Give directly to The Spokesman-Review's Northwest Passages community forums series -- which helps to offset the costs of several reporter and editor positions at the newspaper -- by using the easy options below. Gifts processed in this system are not tax deductible, but are predominately used to help meet the local financial requirements needed to receive national matching-grant funds.
Subscribe to the Coronavirus newsletter
Get the day's latest Coronavirus news delivered to your inbox by subscribing to our newsletter.
---