News > Business
Riverstone development in Coeur d'Alene marks 20 years of challenges and successes
Wed., Sept. 11, 2019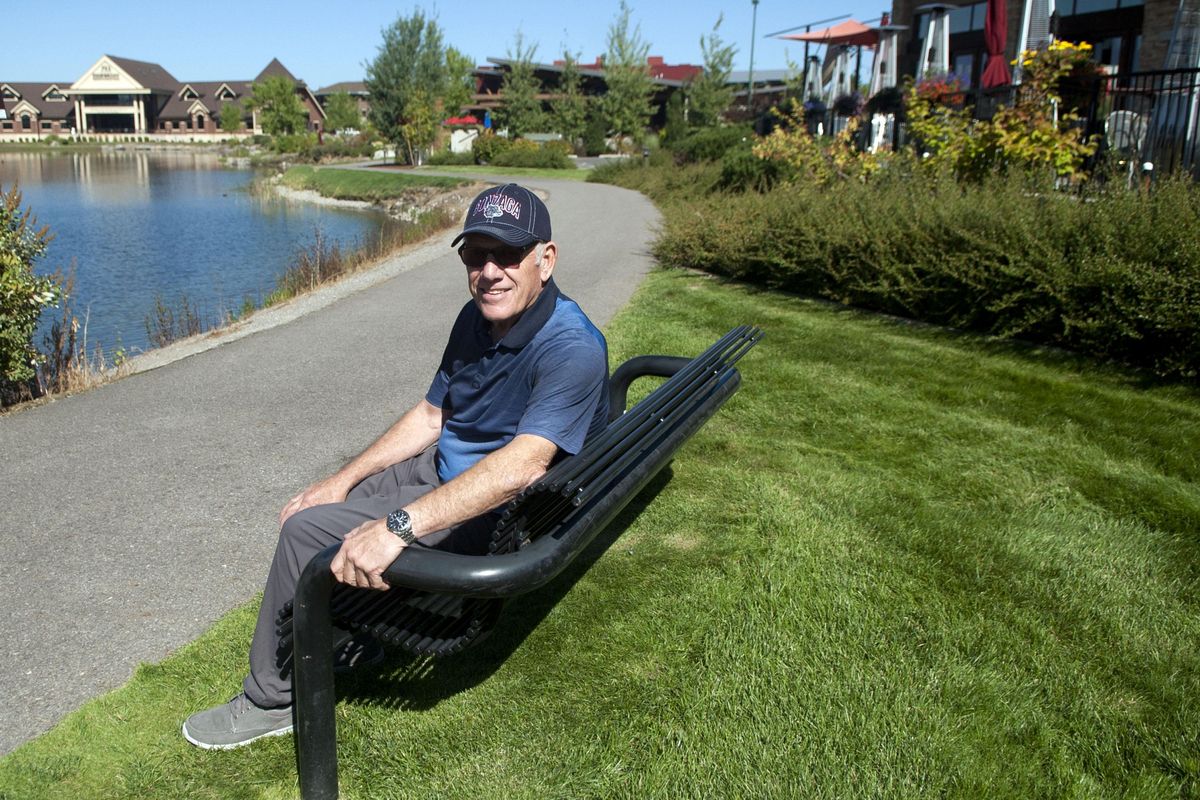 "This will be my third attempt at retiring," said developer John Stone during an interview at The Village at Riverstone in Coeur d'Alene on Tuesday, Aug. 27, 2019. (Kathy Plonka / The Spokesman-Review)
When John Stone set foot on the site of a former sawmill near the Spokane River, he saw an opportunity to transform the land into a lifestyle center, a "town within a town" that provides its residents with restaurants and shops.
Stone purchased the property in 1999 and built his live, work, play concept in phases. It gained traction among retailers and residents, but as the Great Recession hit, tenants moved out, threatening completion of the Village at Riverstone.
As the economy bounced back, so did Stone's determination to continue with his dream project. Tenants began signing leases again as Coeur d'Alene's population grew.
Now, the project is fully developed and celebrating its 20th anniversary this month.
"I loved the project and I love Coeur d'Alene. I just think Coeur d'Alene is a special place," Stone said. "So, it was never a question if I was going to finish it or not."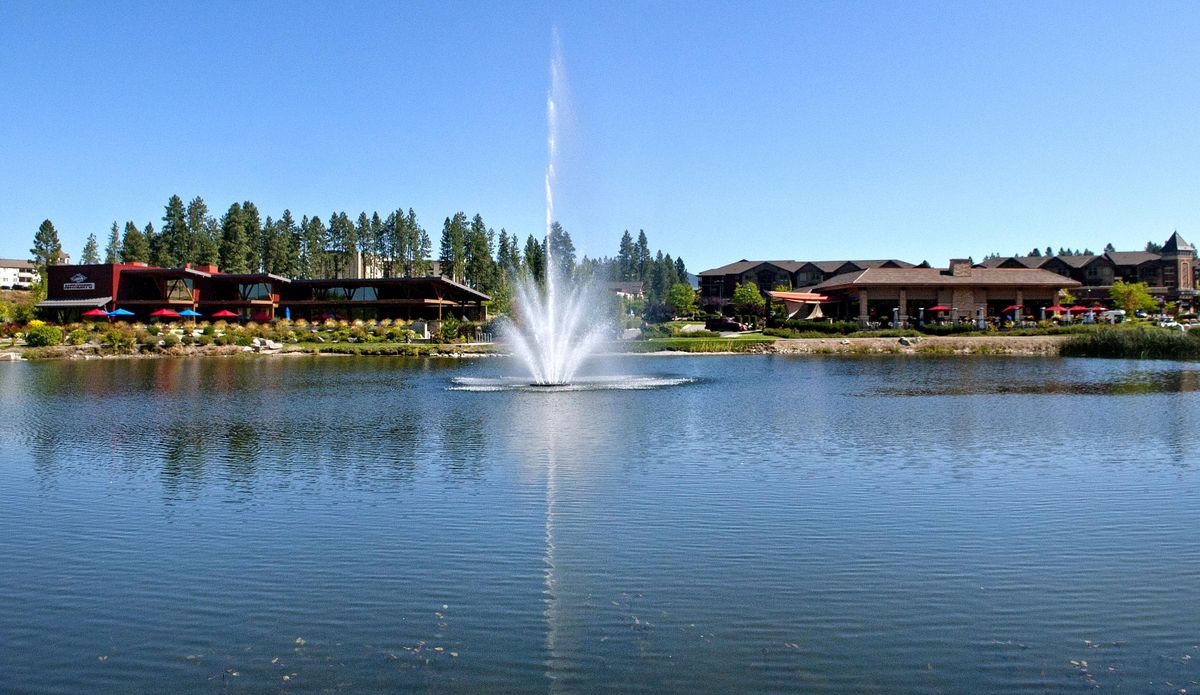 The fountain at The Village at Riverstone in Coeur d'Alene is photographed on Tuesday, Aug. 27, 2019. (Kathy Plonka / The Spokesman-Review)
From sawmill to doorway of Coeur d'Alene
Stone co-founded SRM Development with Jim Rivard, Dee McGonigle and his son, Bryan, and subsequently bought the former W-I Forest Products sawmill because of its location between Interstate 90 and the Spokane River.
"It had good bones, but they pretty much used up the sawmill and it was no longer functioning. It was abandoned for five years before we purchased it," Stone said.
Stone, a Gonzaga University graduate, began a real estate career in the 1970s developing ministorage facilities. Later, Stone developed urban housing projects in San Diego, Seattle and Portland.
"I had just started developing apartments, so that's when I decided to take my show on the road," he said. "I decided Coeur d'Alene was a great spot with a lot of opportunity."
The Village at Riverstone progressed slowly at first, with the addition of retail buildings and condominiums to create the unique live, work, play concept.
"I saw (the concept) in Scottsdale, Arizona, and it was talked about quite a bit in the development world at that time to do live, work, play," Stone said. "The natural attribute here is we have the Centennial Trail, and our company donated property for the Prairie Trail to run through it all."
The development's first tenant, First American Title, opened in 2000 and construction began on the Regal Riverstone 14-screen cinema in 2004.
SRM Development received more than $9 million in tax increment financing through an agreement with Ignite CDA – the city's urban renewal agency – for public improvements such as roads and a 10-acre public park with a pond built on the site of a former 44-acre gravel pit, which the company purchased from Central Pre-Mix in 2004.
"It was with that, we were able to make this economically viable," Stone said.
Tax increment financing uses an increase in property tax revenue spurred by new development to pay for project costs. SRM Development has since been reimbursed for the first phase of development from property taxes generated from commercial and residential buildings, according to Ignite CDA.
Stone expected to be finished with The Village at Riverstone within five to seven years. Instead, it took two decades because of changes in the real estate market following 9/11 and the Great Recession.
"I didn't plan on the Great Recession and I didn't plan on 9/11. After 9/11, nothing happened in the real estate world for a year, and then it incrementally started forward again," Stone said. "Small towns really got hit hard, so it was pretty sluggish and I had to modify some of the things I was doing. When the Great Recession hit, we had to give back part of the retail to the banks, and then I ended up buying it back again."
The Great Recession
When the recession began in 2008, Barnes & Noble, an anchor tenant for the development, pulled out of its lease agreement with SRM Development, and more than 10 additional tenants followed suit.
Lenders foreclosed on two of the three condo/retail buildings in 2010, and SRM Development deeded back the cinema and adjacent retail spaces to another lender, leaving storefronts vacant with boarded-up windows.
"We had to start all over again trying to resell space," Stone said. "Basically, everybody took a 40% hit on their financial statement, and I was able to survive that and have enough money left to put into buying and starting this again."
Stone parted ways with SRM development in 2011, citing semiretirement,butwasn't ready to give up on the project. He formed a new company, Riverstone Holdings LLC, and repurchased two of the condo/retail buildings.
He removed the plywood boards that covered retail windows and hired Casey Brazil, managing broker and director of brokerage for Kiemle Hagood, to lease out space.
When Randy Kinkle moved from California to Coeur d'Alene in 2007, he was one of the first condominium owners at Riverstone and the only person living in his building. Kinkle purchased three condominiums, two of which he rented out.
Kinkle said he was drawn to the convenience of Riverstone.
"It's perfect for active adults. Everything is within walking distance and if you drive, it's close to downtown, so everything is within arm's length," he said. "That's what really got me drawn towards the development."
Kinkle said when Riverstone was affected by the economic downturn, he remained optimistic the development would bounce back because real estate is cyclical.
By 2013, the development was showing signs of life again, with more than 130 occupied condominiums, salons, retail stores and restaurants.
"When I moved in, Riverstone was kind of a ghost town because they couldn't get investors in," Kinkle said. "Now it's hopping."
Complete at 20
This year marked completion of the 160-acre Village at Riverstone, which now boasts more than $350 million in investment.
The development contains about 40 restaurants and businesses, in addition to three hotels and hundreds of condominiums and apartments.
Ignite CDA Executive Director Tony Berns said that although Riverstone's original concept changed since Stone presented the site plans to the agency, it's evolved into a vibrant, successful development for the community with an abundance of activity and public space.
"I think people like the amenities and the ability to live and work there in Riverstone," Berns said. "I think it's been a great success story."
There have been more than 5,600 jobs created through development of the site, which is home to tenants such as Anthony's at Coeur d'Alene, Buckle, The Well-Read Moose, Empire Eye Physicians and Rohinni, a micro-LED manufacturing company.
Bear Paw Cookies owners Lois and Ed Phillips have been selling fresh-baked cookies and ice cream since opening their business in the Village at Riverstone in July.
"(Riverstone) has a lot of foot traffic," Lois Phillips said. "The locals have been incredibly supportive and business has been good so far."
Now that Riverstone is complete, Stone plans to pursue retirement, which includes boating in the San Juan Islands and winters in Arizona.
The Village at Riverstone is holding a 20th anniversary celebration Sept. 20-21. The celebration will feature fire-and-light show performances on the pond with 12 LED-lit aluminum "floating lotus" flowers choreographed to music every hour from 6-10 p.m.
The celebration also includes live music, free samples from Riverstone restaurants, a beer and wine garden, an Idaho Wildlife Treasure Hunt, a Saturday street fair, and a Kootenai Cookie Contest hosted by Bear Paw Cookies. Tickets are $10, with free admission for children. Ticket proceeds will go to the Kootenai Humane Society.
"It's kind of a twofold thing – to raise money for the Kootenai Humane Society and celebrate the fact that we're done with the project," Stone said. "We're very grateful for the support we've gotten from the community."
Local journalism is essential.
Give directly to The Spokesman-Review's Northwest Passages community forums series -- which helps to offset the costs of several reporter and editor positions at the newspaper -- by using the easy options below. Gifts processed in this system are not tax deductible, but are predominately used to help meet the local financial requirements needed to receive national matching-grant funds.
Subscribe now to get breaking news alerts in your email inbox
Get breaking news delivered to your inbox as it happens.
---