Company demonstrates 'salmon cannon' technology's potential to restore species to the Upper Columbia CHIEF JOSEPH DAM, Douglas County – Standing above the point where Chief Joseph Dam prevents thousands of chinook salmon each year from migrating upstream in the Columbia River, Darnell Sam praised new technology that could restore salmon runs all the way to Canada and beyond.
"The salmon spirit gives up its life to feed our families and feed our people. It fed our ancestors," said Sam, the fisheries committee chairman for the Confederated Tribes of the Colville Reservation. "Salmon are just like our people. They learn how to overcome, adapt and survive. But they need our help to go back to where their ancestors once were."
Sam spoke Tuesday to more than 120 people who attended the presentation by Seattle-based Whooshh Innovations CEO Vincent Bryan III.
Bryan first developed the technology as a way to safely move apples during harvest, then met with engineers and scratched out a plan on a napkin to modify the apple-harvesting technology to move salmon over dams. Soon after, Whooshh Innovations was born.
The Whooshh Passage Portal is the big brother of a system made famous in 2014 as the "salmon cannon." It pushes fish through a tube, which combines the flexibility of rubber and the durability of PVC pipe, up and over a dam without making the salmon struggle up through rushing water like the fish are forced to do in existing fish ladders.
After a salmon enters the system, the fish is scanned by six cameras at three different angles that instantly tell a computer whether the fish is a salmon or an invasive species, like a smallmouth bass, which is diverted. That tube can send the bass back to the water or to a grinder to be eliminated from the system.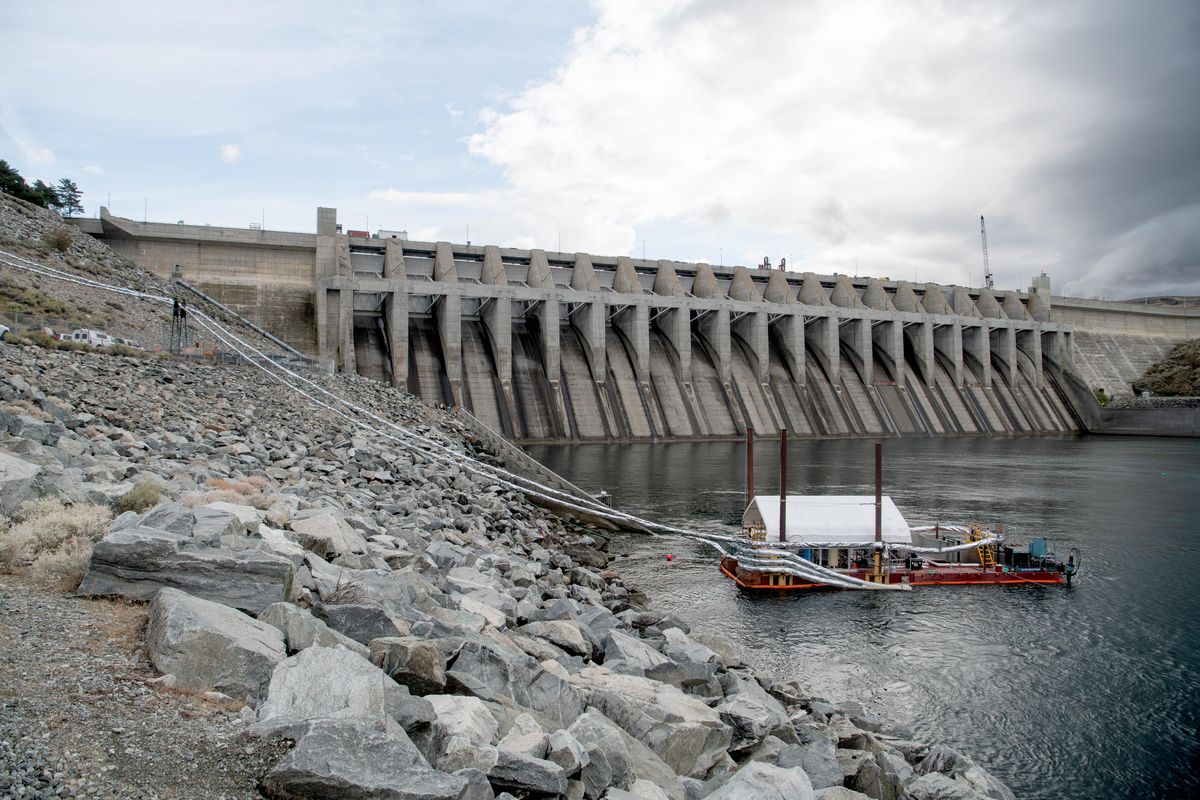 If the fish is a salmon, it gets a boost by what's known as the "burst buster," a system that pumps mist and cool air to prevent the fish from suffering temperature shock. Pressure equaling a pound per square inch sends the fish sliding and gliding at about 25 feet per second.
The temporary system set up on Tuesday would send a salmon through the 1,000-foot-long tube in less than a minute, Bryan said.
"There is no need to rest and recover. They just go on their way," Bryan said. "It's been an unbelievable 10-year effort to get to this point. The technology itself is ready to be deployed."
Bryan said for a dam like Chief Joseph, on which construction began in 1950, a new fish ladder could cost as much as $160 million or more. While he was hesitant to give a final price, he estimated a permanent Whooshh Passage Portal could be installed for about $14 million and be built in only three months.
"It's not just an engineering effort," he said. "Now it's a political effort. It's a permitting effort."
Bryan said initial funding would have to come from private sources. Fish ladders currently allow about 10% of water to move past a dam that could otherwise be used for irrigation or more hydroelectric generation, Bryan said. If that water were used to generate power, Bryan suggested the profits could be used to move fish.
"We could say that we want a piece of the revenue being generated from that water to pay for the system over time," he said. "The goal shouldn't be one dam. How can we do this at scale?"
Bryan's father, Vincent Bryan II, and mother, Carol, purchased several hundred acres near George, Washington, in 1980 and started the Cave B Estate Winery. The Bryans eventually developed the property into the Gorge Amphitheater.
"I helped build the original stage," Bryan said.
When he was in his teens, Vincent Bryan III said he remembered working at the vineyard and listening to the helicopters transporting salmon up the Columbia River. That thought returned in 2007 after he formed the company, which was developing a way to use water and pressurized tubes to transport delicate fruit. Could it be used to transport fish?
"We started out with tilapia. They seemed quite happy" to go through the tube, he said.
In 2011, the company partnered with federal officials to try the new technology on trout.
"It didn't hurt the fish. But they told us we needed to redesign the tube because it wasn't durable enough," Bryan said.
Company officials then tested it on salmon in Norway, where there are several salmon runs a year. The company kept refining the idea until they began demonstrating the Salmon Cannon.
"We learned in school that the problem was solved with fish ladders 30 years ago," Bryan said. "But the problem is a lot more complex."
Since salmon typically stop eating once they reach the fresh water of the Columbia River, they must rely on fat reserves to return to their spawning grounds. In 2016, the company tagged several salmon they sent through the Whooshh Portal and tracked how they did compared with salmon that fought their way through an existing fish ladder.
"Each fish is like a battery," Bryan said. "They only have so much energy."
The Whooshh salmon "ended up 100 miles ahead of the fish that went through the ladder," he said. "We knew we were saving the fish energy, but those results were just huge. We think this will have a pretty big impact on spawning success. That's the key for improving the runs."
Sam, 49, of Nespelem, also serves as the Cultural Committee chairman for the Colville Tribe. He said he's been connecting with other tribes who lost their salmon runs about 86 years ago, when crews began work in 1933 on the Grand Coulee Dam, located just upstream from Chief Joseph.
He remembers first seeing the Whooshh Innovations technology at a demonstration in 2011.
"We saw the possibilities," Sam said. "We believe in the salmon who is going to make his way back home. We believe in these salmon as much as we believe in everything we have been taught. This is a big day."
---