Sports
A Grip on Sports: College football really should leave Friday nights to high schools
Fri., Sept. 13, 2019 A GRIP ON SPORTS • When the high school football schedules started to appear on the radar, there was only one game we thought we shouldn't miss. Then we realized it was on the same night as Washington State's game in Houston. Not good.
•••••••
• Hey, I'm all in on Monday night fight football with the NFL. Have been since I was in high school myself. And Wednesday night college games, if little-known schools want to develop more visibility – and have a bye before hand – that seems to be a reasonable night. The NFL wants to play on Thursday? That's its choice, though I'm surprised the players haven't pushed back more.
But colleges playing games on Friday night makes no sense whatsoever.
The NFL has a free minor league, right? College football serves that purpose. It's a big part of the reason the 500-pound gorilla doesn't sit on its 300-pound college counterpart by playing Saturdays. It doesn't want to do anything to hurt it.
Makes sense.
Which is why it doesn't make any for college football to play on Friday nights.
High school football is college football's de facto minor league as well. Almost every college player has polished their craft in high school. It's the natural progression of things.
But here we are. Washington State is playing its only semi-high profile non-conference game of the year and it's on a Friday night. In Texas, home of "Friday Night Lights" and all that.
It makes little sense.
Mike Leach, who coached in Texas for almost a decade, talked a little about it this week. He was sure it wouldn't go over well with most of the folks connected to high school football in the state. Which means everyone.
It's why there is little chance of a big crowd in Reliant Stadium for the Advocare Classic or whatever its called. Houston fans, those without high-school aged kids, will hold their noses and show up. Washington State fans, those who can afford to make the trip, will be there. And that's probably it. The rest of the Houston-area football fans will be doing what they always do on Friday nights.
Eating popcorn, enjoying a Dr. Pepper and cheering for the kid down the street. As it should be.
•••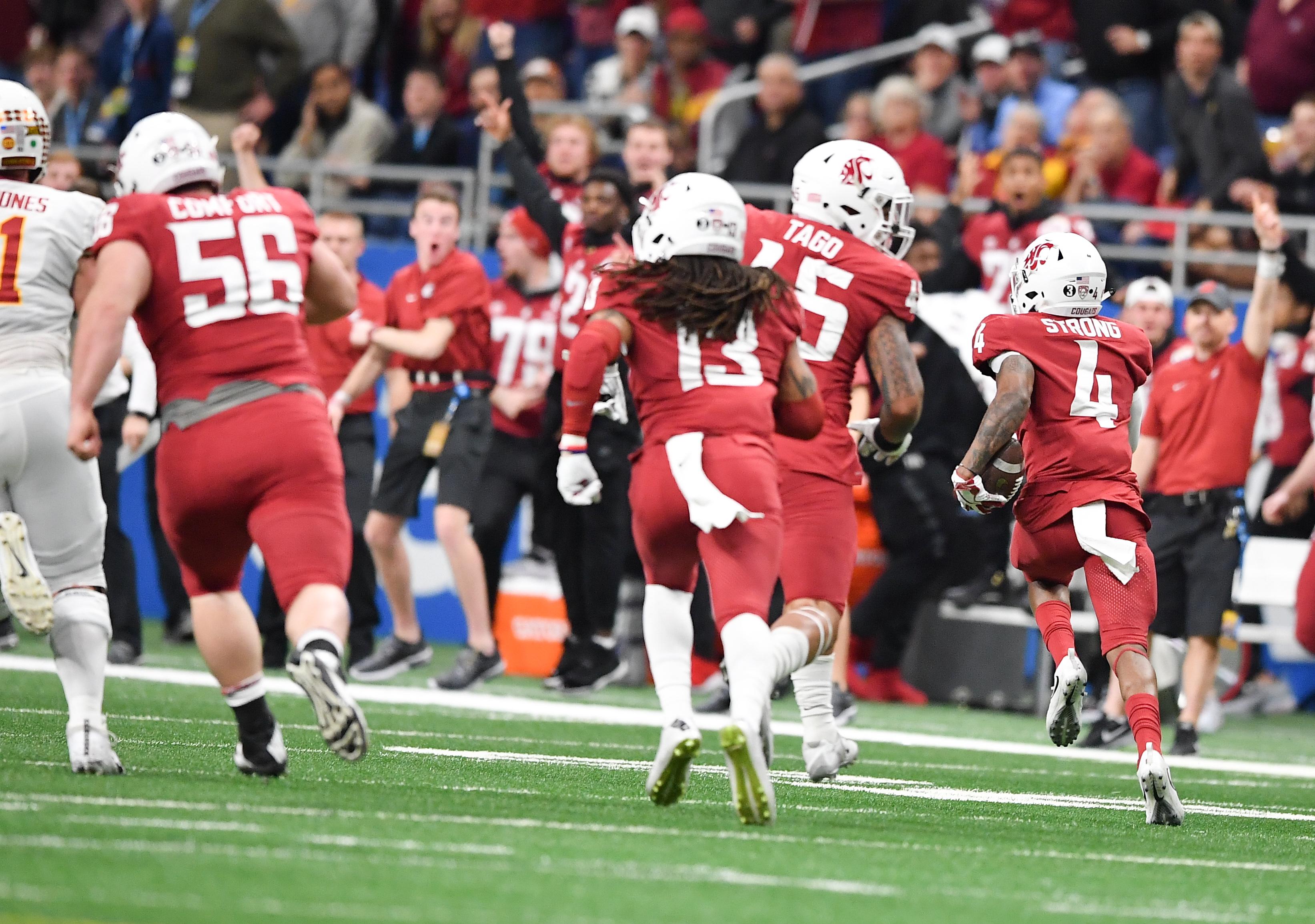 WSU: We know both teams can score. The Cougars (WSU variety) have a potent passing game and a running back of some renown. The Cougars (Houston variety) have a potent passing game and a quarterback who can run well enough to turn defensive backs around. So, as Theo Lawson writes this morning, it comes down to the defenses. Which one wins possessions most often, their team will win the game. … Theo also has his keys to the game. … And he makes his pick. He picks, well, read it here. … Larry Weir talked with Theo about the game as well in the latest Press Box pod. … In alumni news, Luke Falk is the Jets' No. 1 backup quarterback this week. Theo has all the particulars. … Changing gears a bit, the Pac-12 rolled out all the basketball schedules yesterday and its almost as if we are in a time warp. Everyone, including WSU, has a conference schedule that harkens back to a simpler time. … Back to football. This will be WSU's first real big test this season. … Elsewhere in the Pac-12, it's a big week for the conference, with the last big push of non-conference games. There are at least a dozen things to talk about. … When will the young wide receivers step up for Washington? … Oregon has a chance to give backups some more time this week. … Oregon State just wants to pick up a win. … Colorado renews its series with Air Force. … California may have a hangover after the big win against UW. But injuries are more of a worry. … Stanford has to follow up a tough loss to USC with a trip across the country. … USC has unlocked its freshman quarterback. For one game at least. … The crowds have been so thin for UCLA, the Bruins offered free tickets for this week against Oklahoma. Don't forget, it took Leach a while to find his footing in Pullman. … After a couple warmups, Arizona State faces the real thing. … Arizona hosts Texas Tech tomorrow.
Gonzaga: If your memory is good enough, you can remember when Quentin Hall was flashing through defenses and zipping into the passing lanes for GU. And you might even recall he came from the Bahamas. He talked with Jim Meehan yesterday concerning the impact of Hurricane Dorian, which battered his home and terrified his family. But not his attitude.
EWU: Saturday's showdown in Jacksonville features two of the most dynamic FCS quarterbacks playing this season, Eastern Eric Barriere and Jacksonville State's Zerrick Cooper. Ryan Collingwood profiles the duo in advance of the game. … Ryan also has his Big Sky picks for the week. Through two weeks he's missed just one game. … Around the Big Sky, Idaho State will make more than a million dollars playing Utah and BYU this season. But the starting left guard can't make a commercial for a Pocatello car dealer and pocket $500. … Montana State is happy with its punt returner. … Montana has a history with Oregon. … The same can be said for Weber State and Nevada. … Northern Arizona wants to bounce back – and should.
Idaho: The Vandals used a pair of power backs to run over Central Washington last week. Peter Harriman looks back at that game and ahead to this week's matchup with Wyoming. … There has been a change on the basketball coaching staff. Peter has that news as well.
Preps: Yes, it's Friday. There are high school football games all over the area. Dave Nichols and Sam Adams picked the winners in six of them. This week, they agree less than they did last week.
Seahawks: Sometimes a young receiver just seems older. That may be the case for DK Metcalf. … The Hawks are dealing with some injuries. … The offensive line is mostly healthy. It just wasn't good against the Bengals. … Russell Wilson leaves no URL unclicked in researching opponents. He also has a dad mode. Who knew?
Mariners: No matter how good a pitcher's stuff is, he has to find the plate. Justin Dunn couldn't last night in his big league debut. … The M's have used more players and more pitchers this season than any team in major league history. Wow. … Gene Warnick has an Out of Right Field recap.
•••
• Here we are. It's Friday and the weekend awaits. The coffee is warm, the house a bit chilly. There is a tinge of fall in the air. I can't speak for everyone, but I feel eternally grateful to be able to experience days like today, even if it is the 13th day of September (and all that entails). For seven months out of the year, Spokane and its environs are near perfect. The other five months? Basketball season, so that's cool too. Until later …
Subscribe to the sports newsletter
Get the day's top sports headlines and breaking news delivered to your inbox by subscribing here.
---