News > Spokane
100 years ago in Spokane: City maintains dream of becoming Hollywood North
Sat., Sept. 14, 2019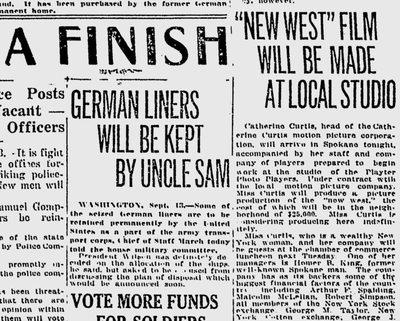 Spokane still had not given up on its dream of becoming Hollywood North.
The Spokane Daily Chronicle breathlessly announced that Catherine Curtis, the head of the Catherine Curtis Motion Picture Corp., was arriving in Spokane tonight to "produce a picture production of the 'new west.'"
She was "a wealthy New York woman" and was considering producing a string of pictures in Spokane.
"While our contract calls for but one picture, if Miss Curtis is favorably impressed with the community, she will produce here indefinitely," said Wellington Playter, whose Playter Photo Players had recently purchased the bankrupt Washington Motion Picture Corp.'s extensive studios at Minnehaha.
Playter also claimed that he had contracts with several other film companies to produce pictures in Spokane, which he said "means that Spokane will have a real motion picture colony, with several distinct units operating here at once."
He said the trade papers were already "extolling the productions we have in mind."
Local journalism is essential.
Give directly to The Spokesman-Review's Northwest Passages community forums series -- which helps to offset the costs of several reporter and editor positions at the newspaper -- by using the easy options below. Gifts processed in this system are not tax deductible, but are predominately used to help meet the local financial requirements needed to receive national matching-grant funds.
Subscribe to the Coronavirus newsletter
Get the day's latest Coronavirus news delivered to your inbox by subscribing to our newsletter.
---