News > Spokane
100 Years Ago in Spokane: Minnehaha Park misses its movie moment; Ex-President Taft plans Spokane trip
Mon., Sept. 16, 2019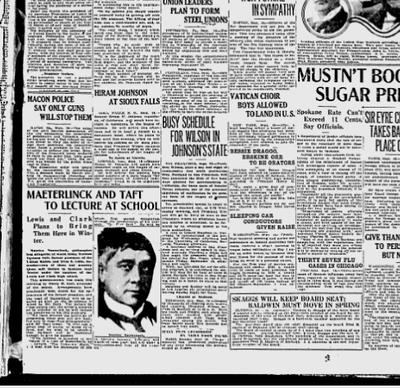 George Foster Platt, described by the Spokane Daily Chronicle as "one of the foremost directors of the theatrical profession in America," was hired by Cathrine Curtiss to direct a new movie to be filmed at the Spokane studios at Minnehaha Park.
Platt was an experienced Broadway director who had recently made the leap to movies. He had just directed "Deliverance," a film made in New York about Helen Keller and Anne Sullivan, both of whom played themselves.
Platt said he hoped to replicate the success of "Deliverance" with his next movie, for which he apparently did not yet have a title or a subject.
"In beginning work on the present picture for Miss Cathrine Curtiss (spelled Catherine Curtis in previous stories), there is an assurance that we shall eventually have another picture quite out of the ordinary run of such presentations, and singularly significant of the marvelous development of the great northwest," he said.
This, like so many of Spokane's movie dreams, would not come to pass. "Deliverance" would be Platt's final credited film.
From the lecture beat: Another U.S. president – former president William Howard Taft – was planning on visiting Spokane.
He was booked into a lecture series at Lewis and Clark High School next winter. Other names on the lecture schedule included writer Maurice Maeterlinck and humorist Irvin S. Cobb.
Local journalism is essential.
Give directly to The Spokesman-Review's Northwest Passages community forums series -- which helps to offset the costs of several reporter and editor positions at the newspaper -- by using the easy options below. Gifts processed in this system are not tax deductible, but are predominately used to help meet the local financial requirements needed to receive national matching-grant funds.
Subscribe to the Coronavirus newsletter
Get the day's latest Coronavirus news delivered to your inbox by subscribing to our newsletter.
---