News > Spokane
Fair attendance breaks record and tops 200,000 for second straight year
Sept. 16, 2019 Updated Tue., Sept. 17, 2019 at 11:23 a.m.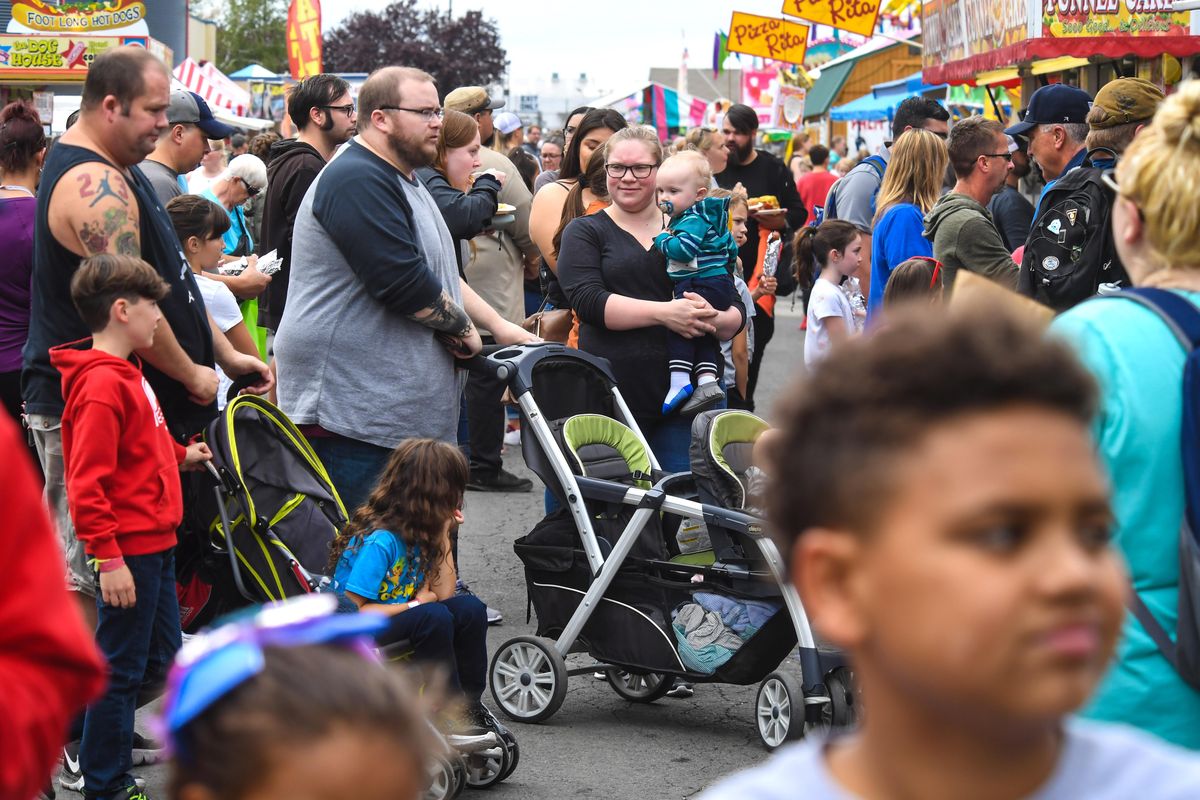 Huge crowds pack the food court area outside a corn dog booth Saturday, Sept. 14, 2019, at the Spokane County Interstate Fair. (Dan Pelle / The Spokesman-Review)
High-diving pirates and a Foreigner concert helped draw record crowds this year to the Spokane County Interstate Fair.
More than 200,000 people walked through the gates during the fair's 10-day run. A late surge in attendance, beginning Wednesday, helped offset lower numbers earlier in the week – possibly because of rainy weather.
At least 12,000 people attended the fair every day this year, with the highest attendance on the second Saturday at 41,891. This year's overall attendance was 206,615, compared to last year's 205,997 tickets sold.
Spokane County Fair Director Erin Gurtel said the biggest draw was likely the Sinbad the Pirate High Dive Show that filled bleachers and drew gasps and cheers. The divers launched from tiny platforms, including one that was 80 feet above the round pool.
The Foreigner concert also drew loads of fairgoers, and the weather eventually cooperated with warm sunny days.
Gurtel said animals are always a big draw, and this year there were kangaroos, a camel and baby pigs. There were also about 1,200 animals registered as entrants into the fair.
Gurtel said the second weekend of the fair is usually the busiest; the first weekend is close to the time when much of Spokane goes back to school and starts participating in sports.
Rain and clouds affected attendance early on during the 10-day event, she said, but attendance gathered momentum every day during the last week of the fair.
"I think the weather was fantastic," she said. "We did have a couple hard days, and we did get covered with rain. But we rebounded, and it went really well."
Gurtel said the pirate diving show was packed during its three performances a day.
Saturday also had unusually high food sales and carnival attendance, Gurtel said. Specific numbers for sales and participation aren't yet available, she said, but the carnival company the fair works with told her they hadn't seen carnival participation this high in decades.
This was Gurtel's first year as director of the fair. After 14 years in marketing for the fair, she replaced Rich Hartzell, who was director for eight years.
She said she was glad to get her first year as director under her belt and thanked fair staff for keeping things running smoothly.
"I am just delighted with how everything went, and it makes me that much more excited for next year," she said.
Gurtel said next year's theme is "Expect the Unexpected." The 2020 fair will run from Friday, Sept. 11, to Sunday, Sept. 20.
This story was changed on September 17, 2019 to reflect there was 1,200 animal entrants in the fair.
Local journalism is essential.
Give directly to The Spokesman-Review's Northwest Passages community forums series -- which helps to offset the costs of several reporter and editor positions at the newspaper -- by using the easy options below. Gifts processed in this system are not tax deductible, but are predominately used to help meet the local financial requirements needed to receive national matching-grant funds.
Subscribe now to get breaking news alerts in your email inbox
Get breaking news delivered to your inbox as it happens.
---