News > Spokane
Todd Mielke announces resignation as CEO of Greater Spokane Incorporated
Sept. 16, 2019 Updated Mon., Sept. 16, 2019 at 9:39 p.m.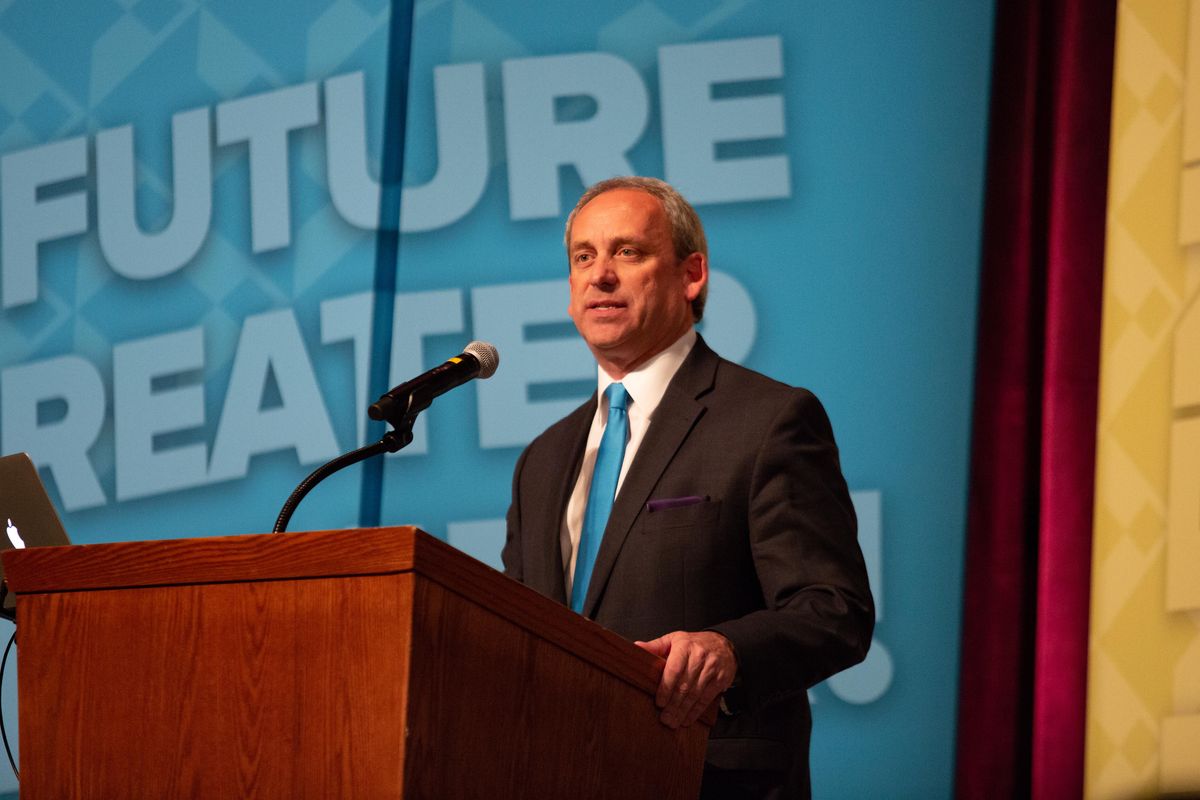 Greater Spokane Incorporated CEO Todd Mielke delivers opening remarks at the organization's annual meeting on Sept. 27, 2018, at the Spokane Convention Center. Mielke announced his resignation Monday, Sept. 16, 2019. (Libby Kamrowski / The Spokesman-Review)
After more than three years as CEO of Greater Spokane Incorporated, Todd Mielke announced he's resigning from the organization effective Tuesday.
Mielke, who left his position as a Spokane County commissioner in 2016 to lead GSI, intends to remain in Spokane, but declined to comment on specific future career plans other than he intends to pursue "other professional opportunities."
"I think there's timing in everything you do in life," Mielke said, referring to his leadership role at GSI. "I was brought in to accomplish some very specific tasks, and I think I'm at a point where we've made significant headway on those and it's time for me to look for the next professional opportunity."
Mielke will be succeeded by Alisha Benson, who most recently served as GSI's chief strategy and business development officer. Benson has been with the organization for more than 12 years and has been leading economic development efforts.
Benson also has held positions within the organization of chief operating officer and vice president of education and talent. She was recognized nationally as one of the Association of Chamber Executives' 40 under 40 leaders.
"GSI plays a critical role in our region in advancing a vibrant economy by bringing organizations together to advocate for the region, drive strategic economic growth and champion a talented workforce," Benson said in a statement. "I am excited to assume the CEO role and work with GSI's talented team to further these goals in collaboration with partners and our members."
In an interview, Benson said she's preparing to lead the organization's efforts in business retention and expansion, securing sustainable economic development funding for the region, and launching an economic development platform that serves "as the gateway of the community."
Tom Johnson, chairman of GSI's board of trustees, said Mielke's resignation was unexpected, but the board unanimously supported naming Benson as CEO of the organization.
"We're rolling up our sleeves and beginning her transition," he said. "Todd and Alisha will have a 30-day transition period where he will continue to serve as a resource to Alisha and GSI."
In a resignation letter to GSI's executive committee, Mielke lists several accomplishments during his tenure as CEO, such as lobbying the U.S. Air Force to make Fairchild Air Force Base the largest tanker base in the world, rewriting GSI's strategic plan, launching a brand update under the banner of "Together We're Greater," negotiating a 10-year lease renewal on the organization's downtown building and developing a common economic development services agreement between municipalities and GSI.
Johnson said Mielke helped GSI redefine its role as a business development organization and clarified strategies such as supporting business growth, advocating for legislation on behalf of business members at the state and national levels, and supporting the talent pool in the region.
"Those are all things we've done historically. But under Todd's leadership, we've been able to lift those up as three strong pillars we wanted to focus our activities around," Johnson said.
GSI, Spokane's business development organization, was formed in 2007 when the Spokane Regional Chamber of Commerce merged with the Spokane Area Economic Development Council. It has more than 1,200 members that employ 100,000 workers.
Local journalism is essential.
Give directly to The Spokesman-Review's Northwest Passages community forums series -- which helps to offset the costs of several reporter and editor positions at the newspaper -- by using the easy options below. Gifts processed in this system are not tax deductible, but are predominately used to help meet the local financial requirements needed to receive national matching-grant funds.
Subscribe now to get breaking news alerts in your email inbox
Get breaking news delivered to your inbox as it happens.
---