Sports
A Grip on Sports: From New York to Corvallis and everywhere in between, there is news that hits close to home
Tue., Sept. 17, 2019 A GRIP ON SPORTS • It seems like a good day to hit a bunch of subjects really quickly. So we will. Welcome to Tuesday. I hope at some point there will be tacos.
•••••••
• Oregon State hosted Cal Poly, San Luis Obispo on Saturday. The Mustangs play football a bit different than most schools. They still run the wishbone, or at least a variation of it.
But the operable word here is "run." They run the ball. A lot. And running keeps the clock running. Which is why the game in Corvallis took 16 minutes less than three hours.
Yes, a game with a running time of less than three hours. Wow.
• Mike Leach spoke about a lot of subjects yesterday. It was a pretty usual Monday press conference, actually, other than the fact it started almost on time.
But there was one response that will fly around the Interweb this week for a while before melting into the ether.
When asked about the California law that would give college athletes control over their likeness, the ability to sell it and make a profit if possible, a law that won't go into effect until 2023, Leach made a case why he didn't like it. The core of that case? A recruiting advantage for California schools. But the comment that will get the most play featured a criticism of a state's legislature focusing on college athletics and not one other, quite possibly more important, issues. To illustrate his point, Leach pointed to California's dirty streets.
That is going to tick off some people. Never, ever, criticize someone's street cleanliness. Them's fightin' words.
• Mark Dantonio may be the luckiest coach in college football. If your team had a last-second, game-tying field goal taken off the board because there were 12 players on the field, you would be apoplectic, right? It happened to Michigan State against Arizona State on Saturday.
But Dantonio, Michigan State's coach, received a reprieve, even though his kicker shanked the next attempt and the Spartans lost. The reprieve was courtesy of the Pac-12 officials on the scene, who missed an obvious penalty that didn't seem to impact the field goal try in any way.
Instead of being skewered for the 12-men-on-the-field penalty – and that's one of those mistakes that can cost a coach his job – Dantonio gets to huff and puff about the officiating. How MSU was jobbed. And the Spartan fans get to place blame elsewhere. Just remember this. If there had been 11 players on the field the play before, the missed call never happens.
• We actually watched a little Monday Night Football last night, despite it being a nondescript game featuring two teams we could care less about. However, Luke Falk had a chance to play.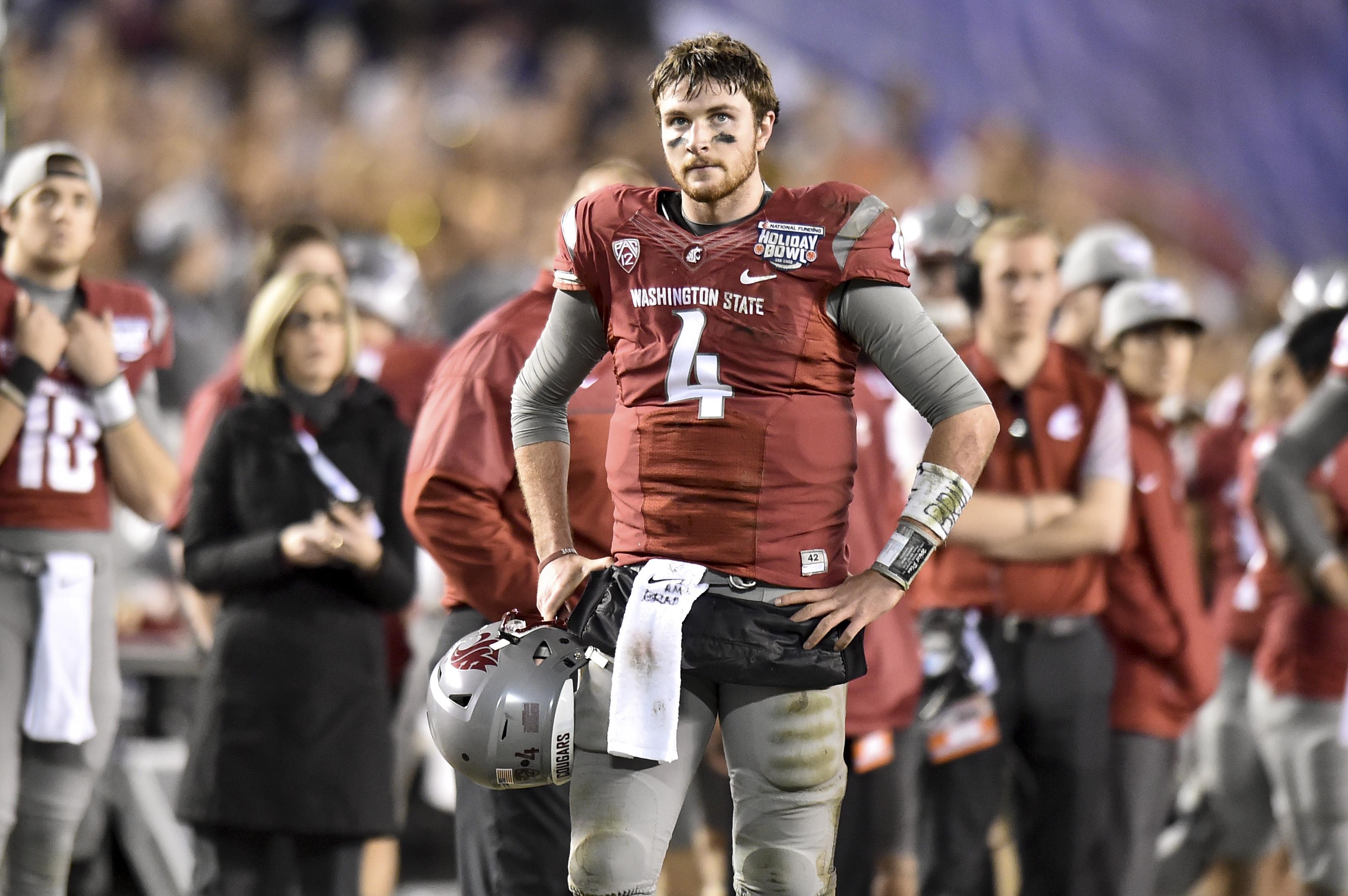 Falk went from practice squad player to prime time focus in less than a week. He came in due to an injury and did fine, especially considering there was one huge drop at the end of the first half and another hard-to-understand fourth-down reception bobble late in the game. Plus, the Jets' offensive line must have reminded Falk of his early years in Pullman, when he was sacked on, seemingly, about half the plays.
• One other note about the game, one we believe ESPN never covered (at least we didn't hear it). Washington State was the only Power 5 school to offer Browns' quarterback Baker Mayfield a scholarship. But the Cougars gave the lone quarterback scholarship that year to Tyler Bruggman, a four-star recruit from Arizona, instead.
Mayfield stayed closer to home, walked-on at Texas Tech, played a year there and then transferred to Oklahoma. With Bruggman carrying the QB scholarship in Pullman, a Utah kid named Luke Falk decided to walk-on and take a shot at earning a spot.
Bruggman ended up transferring, playing at a handful of schools in his career. We know what Falk did at WSU, finishing his career as the Pac-12's all-time leading passer. And Mayfield? He was not only a star at Oklahoma, he something of a phenomenon. It's possible he and Falk could have been in Pullman together.
•••
WSU: There is a lot from Theo Lawson today. He has his first look at the UCLA game. He has a story on Leach's comments. And he has the Falk news. … Theo also has a story on Anthony Gordon winning another Pac-12 weekly award and the Cougars adding a couple of recruiting commitments. … The Cougars' game with Utah, which could be a matchup of top-15 teams, will be late next Saturday. In other words, those east of the Mississippi won't be watching. Theo has that story as well. … Larry Weir spent some time yesterday talking with Matt Chazanow about the Cougars on the Press Box pod. …Leach talked up the Bruins a bit in his press conference and well he should. UCLA has some highly recruited talent, even if that talent hasn't translated into success. The quarterback's talent at running will stress the Cougar defense. … Elsewhere in the Pac-12, Washington's Chris Petersen talked with the media yesterday as well. … Oregon is dealing with a lot of injuries. … Arizona State and Colorado meet Saturday. It is big for both. … So is Friday night's game in Los Angeles, where Utah will try to stake its claim to the South. USC isn't about to roll over. … It's possible California could win the North. … In more overarching stories, there is no way to get every call right in football. … The bowl situation is starting to become clearer after most non-conference games. … This column promises to be interesting down the road.
Gonzaga: There was an interesting photo of GU's freshman class making the social media rounds yesterday. I wonder how many of them will be counted on to help the Zags fulfill the NCAA Tournament projections Jim Meehan writes about today?
Preps: There is a lot going on in the high school sports world, so Dave Nichols has a notebook for you.
Indians: Dave also delved into two Spokane players who had outstanding seasons.
Seahawks: How the heck are the Hawks' 2-0? They've done it with a bit of luck, some patching together of the defense and Russell Wilson. … The health is improving. … The Saints come to Seattle with a bit of chip on their shoulder after last week's loss in Los Angeles. … Chris Carson has fumbled three times. He's still Pete Carroll's first choice with the game on the line.
Mariners: Marco Gonzales is having his most complete season.
•••
• All of a sudden it's getting a lot colder here at night. As in temperatures-in-the-40s colder. Caught me a little by surprise last night. The house is freezing this morning and I'm not about to turn on the heater just yet. We have our standards. Until later …
Subscribe to the sports newsletter
Get the day's top sports headlines and breaking news delivered to your inbox by subscribing here.
---