A&E
Review: Diana Krall at the FICA is an all-around showcase of talent and skill
Sept. 17, 2019 Updated Tue., Sept. 17, 2019 at 9:32 p.m.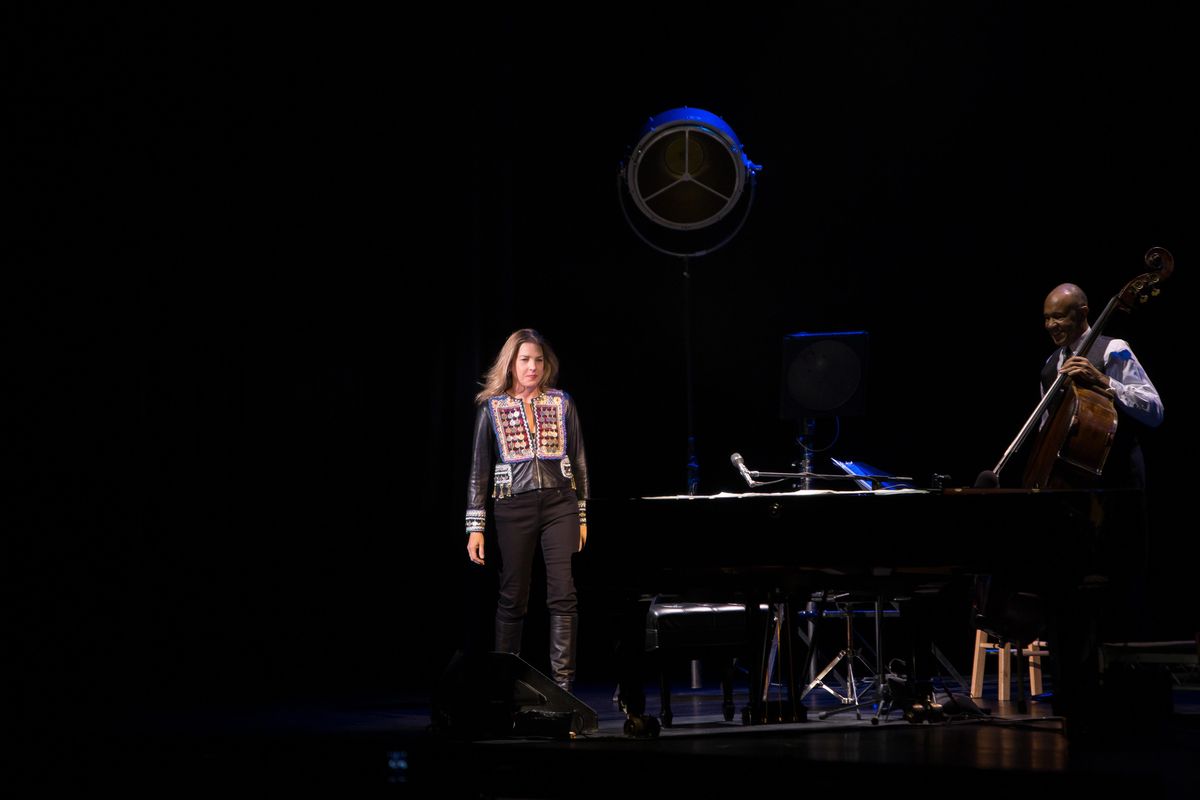 Diana Krall walks onstage at the First Interstate Center for the Arts on Monday night in Spokane. (Mike Wootton)
Canadian jazz singer-songwriter and pianist Diana Krall – dressed in black boots, black pants and a rock-star black leather jacket with noise-making accoutrements – strolled onstage Monday night at 7:40 at the First Interstate Center for the Arts with her four-man band for their "Turn Up the Quiet" world tour stop.
"How are you doing, Spokane?" the Nanaimo, British Columbia, native and three-time Grammy Award winner asked, then with her quartet kicked off a 12-song set that lasted nearly 2 hours and was alternately skillful, which is no surprise; snoozy, due to a set list primarily focused on down-tempo and emotional tunes about love; and ultimately astonishing in its effortless skill.
In fact, the evening's only up-tempo song, "Devil May Care" by Bob Dorough, was a much-needed boost of energy for the audience in a performance that, while solid, would've been better suited in a more intimate and cozy jazz club, but that would mean a monthslong stint for a caliber of star such as Krall.
Krall, who has been married to fellow singer-songwriter Elvis Costello since 2003, seemed scattered – she said that she was performing without a setlist, and perhaps it was true, as she rifled through papers on her piano during the beginning of the show – and melancholy, but that's perhaps part of her charm (and she has suffered many losses in recent years), and the audience in Spokane loved it.
It would be difficult to forget Krall's band – John Lee Clayton Jr. on bass, Karriem Wiggins on drums, Anthony Wilson on guitar and Joe Lovano on saxophone – because Krall, more cool chick than diva – graciously introduced and credited them repeatedly throughout the night. And each of the five artists had his or her alternating moment to shine in the spotlight as soloist in their respective areas of expertise, garnering much-deserved applause each time.
The setlist, which showcased Krall's husky, smoky and unaffected – and dare I say sexy? – contralto vocals, included covers of and tributes to Frank Sinatra, Nat King Cole (twice), Tom Waits, Bob Dorough, Jimmy Rowles and more. Her solo rendition of Waits' "Take It With Me" at the piano was absolutely riveting and haunting.
Speaking of the late jazz pianist Rowles, Krall, 54, told a lengthy tale about how the Spokane native affected her career, not only as an inspiration and future collaborator but also as someone who wrote her a letter of recommendation early on. She said Rowles lives on in her heart and that it was special to share the story with an audience in his hometown.
Also on display was Krall's deadpan humor. "I'm so happy. Can't you tell?" she monotoned at one point. And when an audience member shouted the request of "A Case of You" by Joni Mitchell during the encore, she replied, "I'm here for you. You bought the ticket."
Krall is the only jazz singer to have eight albums debut at the top of the Billboard Jazz Albums chart. It is no surprise considering the standing ovations that she and her band deservedly received after the 100-minute concert and 20-minute encore.
Local journalism is essential.
Give directly to The Spokesman-Review's Northwest Passages community forums series -- which helps to offset the costs of several reporter and editor positions at the newspaper -- by using the easy options below. Gifts processed in this system are not tax deductible, but are predominately used to help meet the local financial requirements needed to receive national matching-grant funds.
Subscribe to the Spokane7 email newsletter
Get the day's top entertainment headlines delivered to your inbox every morning.
---