News > Spokane
'The story of America': Almost 100 immigrants become U.S. citizens in Spokane Valley
Sept. 17, 2019 Updated Tue., Sept. 17, 2019 at 7:55 p.m. Judge Thomas O. Rice's courtroom wasn't big enough to contain the almost 100 immigrants becoming U.S. citizens in Spokane Valley on Tuesday, so the new Americans took their oaths of citizenship at the CenterPlace Regional Event Center.
As soon as they were done, the room erupted in applause and tiny American flags began to wave, celebrating the new citizens who came to the U.S. from some 40 countries and whose journey to citizenship was completed on Constitution and Citizenship Day.
"This day will live forever in your personal and family history," Rice said to the new citizens. "You have joined a nation of immigrants – that is the story of America."
For Amio Brown, who came to the U.S. almost two years ago to be close to her children, the ceremony means she can take the next step towards her future.
"It's a great feeling," Brown said. "It feels like a great opportunity."
Brown is from American Samoa and was previously a U.S. national but her husband is from West Samoa, which means he needs a sponsor to immigrate to the United States.
"It's very hard," Brown said. "He misses his grand kids."
She plans to sponsor her husband and hopes he can join the family as a U.S. citizen in the near future. Brown attended the ceremony in a bright red top with matching flowers in her hair and an American flag to top off the ensemble.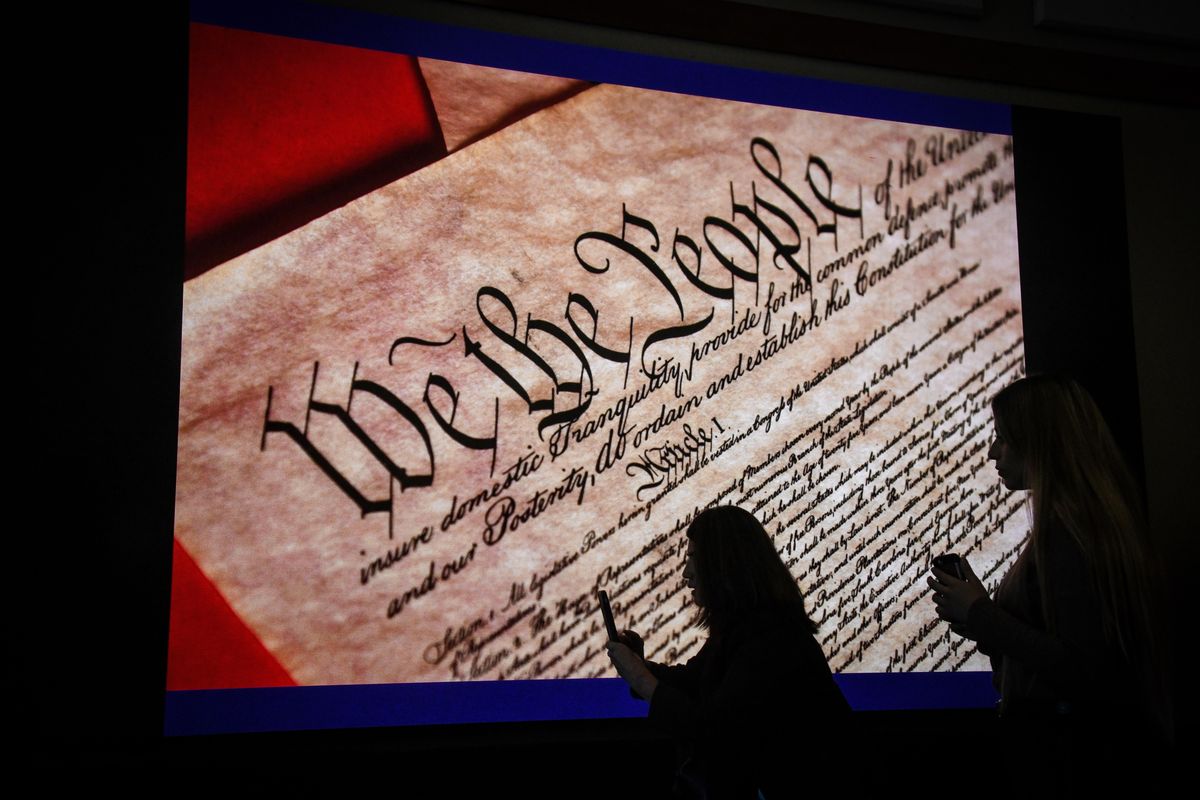 Cell phone pictures are taken after a Naturalization eremony, Tuesday, Sept. 17, 2019, at CenterPlaceEvent Center. Ninety-eight new citizens from 40 nations participated in the Oath of Allegiance. (Dan Pelle / The Spokesman-Review)Buy a print of this photo
"I love it," Brown said. "I love to have a flag of America anywhere."
Brown wasn't the only one who dressed up for the occasion.
Luis Maldonado, 23, donned a suit and tie after his drive to Spokane from Moscow, Idaho, where he attends the University of Idaho.
Maldonado moved to Othello from Mexico five years ago for "a better future," along with his parents.
"It's everything," Maldonado said. "I'm really happy."
Maldonado studies mechanical engineering, but getting practical experience at internships has been difficult because he was not a citizen.
"I can demonstrate to them, and all the people who didn't believe in me, that I can have a better future," Maldonado said.
Getting his citizenship is the next step toward creating a better life for not only himself but also his family, Maldonado said.
"I don't have a dream job just to make a great contribution to this country, my family and my community," he said.
Despite his excitement about moving forward as an American citizen, Maldonado acknowledged the difficulty of moving on from his home country.
"It's really tough, because I left behind a lot of friends and family," Maldonado said. "At the end of the day, it's worth it."
Laura Barragan, court services specialist, said the annual Constitution and Citizenship Day naturalization proceedings stand out for their size and for the enthusiasm that brings.
Normally 25 to 35 people would become citizens in a small courtroom, but Tuesday natural light flooded into the event center over rows and rows of chairs.
"We bring in more community involvement," Barragan said.
The League of Women Voters had a booth with voter registration forms for the new citizens as they left the ceremony.
For Ken Bawden of the U.S. Citizenship and Immigration Services Spokane field office, the ceremony is "extra festive."
"It is a big deal," Bawden said. "The Constitution is the presiding document of our government."
He also noted that two types of naturalization happened Tuesday. Children of U.S. citizens who are under 18 go through a different naturalization process if they were born outside of the country. That process doesn't require a citizenship test like the full immigration process.
For Collette Bivins, becoming a citizen offered an opportunity to show her daughters how lucky they were to be born in America.
"For my girls to see me go through the process, they see the privilege of being born here," she said.
Bivins came to the U.S. on a work visa over 18 years ago from Trinidad. She then met her husband and became a permanent resident. The family now lives in Walla Walla.
"It's been actually quite easy," Bivins said of the process. She decided to pursue her citizenship about nine months ago.
"It's a leap of faith," Bivins said. "In my case, the dice were in my favor."
Local journalism is essential.
Give directly to The Spokesman-Review's Northwest Passages community forums series -- which helps to offset the costs of several reporter and editor positions at the newspaper -- by using the easy options below. Gifts processed in this system are not tax deductible, but are predominately used to help meet the local financial requirements needed to receive national matching-grant funds.
Subscribe now to get breaking news alerts in your email inbox
Get breaking news delivered to your inbox as it happens.
---