News > Spokane
Grit, good company and bridge group keep this 100-year-old going
Wed., Sept. 18, 2019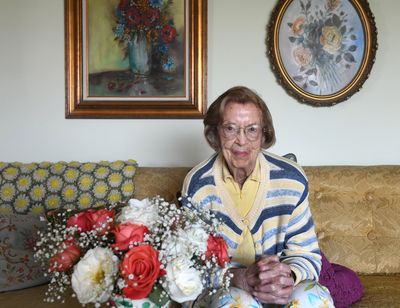 At 83, Virginia Stephan, armed with only a dust mop, chased a blood-covered intruder out of her home.
These days she gets most of her excitement from her favorite soap opera, "The Bold and the Beautiful," and that's just fine with her.
On Sunday, Stephan celebrated her 100th birthday with family and friends.
She still lives in the home, she and her husband, Robert, built in 1954. Still drives the silver Audi, her son surprised her with in 2005, and frequently completes the New York Times crossword puzzle, in pen, within 30 minutes.
"I clean my own house," she said. "I like to clean. I do my own grocery shopping, too."
Stephan was asleep in her bed in 2002, when she woke to the sound of someone rifling through a desk in a nearby room.
She'd forgotten to secure the rear slider door.
"I never forgot that again!" she said.
An intoxicated man had crashed a stolen car, climbed up the steep hill to Northwest Boulevard, and entered her home.
Did she cower in her bed? Call the police?
Nope.
"I grabbed the dust mop out of the closet and shouted, get the hell out of here!" Stephan recalled.
She scared the intruder so badly; he broke the front door in his haste to get out of the house.
Then she called the police, who found him cowering in some bushes about a block away.
A terrifying incident like that might make some women flee their homes.
Not Stephan.
"I love my house," said Stephan. "I wasn't going to let some guy chase me out of it."
She honed that grit and resolve growing up on a farm in Shelby, Iowa. Stephan was born September 15, 1919, the youngest of five.
Her earliest memory is boarding the school bus. Her maiden name is Best and the bus driver's name was Charlie Best.
"But he was no relation to me," she said, chuckling.
The farmhouse had no electricity or running water, and one of Stephan's chores was bringing in the coal to heat the house.
They ate what they raised on the farm and in her mother's expansive garden. She attributes her longevity to that wholesome diet.
"We didn't have all those insecticides and additives back then," she said.
After graduating as valedictorian in her class of 32, she moved to Iowa City, to live with her sister and attend business college.
She met Robert (RJ) Stephan at a fraternity dance, and they married May 12, 1942, two days after he graduated from dental school at the University of Iowa.
She still has the fitted blue suit she wore at her wedding.
"He was a really good dancer and so was I. We loved to jitterbug," Stephan said. "We just got along good. He played the bass fiddle in a band, and his brother played the saxophone."
A draft notice from Uncle Sam arrived shortly after the wedding. When Robert sailed for Europe on the Queen Mary, Stephan was expecting their only child.
Her husband was from Dillon, Montana, where his father was the town doctor, so Stephan settled into an apartment there. On Nov. 23, 1943, her father-in-law drove her to Butte, where she gave birth to Robert (Bob) Best Stephan.
Two years would pass before his father met him.
"RJ had enough points to come home, but they didn't have a replacement for him," Stephan recalled.
Her husband was a dental flight surgeon with the 384th Bomb Group. When he finally came home, Stephan went to meet his train, and almost didn't recognize him.
"He got dysentery in Southern France," she said. "He was so gaunt!"
RJ established dental practice in Butte, before moving to Spokane in 1950, where he opened an office on Indiana Avenue. His son, Bob, also a dentist, worked at the same office, as did his daughter-in-law, Linda.
Stephan fixed a hot lunch for her husband every day.
"You gotta feed 'em," she said.
And while he enjoyed golf, she said, "I golfed a little, but I didn't have time for it. I was here, mowing the lawn!"
When RJ retired they traveled frequently and enjoyed snowbirding in Arizona during the winter months. He died in 1993 and Stephan still misses him.
"I wish he'd come back," she said. "I'd dance with him."
Stephan said her husband's death forced her to be independent. Nowadays, she only drives during the daytime when the weather is good, but she never misses her weekly bridge group.
"I use to have two groups, but people died and it's hard to find replacements," she said.
She still sets and colors her own hair, and doesn't take any prescription medication – just vitamins.
"I eat an apple a day – half at lunch and half at dinner," she said.
She doesn't own a computer.
"If I needed one, I'd get one."
She reads the newspaper, National Geographic, and less erudite publications.
"I read the tabloids," she said, grinning.
Stephan said her son and daughter-in-law are a tremendous help to her.
"I do get lonely," she said. "But then I work a crossword, or watch television or read the newspaper."
To those who aspire to reach the century mark, Stephan offers this advice.
"Eat your vegetables and take your vitamins."
Then she grinned, and added, "And don't get into trouble!"
Local journalism is essential.
Give directly to The Spokesman-Review's Northwest Passages community forums series -- which helps to offset the costs of several reporter and editor positions at the newspaper -- by using the easy options below. Gifts processed in this system are not tax deductible, but are predominately used to help meet the local financial requirements needed to receive national matching-grant funds.
Subscribe now to get breaking news alerts in your email inbox
Get breaking news delivered to your inbox as it happens.
---