509 Beer: Tips to help you enjoy this weekend's Inland Northwest Craft Beer Festival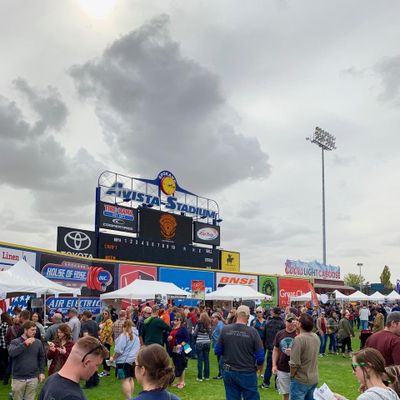 The eyes of the Washington craft beer world turn to Spokane this weekend as the Washington Beer Commission hosts the 10th annual Inland Northwest Craft Beer Festival starting Friday at Avista Stadium in Spokane Valley.
Forty Washington craft breweries will be pouring more than 150 beers over two days. While beer from east of the Cascades will obviously be the focus, several west side breweries will be making the trip. And for some, this will be your only chance to try their beer locally.
In addition to the beer, several food trucks will be on hand to keep people fed, and there will be lots of live music. While Friday night is 21 and older, families are welcome Saturday when there will be a kids area with a bouncy house and other activities (just leave the fur babies at home, as only registered service dogs are allowed.)
Tickets are $20 if purchased in advance or $25 at the door and include a commemorative tasting glass and eight, 4-ounce samples. Additional samples are available for $2 each. The festival runs from 4-9 p.m. Friday and from noon-6 p.m. Saturday.
As a veteran of this and many other beer festivals, I'm going to leave you with some tips to help you get the most out of your festival-going experience.
Pay attention to order. Hoppy beers like IPAs are an obvious staple of the Northwest, but these beers tend to stay on your palate and can make it more difficult to appreciate the more delicate flavors of lighter, crisper beers like lagers and pilsners. It's a good idea to save your hoppiest beers for last.
Get outside your comfort zone. Reserve at least a couple of your samples for beer styles you wouldn't normally order. A beer festival is a great place to reassess your preconceived notions about a particular beer style. The same can be said for breweries. Think about visiting ones that you don't see very often. Worst case scenario, you're out one sample token, and you've gained an experience.
Bring a pen. When you enter, be sure to grab a program that should list all the beers and where to find them. Use your pen to keep track of what you've tried and even jot down a few tasting notes. I promise it's possible to do this without being a beer geek.
A simple note or two about what you liked or didn't like about a particular beer and the flavors you noticed while drinking it will make you a more informed enthusiast and help you when ordering in the future.
It's a marathon, not a sprint. Get to the festival early enough to be able to take your time. While 4-ounce pours may seem small and easy to get through, eight of them will add up quickly, especially if your tastes lean toward stronger brews. Water is great not just to pace yourself, but also to cleanse your palate and let you experience each beer the way the brewers intended it.
If you want to feel like a festival veteran, I also suggest making your own pretzel necklace, which will give you something to snack on throughout the day. Consider bringing a designated driver or taking public transportation.
Enjoy the festival. Cheers!
---