News > Spokane
Glucose Revival restocks medical emergency necklaces for diabetics
Thu., Sept. 19, 2019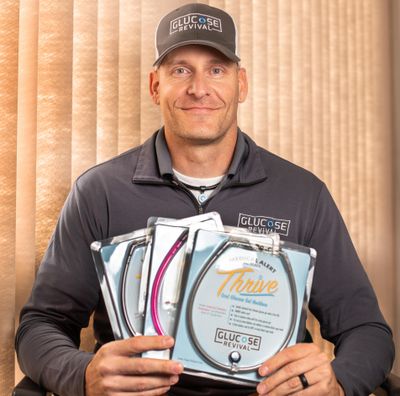 After running out of product a month following its June launch, Spokane-based Glucose Revival has increased inventory of its glucose gel necklaces created to assist diabetics in medical emergencies.
The company restocked two versions of its Thrive and Thrive Jr. necklaces, which treat low blood sugar for people with diabetes.
"We sold out of product three months earlier than what we planned," said Kris Maynard, CEO and founder of Glucose Revival, adding social media drove up product sales. "We just relaunched a few weeks ago and we're fully stocked again to help out anyone who needs it."
The Thrive necklace is a hollow tube containing 15 grams of edible glucose gel. The necklace is held together with a magnetic clasp, allowing it to be taken off quickly in an emergency. The Thrive Jr. necklace – designed for children – contains 10 grams of glucose gel.
The necklaces can be uncapped to access the glucose gel – the same solution administered by first responders during medical emergencies – which can be ingested to treat minor, moderate and severe low blood sugar.
The Thrive and Thrive Jr. necklaces are priced at $18.95 and $16.95, respectively. The necklaces feature a black or white pendant with an engraved blue circle to represent the universal symbol for diabetes.
Maynard aims to have the necklaces in local schools to help children with diabetes.
"My goal is to get the products in all the schools. Most people don't know who has diabetes, but since (low blood sugar) is such a common emergency, we want people to be ready for it, instead of waiting a few extra minutes for (emergency medical service) crews to arrive."
Maynard, a firefighter and emergency medical technician at Fairchild Air Force Base living with Type 1 diabetes, launched Glucose Revival in 2016 to help diabetics stay safe and maintain an active lifestyle.
More than 30 million people nationwide live with diabetes, according to the Centers for Disease Control and Prevention. Hypoglycemia – the most common diabetic emergency –requires action in minutes because it can cause complications like confusion, loss of consciousness or seizures.
Maynard created an early prototype of the Thrive necklace by combining drinking straws with glucose paste used by first responders. He introduced the necklace at the Children with Diabetes Friends For Life conference in 2018 and gathered feedback from attendees, which helped streamline the design.
Spokane resident Shelly Blomgren obtained necklaces for her two children, both of whom are diabetic.
Blomgren's 11-year-old son carries a bag containing glucagon to help with low blood sugar, but has lost it in the past during bicycle rides or trips to the park.
"We've had people actually bring his glucagon to the house before because his bag was unzipped and he dropped it," she said. "Having the necklace as well when he goes out just gives me piece of mind."
Maynard is focused on making Glucose Revival's website a resource for diabetics, which allows visitors to obtain advice from a team of 12 diabetic experts.
He's also meeting with potential investors to expand Glucose Revival.
"Because of how fast it did start out and is growing, I met with an investor last Friday," he said. "We are trying to find a good fit for another investor to take it to a level we can't do ourselves."
Local journalism is essential.
Give directly to The Spokesman-Review's Northwest Passages community forums series -- which helps to offset the costs of several reporter and editor positions at the newspaper -- by using the easy options below. Gifts processed in this system are not tax deductible, but are predominately used to help meet the local financial requirements needed to receive national matching-grant funds.
Subscribe to the Coronavirus newsletter
Get the day's latest Coronavirus news delivered to your inbox by subscribing to our newsletter.
---