Women of the Year: For Elaine Damschen, mixing business and family makes for an electric life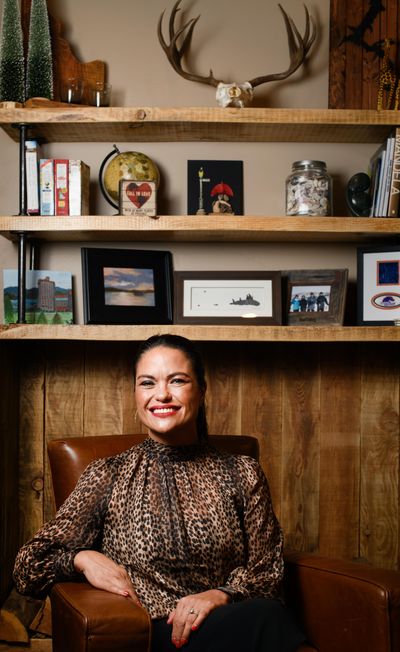 Along the bend in Innovation Way in Post Falls, Elaine Damschen runs the show with her husband, Todd Damschen, at one of the fastest-growing private companies in the U.S. over the last two years.
Since starting Mainstream Electric in 2000, the couple's business has grown to include heating, cooling and plumbing. And this year it was one of only 21 businesses in Idaho on Inc. magazine's 5,000 fastest growing private companies in the U.S.
Growing up, Damschen never wanted a career in manual labor because she saw how hard her father, Jack Heston, worked and the strain it put on his body.
Heston served in the Army during the Vietnam War, where he met Elaine's mother, Ton. He then framed houses as a contractor when he was discharged.
So after graduating from Post Falls High School in 1987, Damschen looked to higher education to have a different life than her father.
"College for me has provided the opportunity that I might not have seen otherwise," she said. "It just expanded my mind and my heart."
She said she also wanted to take full advantage of the options provided to her by her father's military service and her mother's immigration to the United States. What her parents gave up sank in when she visited Vietnam for the first time in the mid-2000s.
"My mom never saw her mother again and only saw her father twice," she said. "I think I just really appreciated it more for the sacrifice they made so I can do things I do in America."
After two years at North Idaho College and three years at Boise State University, she became the first college graduate in her family in 1992.
Damschen's degree was in education, and she worked at a middle school in Emmett, Idaho, for seven years before moving back to North Idaho to be closer to family in 1999.
Her husband, a journeyman electrician at the time, was itching to be his own boss, so they became business partners and started Mainstream in 2000.
"He knew his entire life he wanted to be an entrepreneur because his father owned a pharmacy-type drugstore," she said. "I had no plans to be a business woman."
Together, with his technical electrician experience and her heart for human connection, they built a company that has grown from the husband-wife pair to 35 employees over the past 20 years.
Her husband handles business relations, such as contracts, vendors and new services, while she has become more focused on marketing, branding and recruitment.
Damschen said she's proud to be an example for other married couples who may want to become business partners.
Plus, two of their employees are the Damschens' 24-year-old twin sons.
"We have a very close-knit family and it's delightful to see them every day," she said. "And we know that they will be able to provide a wonderful life for themselves as plumbers."
Their 17-year-old daughter is starting her senior year at Lake City High School.
Damschen said Mainstream started to take off as a company in 2012 when it joined Nexstar Network, a networking organization for home service businesses.
"What Nexstar does is provide best practices through coaching and training," Damschen said. "We work hard to cover our blind spots."
Three years ago she joined the Nexstar Network board of directors and was the only woman until recently. Now she's one of two.
"I like working at a national level advocating for the trades and helping steer the direction of Nextstar Network," she said.
Her attitude toward the trades has almost come full circle at this point since she started college, Damschen said.
When she was a teacher she saw how not all people are cut out for college. And now going into the trades has become an increasingly lucrative career option, especially as trained workers become more scarce.
"Life has taught me a lesson to not judge the manual labor jobs," she said. "But I also think the business model that we utilize allows tradespeople to be the professionals that they want to be and earn that income that they need."
She often visits high schools nowadays to educate students about going to trade school and market the field to women.
"People don't know what they don't know and we're working to close that gap," she said.
She employs a female plumber and office worker, and wants to continue recruiting women to work at Mainstream.
"I feel like there is a lot of opportunity for women to join male-dominated fields like the trades," Damschen said.
Outside the business world, Damschen works with two nonprofits – Troops to Trades and Project Athena.
Partly inspired by her father and husband, who are both veterans and trade workers, Damschen primarily works with Troops to Trades by raising money through a golf tournament at the Coeur d'Alene Resort Golf Course each year. That funding helps the organization transition veterans with trade skills into the civilian workforce.
Building some awareness around the cause helped her get involved with the Career Skills Program at Fairchild Air Force Base and offer an internship to an airman with electrician experience. He received 90 days of training at Mainstream while he was still active duty, and afterward he was offered a job there.
"I have deep, deep gratitude for our military and our families," she said. "And even if I can help just a little bit, I feel like I am doing something to express my gratitude in an action."
With Project Athena, Damschen has trained to go on four outdoor adventures over the past four years to assist female survivors of medical trauma.
She's hiked from La Jolla, California, to San Diego and from rim to rim of the Grand Canyon three times. Her fourth trip to the Grand Canyon is set for next year.
"The thing that I'm addicted to is the women," she said. "They're in survival mode, and when we help them complete their adventure, their mindset shifts from survival to living again. And it's special to be a part of that."
---