News > Spokane
100 years ago in Spokane: Visit from late president's son more awkward than exciting
Sat., Sept. 21, 2019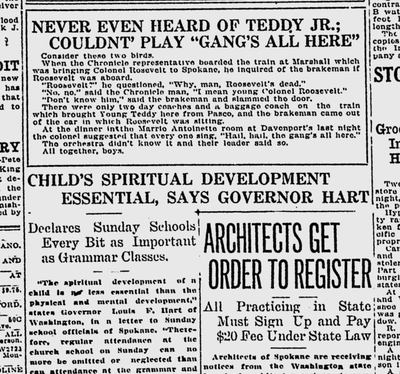 The Spokane Daily Chronicle was excited about the visit to Spokane of Theodore Roosevelt Jr., the son of the late president.
However, the populace in general did not seem quite so excited.
When the Chronicle reporter boarded young Roosevelt's train at Marshall, in hopes of getting an interview, he asked the brakeman if Roosevelt was aboard.
"Roosevelt?" said the brakeman. "Why, man, Roosevelt's dead."
"No, no," said the Chronicle man. "I mean young Colonel Roosevelt."
"Don't know him," said the brakeman, slamming the door.
The Chronicle reporter eventually found young Colonel Roosevelt, in the same car as the brakeman.
Another awkward moment came later, during a dinner held in Roosevelt's honor at the Davenport Hotel's Marie Antoinette Room. Roosevelt suggested that everyone sing the popular tune "Hail, Hail, The Gang's All Here."
Don't know it, said the orchestra leader.
Local journalism is essential.
Give directly to The Spokesman-Review's Northwest Passages community forums series -- which helps to offset the costs of several reporter and editor positions at the newspaper -- by using the easy options below. Gifts processed in this system are not tax deductible, but are predominately used to help meet the local financial requirements needed to receive national matching-grant funds.
Subscribe to the Coronavirus newsletter
Get the day's latest Coronavirus news delivered to your inbox by subscribing to our newsletter.
---