Sports
A Grip on Sports: Heading into a busy college football Saturday, we've already had our first dose of gag-inducing pressure
Sat., Sept. 21, 2019 A GRIP ON SPORTS • "Double-clutched." "Crumbles." "Mistake-prone." No matter what descriptive term used in a headline or a column, there is no denying one thing from Friday night's Pac-12 showdown in Los Angeles: Utah gagged.
•••••••
• It was the Utes' big chance to show the country it was deserving of a shot at a national title. They were playing a high-profile game in the Coliseum against the most high-profile program in the Pac-12. They were demonstrably better.
And yet they lost. In L.A. To USC. Again.
They outgained the Trojans. They had the ball for about a rush-hour drive more. At one point they were inside the USC 30-yard line seven times and had scored two touchdowns.
They had turnovers, dumb penalties and awful play calls. They missed tackles and missed blocking assignments.
It was a textbook definition of choking.
Which means the conference is eating its own once again. There are three undefeated Pac-12 teams left, and there isn't much chance a conference team will be undefeated at the end.
Arizona State and California? Does anyone really think they can survive?
The other undefeated team is Washington State, and the Cougars should stay that way this weekend – even if they have the epitome of a #Pac12AfterDark game in Pullman against UCLA.
It's the rest of the schedule that seems daunting. Their five remaining road games are against ranked teams: No. 10 Utah next week, No. 24 ASU, No. 16 Oregon, No. 23 California and No. 22 Washington.
It's hard to envision WSU navigating all those rocky trips without taking on water somewhere.
However, there is one thing about a schedule such as that. If the Cougars do go undefeated, they deserve one of the four spots in the national tournament.
• As we said, UCLA isn't one of the conference's tougher teams. Having watched at least some of its first three games, all losses, the one takeaway I have is Chip Kelly's squad doesn't look as if it believes it can win. Which makes it imperative for WSU to start quickly and take away any hope.
It's a blueprint for handling any big underdog – Washington State is favored by 18.5 points – but it seems crucially important tonight. Especially if there are a series of upsets during the day. The "why-not-us?" syndrome works occasionally in college football, as overmatched teams watch their brethren rise up and do the unexpected.
• About 15 minutes east on State Route 270, Idaho will host Eastern Washington. It's going to be a fine late-summer Saturday – summer's final Saturday, actually – though the game will be indoors. And, in another "why-are-they-doing-that?" moment, it is a non-conference game.
It's not unusual, actually. Two Big Sky schools playing a game that doesn't count in the conference standings. But what is weird is next week EWU faces North Dakota, a team that left the conference a couple years ago. And that game will count.
I'm sorry, but I can't wrap my head around it. What I can understand is Eastern and UI wanting to play, conference-counter or not. Now that both are at the same level – FCS – it's only appropriate they play each year.
Good for the athletic administrations for doing their level best to re-ignite a rivalry. To really get it burning, however, there has to be an upset or two. The only team with that chance today is Idaho.
The Eagles ascended to the ranks of the FCS' upper echelon while UI was on its FBS foray. The Vandals, meanwhile, took their lumps last season after becoming the first school to drop back after moving up a level. And, if the first three games of the season are any indication, that hierarchy is still in force.
•••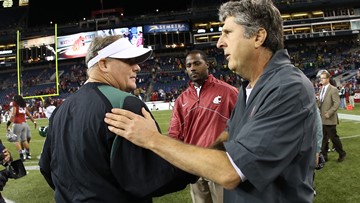 WSU: Who will win tonight? Theo Lawson believes the Cougars will. And they will cover. … How will that happen? Theo tells you. … In the first meeting between these schools in three years, there is a new face on the UCLA sidelines. Kelly took over last season and has yet to get the Bruins up to speed. Theo has more on that as well. … Sooner or later UCLA will have to turn this thing around or the pressure on Kelly will continue to mount. … Elsewhere in the Pac-12, Washington travels to Provo to face BYU. The Cougars, coming off an upset over USC, hope to pin one on the Huskies. … Oregon and Stanford meet in the Bay Area. The Ducks are favored but the Cardinal have given them trouble the past few years, including in 2018. … Colorado and Arizona State match up in Tempe. Neither can afford a loss if they want to compete in the South, but one will suffer that fate. … California has a non-conference battle down South this morning. … With a bye this week, Arizona went out recruiting – in style.
EWU: There has to be a preview of the Moscow matchup and Ryan Collingwood supplies it. … Ryan also picks the games featuring Big Sky teams today. Better listen, as he's only been wrong twice in the first two weeks. … Around the Big Sky, Idaho State has a tough one on the road against ninth-ranked Northern Iowa. Coeur d'Alene High product Gunnar Amos will start for the Bengals at quarterback. … Northern Arizona also has a tough road test. … Montana State hosts Norfolk State. … Montana is also at home, with the Griz facing Monmouth. … Portland State returns home against Eastern Oregon.
Idaho: If the Vandal defense is going to do a better job against Eastern's Eric Barriere, than the linebackers will have to play well. Peter Harriman has a story on one of them, Tre Walker. He is bigger, faster and stronger.
Whitworth: The Pirates return to the field tonight in Orange, Calif., where they will face Chapman. Dan Thompson has a preview of the Whits' second game of the season.
Preps: It was only the third week of the high school season last night, but there was already an important GSL showdown. Central Valley traveled to Albi and handled Ferris, 17-7. Dave Nichols was there and has this story. … We can also pass along roundups of football action as well as from volleyball and soccer. … Larry Weir spent some time yesterday talking with SWX's Sam Adams about prep sports. It's part of the latest Press Box pod.
Chiefs: The WHL regular season is underway and Spokane began it with a road win, claiming a 4-3 victory last night in Kamloops.
Seahawks: Rashaad Penny was hurt in practice Friday. … Russell Wilson is healthy and that's about all that matters. … The Hawks host New Orleans on Sunday. … Don't expect an Antonio Brown signing.
Mariners: Seattle's five-game winning streak ended as Felix Hernandez was roughed up a bit.
•••       
• We are headed to Pullman for tonight's game. If you are wondering, and I'm sure at least six or seven of you are, we will still have our TV Take, even if we are in the press box. I'm going to monitor the ESPN broadcast on my phone or computer, and compare what's being passed along with what's happening before me. It should be interesting. Maybe not for you, but for me. And that's what's really important, isn't it? Until later …
Local journalism is essential.
Give directly to The Spokesman-Review's Northwest Passages community forums series -- which helps to offset the costs of several reporter and editor positions at the newspaper -- by using the easy options below. Gifts processed in this system are not tax deductible, but are predominately used to help meet the local financial requirements needed to receive national matching-grant funds.
Subscribe to the sports newsletter
Get the day's top sports headlines and breaking news delivered to your inbox by subscribing here.
---