Sports > Seattle Seahawks
Seattle Seahawks' rally comes up short against New Orleans Saints
Sept. 22, 2019 Updated Sun., Sept. 22, 2019 at 9:33 p.m.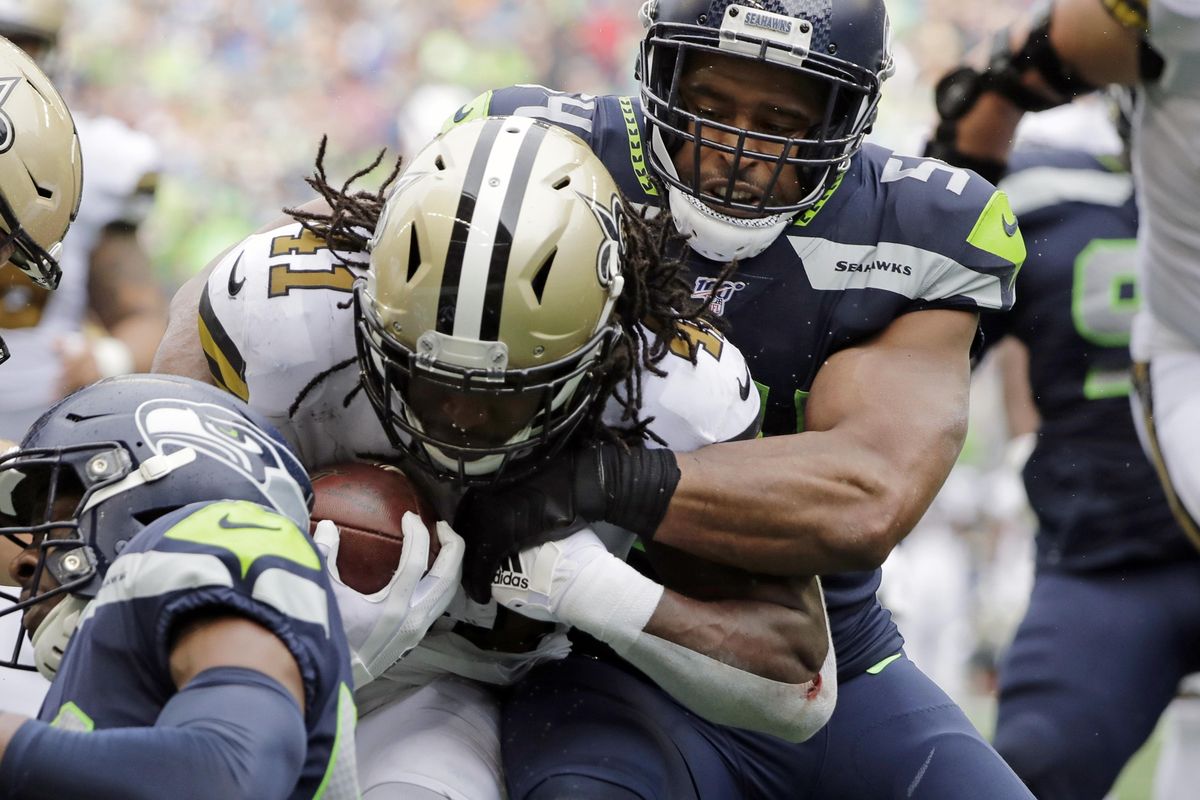 Seattle Seahawks' Bobby Wagner (54) tries to stop New Orleans Saints' Alvin Kamara on a carry during the second half of an NFL football game Sunday, Sept. 22, 2019, in Seattle. (Ted S. Warren / Associated Press)
SEATTLE – Get this story problem – a tale of two quarterbacks – on a math test and it should be an easy A:
Start with Seattle's Russell Wilson throwing for 406 yards, rushing for 51 more and accounting for four touchdowns, the kind of day his coach, Pete Carroll, called "exceptional" – in a career that's had many of them.
Then throw in New Orleans legend Drew Brees and his numbers. Well, number.
That would be zero.
He didn't play, and a Sean Payton Saints team had never won a regular or postseason game without Brees at the helm.
Until Sunday, when the Saints took apart the Seahawks 33-27 and made a winner out of backup Teddy Bridgewater, who hadn't made a start in an NFL game with any weight since 2015.
He was the winning pitcher mostly because his lineup hit a lot of home runs – the Saints led 33-14 with four minutes remaining – and not so much because he was dominant. But he proved more than capable in relief of Brees, completing 19 of 27 passes for 177 yards and two touchdowns as the Saints handed Seattle its first loss of the season.
It was in 2015 that Bridgewater, then the starter at Minnesota, had the Seahawks beat in the wild card round until kicker Blair Walsh missed a chip-shot field goal at game's end. A knee injury essentially robbed him of the next two seasons, and he spent 2018 as Brees' caddie. So the emotional release attached to this one – he tossed his hat into the CenturyLink Field stands as he exited – was understandable.
"This morning when I woke up I told myself, 'No matter what happens, I'm a winner,' " he said. "I just think about the process I went through to be here and all of the ones that believed in me – those are the winners with me."
Wilson played like a winner on Sunday, too – but he didn't have nearly the help Bridgewater did.
The Saints took a 13-7 lead in the second quarter on the strength of two big plays – Deonte Harris' 53-yard punt return for a touchdown after Seattle went three-and-out on the game's first series, and Vonn Bell's 33-yard return of a Chris Carson fumble.
Bridgewater then engineered two splendid drives. The first was a two-minute affair to end the first half culminating in a 29-yard screen pass play with running back Alvin Kamara, who punished the Seahawks with his physical running and receiving. Then Bridgewater put together a 75-yarder to open the second half and pushed the lead to 27-7. In those drives, he completed 11 of 14 passes – including a short, second TD to Michael Thomas.
In the process, Bridgewater faced virtually no pressure – the Seahawks failed to register a sack, and he was hit just twice.
"The ball came out quick," said Carroll. "But we didn't get to him."
With Saints punter Thomas Morestead keeping the field tipped – he averaged 52 yards on six kicks – the Seahawks had to slug their way out of bad spots. And when they did, they inevitably seemed to undo their own progress.
Just before half, Carson was stopped twice needing a yard for a first down, turning the ball over. In the third quarter, Wilson missed an open Tyler Lockett in the end zone on fourth down. Back within 27-13 in the fourth quarter, the Seattle went for it on fourth down again from its own 28, and when the Saints changed their defense to stop the run, Wilson couldn't connect with Malik Turner on a long pass.
And all through the afternoon were assorted mental mistakes and misjudgments that unraveled Seattle's chances – the most alarming of which was Carson's fumble, his third in two games.
"He's been a marvelous player on this team and he has to fix this," said Carroll. "I can't fix it for him, but we'll help him and count on him to come back and play good football for us."
Local journalism is essential.
Give directly to The Spokesman-Review's Northwest Passages community forums series -- which helps to offset the costs of several reporter and editor positions at the newspaper -- by using the easy options below. Gifts processed in this system are not tax deductible, but are predominately used to help meet the local financial requirements needed to receive national matching-grant funds.
Subscribe to the sports newsletter
Get the day's top sports headlines and breaking news delivered to your inbox by subscribing here.
---