News > Business
Valley Chamber leader Lance Beck views cooperation as key to success
Sun., Sept. 22, 2019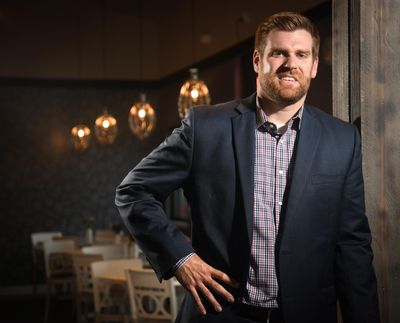 For Greater Spokane Valley Chamber of Commerce President and CEO Lance Beck, championing teamwork among residents, neighboring cities and businesses is integral to the region's success.
He's no stranger to the philosophy of teamwork, having served in various roles for the former Spokane Shock indoor arena football team for six years. Now, he's forging partnerships between businesses and the community in his leadership role at the Chamber, a position he's held for close to a year.
"This community is both people and business, no matter what," he said. "They go hand-in- hand. You can't have one without the other. What we work on is both people and business."
Beck, a Spokane native, graduated from Mt. Spokane High School before earning a bachelor's degree in business management and marketing with a minor in leadership from Whitworth University in 2007.
After graduation, Beck launched a career with the Spokane Shock as a ticket account executive. He went on to become director of game operations and subsequently secured a role as director of operations and marketing for the organization.
"I really accumulated responsibility as I proved I could take it all on. I got to live some really great times with the team," he said. "We had a lot of success from my years there from both an organization and team perspective."
Beck experienced the team's transition from a developmental league to the AFL, a professional American indoor football league.
"I had a lot of fun and got to see a brand build and build. We had, obviously, pressures on the financial side of the league that unfortunately affected the longevity of the franchise," he said, adding Spokane had a receptive fan base for the team, which shuttered in 2015.
After Beck and his wife, Charlee, moved to Newport, Oregon, in 2012, he was hired as the director of marketing for the Oregon Coast Aquarium.
Beck was one of five senior team leaders among the 100-member organization.
"I was a recipient of that job by way of being willing to come to the market, having the right skill set and them taking the chance that I could do the role," he said.
He also served as chair of the Destination Newport Committee, which advises city leaders on advertising efforts to promote tourism, and a foundation board member for the Oregon Coast Community College.
Returning to Spokane
After six years at the Oregon Coast Aquarium, Beck was looking for a new professional challenge.
"I truly felt I had accomplished what I could accomplish in my role," he said. "I was proud of what had taken place, so what was next?' "
At the same time, the Becks were looking to start a family. The couple enjoyed growing up in Spokane and wanted the same experience for their children.
"I always did love growing up here. There was mountains to hike and ski, lakes to go out on, soccer fields to play on. It was all here," he said. "I came to appreciate the sense of place this community was, so being away and moving back was a turning point."
Becoming CEO
When Katherine Morgan announced her resignation as president and CEO of the Greater Spokane Valley Chamber of Commerce in March 2018, the organization launched a search for a new leader.
The Chamber chose Beck from a group of 40 applicants, and he assumed the role as president and CEO in October.
Beck said leading the Chamber over the past year has been a learning experience and he's been mindful to keep the organization's mission intact.
The Chamber's role in the community could be just to develop businesses in Spokane Valley's city limits, but Beck sees the organization as promoting regional business development to highlight what makes the area unique.
"The Chamber role is so attractive because you get to know everyone, whereas the challenge is everyone's problems are your problems – if they want to share them. But because you get to know everyone, you get to have the ability to create relationships," he said. "It's been a lot of fun to meet new people in this community that are driving it forward and to hear from the people in the community who never left as to what they envision being the challenges we face."
During her tenure as CEO, Morgan spearheaded the Chamber's "Big 5" initiative, which implemented five obtainable goals for the city with input from residents and businesses.
The "Big 5" initiative incorporates greater outdoors, goods, vision, learning and cures to promote economic vitality in Spokane Valley.
The initiative helped guide the organization through its transition in leadership and serves as a framework for member events. For example, the Chamber held a panel discussion for members last week on how to address mental health in the workplace.
Beck said he aims to incorporate service and retail into the "Big 5" initiative.
"When I look at what we are going to be next, we have to find ways to help all of our members from top to bottom see the value in their Chamber membership and see the value in the work that we are doing within their community," he said.
Beck said Spokane Valley is a prime spot for businesses, with its growing population and land available for commercial and housing development.
Katerra recently completed a 250,000-square-foot, cross-laminated timber facility in the city's northeast industrial area. Progress Rail, a subsidiary of Caterpillar Inc., purchased land in 2017 with plans for a 150,000-square-foot manufacturing facility, according to city documents.
"That makes it really exciting for the future, because industry will come and with industry comes jobs, and with living-wage jobs comes the ability to buy homes," he said, referring to Spokane Valley's potential growth.
The generational gap
A future goal for Beck is bridging the gap among municipal and business leadership through communication.
"I look at how do we facilitate conversations with the leadership that's retiring out and get the passing of the knowledge, history and graceful upbringing of the next wave of leaders, if it's only being seen in a few spots?" he said. "It's up to us now to also champion the fact that our generation needs to appreciate knowledge that the previous generation can pass to us, but that needs to be smoother."
Beck said the Chamber's role as a convener can also prompt partnerships between businesses, schools and municipalities to create programs.
A partnership between MultiCare Health System and the Central Valley School District to teach youths about careers in the medical field evolved from a conversation between Greg Repetti, president of MultiCare Valley Hospital, and school district Superintendent Ben Small at a Chamber meeting, Beck said.
"If you don't get the right people together to have the right conversations, if we don't have the voice of small businesses and if we don't listen to what they have to say, then how do we learn from that?" Beck said.
Beck said there seems to be willingness among the Chamber, the West Plains Chamber of Commerce and Greater Spokane Incorporated to collaborate on economic development efforts for the region.
"There's an element that we are all going to have success if we work together," he said, adding although each organization has its own market, it strives for betterment of the whole region. "A win for the West Plains is a win for the Valley. A win for the Valley is a win for downtown and a win for downtown is a win for both. It will all impact us one way or another."
Local journalism is essential.
Give directly to The Spokesman-Review's Northwest Passages community forums series -- which helps to offset the costs of several reporter and editor positions at the newspaper -- by using the easy options below. Gifts processed in this system are not tax deductible, but are predominately used to help meet the local financial requirements needed to receive national matching-grant funds.
Subscribe to the Coronavirus newsletter
Get the day's latest Coronavirus news delivered to your inbox by subscribing to our newsletter.
---