News > Spokane
Women of the Year: For two decades, Dr. Carol Guthrie has been Spokane's go-to breast cancer surgeon
Sun., Sept. 22, 2019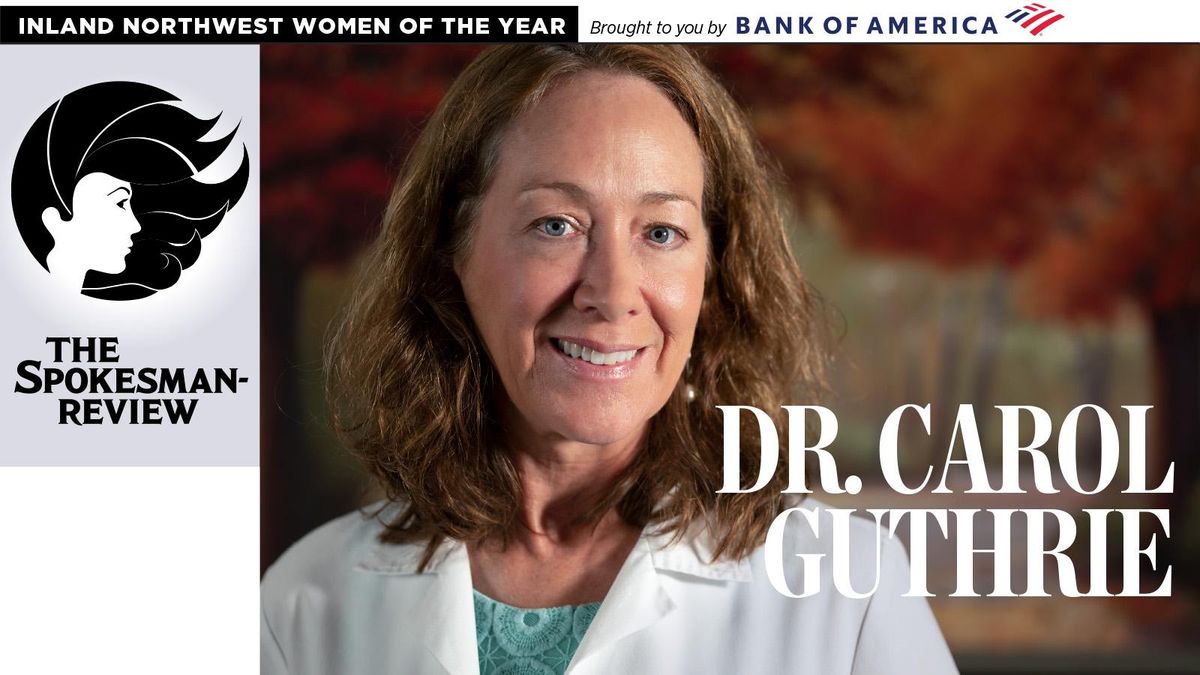 A couple months ago, when Ann Murphy learned she had breast cancer, she had more questions than she would have been able to ask during a typical doctor's appointment.
Luckily, Murphy says, she didn't go to a typical doctor. She went to Dr. Carol Guthrie, who has specialized in breast surgery in Spokane for nearly 20 years, serving thousands of women from across the region.
"She spent over two hours with me," Murphy said, recalling her initial surgery consultation. "And she actually stayed past when the office closed, because when we were walking out, everything was dark. There was no one else there."
Murphy, who teaches law at Gonzaga University, said she was stunned to find a surgeon so generous with her time – and relieved when Guthrie offered a hopeful prognosis.
"The other person I brought with me is another law professor, and so you can imagine how many questions the two law professors were asking," Murphy said. "She just was absolutely amazing and so helpful, and just put my mind at ease."
Guthrie grew up in Richland, where her mother was a preschool teacher and her father was a physicist at the Hanford nuclear complex.
She didn't always plan to become a doctor. At Washington State University, she studied chemical engineering for more than a year before realizing it was not her calling.
"I just didn't have a passion for it," she said in an interview.
After her sophomore year, Guthrie transferred to Stanford University, where she majored in biology, and then attended medical school at UCLA, where she discovered an interest in surgery.
Before returning for her final year of medical school in 1986, Guthrie took a year off to travel and consider her career path. After consulting some classmates who had connections in the region, she spent six months working at a hospital in Peshawar, Pakistan, for Afghan refugees who had fled Soviet invasion.
Guthrie, now 60, said that experience taught her about cultural differences in medicine. Her husband, Dr. Darryl Potyk, said it also instilled in her "a strong conviction that everyone deserves excellent health care, regardless of their situation."
Back in Los Angeles, Guthrie completed her residency as well as a fellowship focused on liver and pancreas surgery. That's also where she married Potyk, an internal medicine specialist and associate dean for the University of Washington's medical school in Spokane.
In 1994, they moved to Spokane, where she joined Drs. Laurie Bell and Lawrence Schrock in a general surgery practice.
"I think my partner and I were the only two female surgeons in town at the time," Guthrie recalled.
As a result, she said, they were often the go-to surgeons for breast procedures in the area.
"And then I realized pretty quickly that was my favorite part of my practice," she said.
When Bell retired in 2000, Guthrie became the first surgeon in Spokane to devote her practice entirely to women who have, or might have, breast cancer. She currently works with Columbia Surgical Specialists and assists the Providence Regional Cancer Center in Spokane.
"There's just such an opportunity to intervene and really help women at this incredible time of need in their lives," Guthrie said. "There's just such a role for the surgeon to really make the journey as pleasant as possible and allay people's fears."
Guthrie said she performs 400 to 500 surgeries each year, and about 150 to 200 of those turn out to be confirmed cancer cases. Many patients come from Moscow, Pullman and Lewiston, she said, while some travel from as far away as western Montana. She said she values accessibility and credited Columbia Surgical Specialists for accepting most insurance carriers.
The world of cancer care has changed significantly since Guthrie began her career. She noted advancements in detecting the disease, including a technique that allows surgeons to remove individual lymph nodes, rather than entire clusters, for testing.
Genetic science has played a bigger role, too. For Murphy, the Gonzaga professor, who received a mastectomy from Guthrie in August, good news recently came in the form of a scorecard that compared her cancer cells to a huge database of cancer profiles collected through clinical trials.
Although some cancer cells were discovered in her lymph nodes, that genetic test indicated there's a 98% chance they won't metastasize. That means Murphy can finally undergo a plastic reconstructive surgery, which had been postponed.
Murphy said Guthrie showed a personal interest in her well-being, and yet she put Murphy in the driver's seat, never pressuring her to choose one course of treatment over another.
Among other tough decisions, Murphy had to choose between a single or double mastectomy, knowing there's a slight possibility the cancer can spread in the future.
"She said, 'It's your decision.' She never told me what to do," Murphy said. "But she was there, basically telling me the good, the bad, what could happen, where I am in the stage. And then she let me make my decision based on all of the information she gave me."
Guthrie said she wouldn't approach her job any other way.
Like any doctor, she tells her patients what they can do to maximize their chances of staying alive. But for many cancer patients, it is not easy to weigh the effects of the disease itself against the grueling side effects of treatments like chemotherapy and hormone regimens.
"Our instinct is to say, 'What do you mean it's not worth it to you? Do you want to die?' But I feel like my job is to educate them," Guthrie said.
"Some providers look at it as a personal failing if the patients don't follow their advice, or don't do everything they can," she said. "And I feel like it's their life, and how arrogant of me to take it upon myself to make them feel worse about it, or make it a harder decision for them."
Guthrie and Potyk have three children in college; the whole family enjoys Nordic skiing.
In addition to her surgical practice, Guthrie helped launch a local affiliate of the Susan G. Komen Foundation in 2002 and currently serves on the board of the American Civil Liberties Union of Washington. She has given many talks on breast cancer.
"It's just such a privilege and honor that women share their journeys with you," she said. "And they're very vulnerable, and I'm just amazed by how strong they are, and how courageous they are, and how many of them just take it in stride.
"It's pretty incredible."
Local journalism is essential.
Give directly to The Spokesman-Review's Northwest Passages community forums series -- which helps to offset the costs of several reporter and editor positions at the newspaper -- by using the easy options below. Gifts processed in this system are not tax deductible, but are predominately used to help meet the local financial requirements needed to receive national matching-grant funds.
Subscribe now to get breaking news alerts in your email inbox
Get breaking news delivered to your inbox as it happens.
---