News > Spokane
Women of the Year: Susan Virnig has 'lived a lot of lives,' all of them devoted to doing good
Sun., Sept. 22, 2019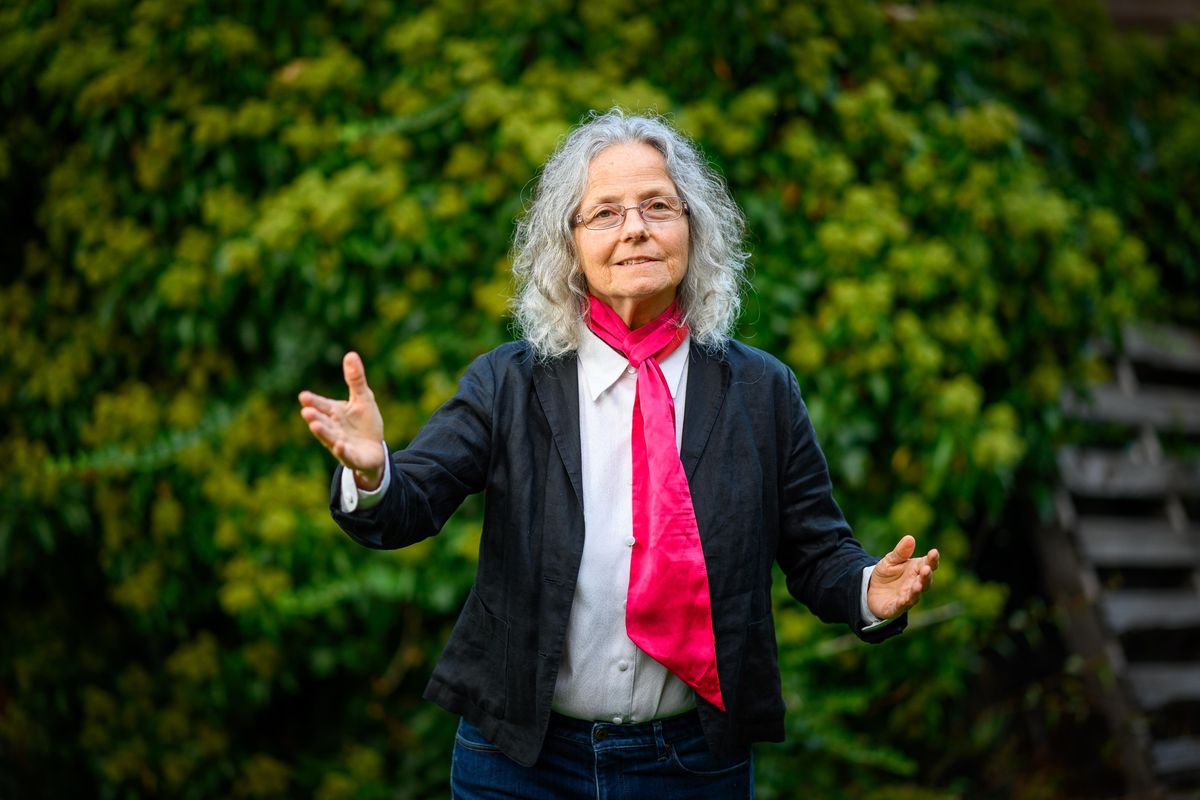 Susan Virnig, 70, came to Spokane to work at Expo '74 and ended up founding what became Spokane Housing Ventures, becoming president of the YWCA and, after earning her MFA, taught poetry for years. (Colin Mulvany / The Spokesman-Review)
About 5 million people came to Spokane in 1974 for the World's Fair. Most left, but not Susan Virnig.
She was 24 years old, and came to work as a program assistant for the environmental symposia – the "intellectual core of the fair," according to the definitive history of Expo '74, Bill Young's "The Fair and the Falls."
The symposia covered everything from energy to agriculture, and recycling to environmental law. The first of the conferences featured famed environmentalist and mountaineer David Brower, who said, "This planet is all we have. … I like the planet so much that I'd like to preserve Earth as a conservation district within the universe, a sort of Earth National Park."
The symposia were intended to establish a "much-needed relationship between scientific technicians and the people," said Wassily Leontief, a Harvard economist and Nobel laureate who was on the fair's advisory committee.
That's what Virnig came to do, and that's why she stayed.
"They were for the 5 million people who came to the fair, but also for the Spokane people," Virnig said of the symposia. "It was both public education and citizen participation. But just because Expo is packing up and leaving town doesn't mean this sort of education and citizen involvement should stop."
She's been educating and getting Spokanites involved ever since. From her founding of Northwest Regional Facilitators – which begat a host of beneficial Spokane organizations – to her leadership of the YWCA to her years teaching poetry to children, Virnig has touched a lot of lives.
"It's strange to say, but by the time you get to be 70, you have lived a lot of lives," Virnig said. "I see my life as a mosaic. There are all these discrete but lovely parts of it. From writing poetry to co-founding a nonprofit that still lives today to teaching and leading backpacking, I just have a wide variety of interests and things I care about."
Jeff Lambert, executive director of the Dishman Hills Conservancy and longtime member of Spokane Mountaineers, has known Virnig for nearly 40 years.
"She's a force," he said. "She's an example of somebody who is fair and makes sure everybody gets their turn. She's always been really good at taking folks who have different opinions, maybe don't like each other, and boiling it down to common interest. Amazingly, you have a lot more in common than you think you do."
Smitten with Spokane
It wasn't a matter of not knowing what to do after Expo for Virnig. It was more about what to do first. Virnig and her husband, Bob Stilger, who met in Japan in 1970 as students, were smitten with Spokane and didn't waste much time.
In 1975, they formed Northwest Regional Facilitators, a community development nonprofit dedicated to "helping individuals, groups and communities overcome obstacles and seize opportunities to create their preferred futures." Their first contract was with the city, doing community development in the East Central and West Central neighborhoods.
"The city asked us to pilot that program. I remember Bob and I sitting in the city manager's office, and he said, 'We need home rehabbing.' But we didn't know anything about housing," Virnig said, with a laugh. "We did know how to work with the neighborhoods. We knew how to do communication. We knew how to be respectful to people. So we set up that program and ran that program for 16 years."
Virnig moved to East Central in 1977, and has lived there since. The community development collaboration between City Hall and lower-income neighborhoods was largely nonexistent before Virnig's group got involved, but now it's an important facet of what the city does, built on work she did decades ago.
Beyond community development and home rehabbing, Virnig's group grew over the 22 years she helped run it, and it morphed into an institution that provided many services to the community. "We encouraged the staff to think about what the community needs," Virnig said.
In 1980, a staff member told her child care was "going to become a huge issue," so they started a child care and referral resource program, helping parents find help while they went to work or school.
As NWRF grew, it kept true to its primary goal of finding common solutions among disparate groups.
In 1992, the program that began with a request in the city manager's office turned into Spokane Housing Ventures, "now the largest low-income housing developer in the state," as Virnig describes it. The organization currently owns and operates 1,300 units of affordable rental units in 10 Washington counties.
Virnig left the facilitators group in 1997, followed by her husband in 1999. With their departure, the NWRF split into four nonprofits: Spokane Housing Ventures, Northwest Nonprofit Resources, Community Frameworks, and the Child Care Assistance Program, which was born after NWRF's childcare and referral resource program joined forces with Community-Minded Enterprises.
While still leading the facilitators group, Virnig kept busy and worked to develop organization vision, resolve staff conflicts and create strategic plans for the YWCA, KPBX, Garfield Elementary School, Shaw Middle School and the Unitarian Universalist Church, as well as the state Commission for the Humanities and governor's Task Force on Hunger.
She organized the first backpacking school for the Spokane Mountaineers, teaching others how to fare in the wild.
In 1995, growth was an issue in Spokane, as it is today. Working on the city's growth management process, Virnig came up with a campaign called "50,000 People Are Coming to Dinner …and They're Staying the Night!" More than 80,000 questionnaires were distributed through city utility bills and various local organizations asking, "What do you really love about Spokane?"
'More in common than we ever imagine'
After she left NWRF, Virnig worked with Colville National Forest to help figure out long-term forest planning and the use of all-terrain vehicles. Over the course of five years and 40 meetings, she talked with backpackers, horse riders, environmentalists, ski resort representatives, county commissioners, lumber industry people and off-roaders – "folks who had in common a deep love for the forest," Virnig said.
At Chewelah City Hall one night, a "little old lady with a walker" approached her. Virnig asked her when she was last in the forest. The woman told her how she had ridden her ATV into the woods for a picnic since she had trouble walking in. She was leaning against her machine when she saw a moose approaching. She thought she was a goner, but instead the moose charged and jumped over her and her ATV.
"The moose lept right over me. You haven't lived until you've seen the underside of a moose," the woman told Virnig.
"It's really easy to have misconceptions about people we're not familiar with," Virnig said. "We all have a lot more in common than we ever imagine." In the end, all the forest's stakeholders agreed to increase the 15 miles of ATV routes in the forest to more than 700 miles.
If her work with adults wasn't enough, Virnig also gave a hand to children.
During her time on the board of the YWCA of Spokane, including a stint as president, she worked with Gonzaga University and the M.J. Murdock Charitable Trust to start a swimming school for homeless children.
"A child might be in a domestic violence situation, and end up in a shelter in the middle of the night and be at this homeless school in the morning and in the pool by 11 o'clock for lessons," she said.
Virnig recruited friends to help, like Shari Barnard, who would later become mayor but had been a lifeguard and swimming instructor, and Marion Moos, an outspoken feminist and activist in Spokane. The program ran for nine years.
"Those kids were so grateful. When I'd come to school and hand out certificates, beginner swimmers or advanced, those kids were so thrilled," she said. "Things weren't going well in their lives and they had this one thing."
In 2003, she got her master's degree in creative writing from Eastern Washington University, and began teaching poetry to elementary school children.
Looking back, Virnig's life may be a mosaic, cobbled together from her decades of hard work to make the world a better place. But her drive today remains awfully similar to what drove her to Spokane in the first place 45 years ago.
"The climate crisis is the seminal issue of our time. I've decided to devote my remaining energies, resources, time, whatever you want to call it, to this," she said, echoing the words of Brower during Expo. "I'm very concerned for the coming generations. We're in pretty dire straits."
The future looks bleak, Virnig said. But she knows what she'll be doing: Never giving up.
Earlier this month, Virnig was in California's Sierra Nevada. She was alone, finishing something she started decades ago: hiking the 2,650-mile Pacific Crest Trail.
She'd done 1,800 of those miles over the years, and had 850 left. This trip would reduce that tally by 150 miles, but halfway through the trip she encountered something that even the 70-year-old could not surmount: snow. So now, she has nearly 800 miles left to hike, and she has plans to. Snow, like any other challenge in life, won't stop Virnig.
"We can keep giving and participating as long as we're able," she said.
Local journalism is essential.
Give directly to The Spokesman-Review's Northwest Passages community forums series -- which helps to offset the costs of several reporter and editor positions at the newspaper -- by using the easy options below. Gifts processed in this system are not tax deductible, but are predominately used to help meet the local financial requirements needed to receive national matching-grant funds.
Subscribe now to get breaking news alerts in your email inbox
Get breaking news delivered to your inbox as it happens.
---