News > Education
Election preview: Mead School District board member Dorcas Wylder faces challenger Michael Cannon
Sept. 23, 2019 Updated Fri., Sept. 27, 2019 at 1:49 p.m.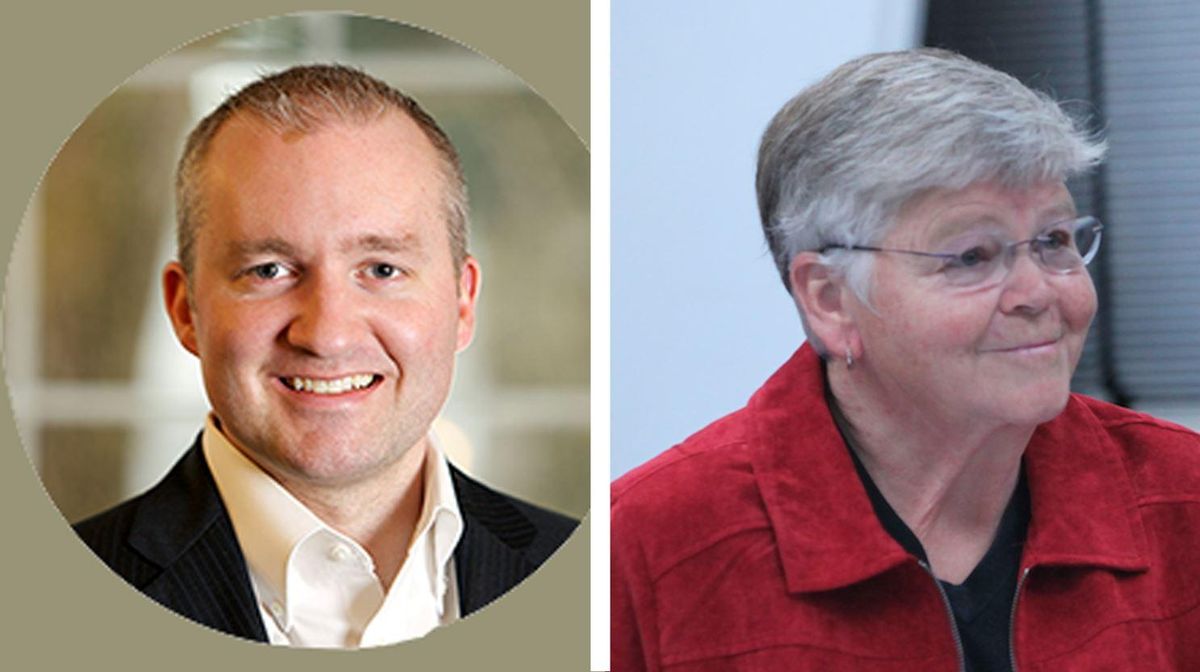 Michael Cannon, left, faces incumbent Dorcas Wylder in the November 2019 a race for Mead School District. (Jonathan Brunt / Courtesy)
Only three months after her appointment to the Mead School District board of directors, Dorcas Wylder found herself making some difficult decisions affecting thousands of families.
In other words, the same thing she did in a 32-year career as an educator, including 14 as an administrator in the Mead School District.
"It wasn't the easiest spring to go through," said Wylder, who was named to the board in January following the resignation of Ron Farley. Soon she was enmeshed in a difficult fiscal situation faced by many districts.
"Nobody wants to cut money in education, but we have to be fiscally responsible for the future," said Wylder, who is running for the remaining two years of Farley's term.
Her opponent in the Nov. 5 general election, Michael Cannon, questions whether the board made prudent financial moves last year.
"Many people feel the board has made decisions recently that don't align with the historic reputation of Mead as a great school district," Cannon said.
Cannon criticized the board for approving "historically large" pay increases to teachers, a "short-sighted" decision to close the Riverpoint Academy and M.E.A.D. Alternative School and a less-than-transparent process of budget-cutting last spring.
"There needs to be better communication, better collaboration and better budgeting," Cannon said.
However, Wylder said that the $12 million budget deficit was attributable mostly to the relatively high experience of Mead teachers (they average 15 1/2 years and 75% hold master's degrees), inadequate state support for nurses and other necessary staff and the state-mandated cap on local levies.
"This was a loss of approximately $11 million for the Mead School District," Wylder said. "Levies fill the gap for costs over and above what the state provides. These funds, available because of the strong support of our citizens, have helped us build the high quality programs the Mead community has come to expect."
Regarding the closure of Riverpoint and M.E.A.D., Wylder called the decision "heart-wrenching," but said she's visited the new Design Center at Mead High School, where four former Riverpoint teachers were employing a "design thinking teaching model."
"The energy was amazing," Wylder said.
Cannon acknowledges "some good work" by the district to accommodate the former Riverpoint students, but said that he's spoken with parents of former M.E.A.D. students "who say they were left to figure things out on their own."
"It's a bad decision," Cannon said. "It was a very short-sighted decision to close these schools, and not signaling even an attempt to restore them in the future shows a lack of commitment on the district's part to provide alternative learning environments."
Cannon believes the deficit – and perhaps the levy – could have been avoided "with better long-range planning and a slightly more modest approach to increases."
Cannon added that the state cap on levies "shouldn't have been a surprise."
Local journalism is essential.
Give directly to The Spokesman-Review's Northwest Passages community forums series -- which helps to offset the costs of several reporter and editor positions at the newspaper -- by using the easy options below. Gifts processed in this system are not tax deductible, but are predominately used to help meet the local financial requirements needed to receive national matching-grant funds.
Subscribe now to get breaking news alerts in your email inbox
Get breaking news delivered to your inbox as it happens.
---