A Grip on Sports: No matter how good or bad last weekend's game was, it's time for college football fans to begin looking ahead A GRIP ON SPORTS • It's finally Wednesday. Can we finally start looking forward to the weekend's football games instead of last weekend's games? Please?
•••••••
• No matter what level of football we are talking about, losses seem to stick longer in the collective memory than wins. Especially upsets. Especially blown leads. And especially at home, where the fans have gathered to watch (and celebrate) together.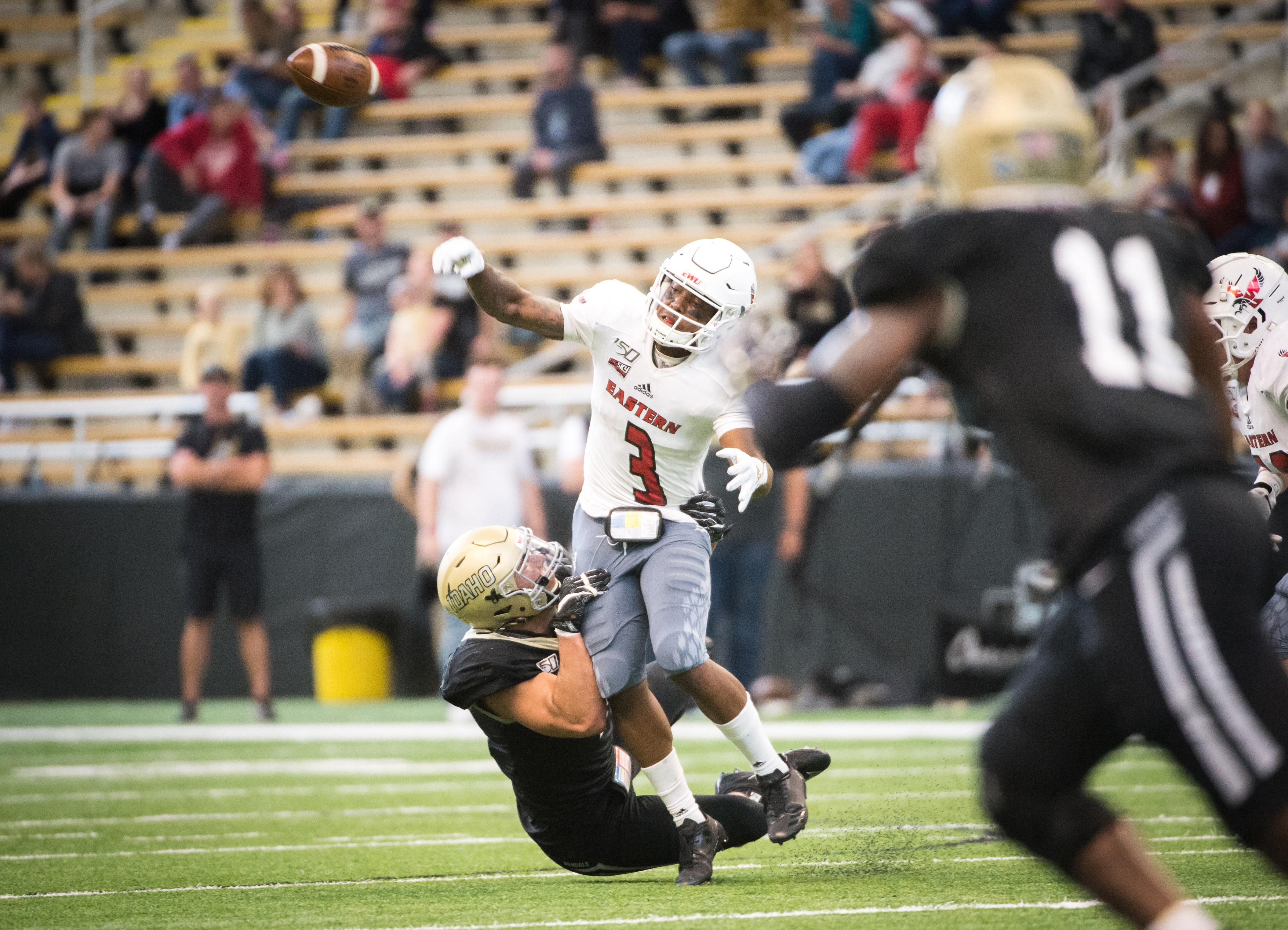 Not speaking about anyone in particulars here (cough, cough, Cougars), but it's just a well-known fact.
But the best thing about a football season is everyone, including fans, has to turn the page. Another game looms less than seven days away. If you dwell on last week's game too long, it ruins the next one. Guaranteed.
Wednesday seems like a natural cutoff for fans, no matter the variety. It's Hump Day all over the work-world, so why not just designate it Forget Day for Football and move on?
Did your high school team lose last Friday night? Well, who do they play on this one? Your pro team screw up Sunday's contest? Who is on tap this week? How about your college team. Did it squander a 32-point lead? It's over. Done. Look forward. There is a chance for redemption only a couple days away.
But, seriously, how do you give up 50 points in a half?
• It's not even October yet. The weather is still decent. And yet college basketball is underway officially.
OK, so college basketball players and teams never really stop practicing. Small groups work on skills all summer and gather for team workouts occasionally. But yesterday marked the first day the NCAA allowed Division I teams to hold true team practices.
It's called season-creep and it seems to go on and on. It wasn't all that long ago that Oct. 15 was the start date that stuck in your head. Or Nov. 1, if you had a good memory. Not anymore.
Funny thing. I don't care about this one.
I played college baseball before the NCAA had much in the way of rules about practice. School started in late September or early October – UC Irvine was and is on the quarter system – and baseball practice started the next week. Games too. Heck one year we played almost a hundred games counting the fall ones against junior colleges along with the regular season.
Practice, games, they happened all school-year long.
And I loved it. More than any part of school. The only reason I paid attention in class was to get good enough grades to stay eligible. Being on the field for three or more hours every afternoon was not a chore, it was heaven, even for a guy like me who rarely played. It was baseball. It was (usually) warm. It was with my friends. It was perfect.
I think about those days often. And understand when a college basketball player says he's a gym rat. Why the heck not? It's fun.
•••
WSU: On to Utah doesn't have the same national impact as, say, "on to Cincinnati," but it will have to do for Cougar fans. Theo Lawson covers the challenge facing Utah's pass coverage after it failed against USC. … Theo also has his picks, except, as usual, the WSU game. That comes later…. Switching gears, Jim Meehan looks at Washington State's volleyball recruiting as the Cougars prepare to enter conference play. … Don't expect Utah to start its backup quarterback Saturday. … Elsewhere in the Pac-12, every team in the conference has produced a miracle play over the years. Just where each will end up come bowl season is still just a guess. … The receiving corps is doing good things for Washington. … Oregon State will face Stanford well rested after a bye. … It possible USC will have only one scholarship quarterback available this week as injuries mount. … A UCLA defensive lineman playing his first game of the season made a big play last Saturday. … Arizona State knows it will have to be better offensively Friday night against California. … Defensive backs have to learn a variety of skills at Arizona. … Colorado has a chance to heal up with a bye this week. … In basketball news, Arizona is still working to upgrade this season's roster.
Gonzaga: Jim Meehan spoke with Larry Weir yesterday about the beginning of basketball practice. That's all on the latest Press Box pod. … Former GU player Zach Collins had his rookie contract year picked up by the Blazers. … Around the WCC, BYU started practice without a couple of its star players.
EWU: Eastern is struggling right now. But the Eagles see brighter things in the future. The not-so-distant future. Like, you know, this week. Ryan Collingwood has more in this notebook. … Around the Big Sky, Montana State has made a change at quarterback. … The big game this week pits Montana against UC Davis. … Weber State has a tough non-conference matchup with Northern Iowa.
Idaho: It's kind of a homecoming week for a couple Vandal coaches.
Seahawks: The Hawks traded one tight end yesterday and are on the verge of re-signing an old friend, Luke Willson. … Questions? There are answers.
Mariners: As the season winds down, the M's have brought some prospects to Seattle to get an idea of what the big leagues are all about. … Throw out the M's record against the Astros this season and they are still lousy. But not nearly as lousy. They've lost 17 of 18 times against their divisional foe. … Shed Long can hit.
Sounders: The MLS changed a sign policy after talking with fans. … Some of the folks who followed their team to D.C. say they were beaten and battered.
•••       
• The best part of being a college baseball player in Southern California? Being outside in December. Or January. It was a baseball junkie's dream. Even if it got really cold, like 53 degrees or something. Until later …
---