This column reflects the opinion of the writer. To learn about the differences between a news story and an opinion column, click here.
Opinion > Column
Huckleberries: Where there's smoke, there might be fire
Thu., Sept. 26, 2019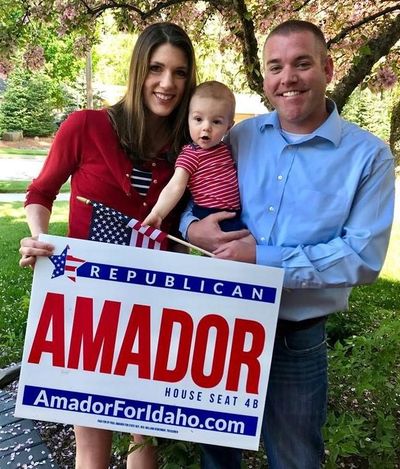 It took Paul Amador only 38 years to realize a lifelong dream – and in another country at that.
The Idaho state representative from Coeur d'Alene decided to go for a walk this week after he and wife Julie checked into Lake Windermere Pointe, a vacation condo at Invermere, British Columbia. He had planned to move his car until he entered the hallway. That's when he noticed smoke.
He called for his wife, who confirmed he wasn't imagining things.
Then, he tells Huckleberries, "I had the opportunity to accomplish one of those lifelong boyhood dreams, pulling the fire alarm."
But "pulling" the fire alarm was somewhat anticlimactic. The action merely opened the cover to reveal a small button that he pushed to trigger the alarm. Paul followed through, setting off blaring alarms/sirens that automatically closed fire doors in the hotel's hallways.
After exiting the building, Paul and Julie overheard a construction worker talking on his cell phone. The hard hat was telling someone that the "fire" wasn't serious. Paul admitted to the worker that he'd pulled the alarm. And was grilled by the man: "Well, it wasn't that much smoke. Why did you pull it?"
Paul was left to wonder: "Personally, I'm not sure there is ever an appropriate amount of smoke in a hotel hallway, but that's just me." And most of the rest of us.
Fan mail
In Huckleberries Last, you learned about former Iowan Doug Eastwood's tongue-in-cheek proposal calling for Idaho to annex Iowa. Such a move, he said, would produce two cash crops: corn and potatoes. And end confusion among those who don't know one state from the other. Doug's lighthearted suggestion prompted an email from Paul Roberts. Born and raised in Blanchard, Idaho, Paul remembers hitting the road for Southern California at age 20 in 1979. He lived in Long Beach for five years. When Paul told people he was from Idaho, he usually received this response: "Idaho, hmm, is that near Iowa?" Pass the corn and potatoes.
Poet's Corner
Come January, we'll remember/ how bright the sun shone in September – Tom Wobker, The Bard of Sherman Avenue ("Autumn Thought")
Huckleberries
Some might think wild turkeys are swell. But not former North Idaho administrative judge Don Swanstrom. Upon spotting an adult turkey and her chicks on West Side Road in Boundary County, Idaho, Swanstrom groused this week: "When I was a kid, way back in the dark ages, there were no wild turkeys in North Idaho. Now, the darn things are everywhere" … How does Kari Gilge, of Coeur d'Alene, know that tourist season is over in Coeur d'Alene? There are open parking spaces on Sherman Avenue … The speed limit through semi-rural Dalton Gardens irritates most lead-footed Kootenai County residents. But not the guy in the blue GMC Sierra with the camper shell who was flaunting an itty bitty bumper sticker at Highway 95 and Hanley: "I drive 25 in Dalton Gardens." Yeah, rub it in.
Parting shot
Spying a highway patrolman at an Issaquah gas station, Darcy Johnson, of Coeur d'Alene, asked him with feigned innocence where she might get stopped on Interstate 90, if she "accidentally" was speeding. What's 10 to 15 mph over the limit between friends? The WSP smiled and said the magic words: Moses Lake. Darcy admits she has a heavy foot. But she now knows to travel in a pack of other speeders through Moses Lake to and from Whidbey Island. You've been warned.
D.F. "Dave" Oliveria can be contacted at dfo.northidaho@gmail.com.
---
---