Sports
A Grip on Sports: It may be wet and wild outside, but it's a fine day to enjoy college football no matter how the overnight hours went
Sat., Sept. 28, 2019 A GRIP ON SPORTS • How is it where you are? It is pouring in Spokane. It's Noah-like rain at the moment. And the wind? Sort of like the type you see from Florida when Jim Cantore is leaning around. Just the stuff to play a late September football game in. Yeah, right.
•••••••
• The weather was the least of my worries overnight. Oh, it was raining all right, but there was a problem inside the house that kept me up all hours. For once, it wasn't the cat's fault.
Or my own health.
It's better now, but thanks to being awake for most of the hours your mother used to warn you to avoid, we got a really late start today. So this part of our column will be truncated. We do, however, have all the usual links below. We gathered them in the wee hours, in-between nursing a sick friend.
At some point down the road, we will share that friend's story, just not this morning. Get ready for football. It should be fun today.
•••
WSU: Neither the Cougars or Utah can afford to lose tonight. That's the thrust of Theo Lawson's preview. One, however, will. … Theo believes it will be Washington State. …For either team to win, this is how he feels they must play. … Telling everyone about your conversation with Mike Leach while he walks home is now the most over-worked story these days. … For the Utes, this is the crucial part of their schedule. In late September. … Elsewhere in the Pac-12, there was a game last night. California lost its quarterback in the first half and then lost its first game, 24-17, to visiting Arizona State. There are no undefeated conference teams. … Stanford won't have its quarterback today when it travels to Oregon State. It's the Beavers' conference opener. … Washington has a chance to put a nail in USC's national-title hopes, though a Husky loss has more importance on the conference race. Washington has been winning the recruiting battles more often as well. … After its comeback in Pullman, the Bruins travel to Tucson. UCLA will face a well-rested Arizona team. … Colorado and Oregon have a bye this weekend. The Ducks picked up a receiver that has now been at USC and, for about a minute, Oregon State. … In basketball news, Arizona scrimmaged last night in front of its fans and recruits. … Oregon also began practice.
Gonzaga: Larry Weir spoke with Tom Hudson about the Zags yesterday. It's the focus of the latest Press Box pod.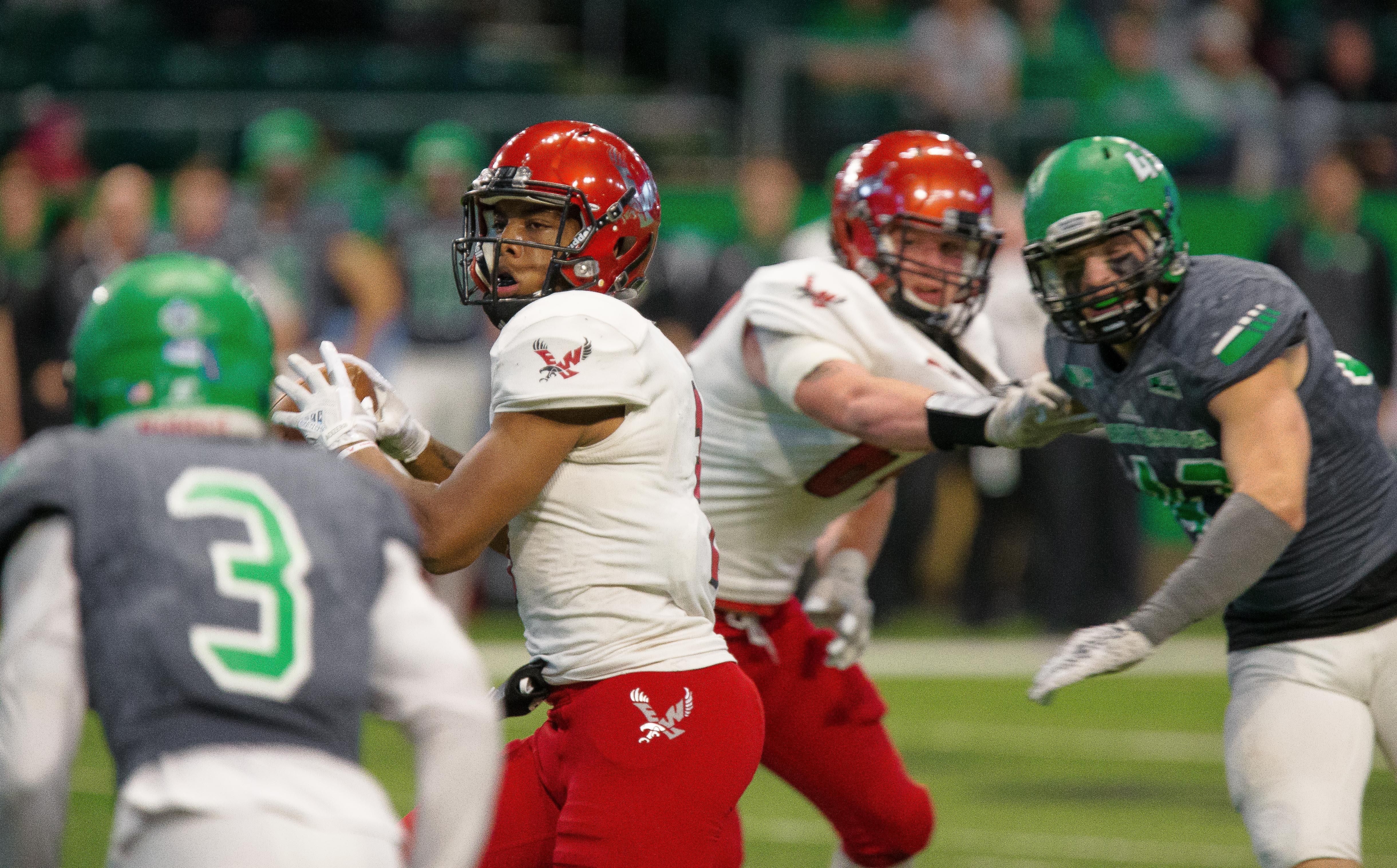 EWU: The Eagles have started slowly this season. But today, in the rain in Cheney, they have a chance to start anew against North Dakota. Ryan Collingwood has a preview and his picks of the conference games. … Around the Big Sky, seventh-ranked Montana State hosts Northern Arizona in a key matchup. … Another one of those key matchup games will be played out in California, where fourth-ranked UC Davis hosts 18th-ranked Montana. … No. 5 Weber State hosts ninth-ranked Northern Iowa in a non-conference battle. … Portland State will travel to Idaho State in what could be a tight game. … Cal Poly and Southern Utah face off, though coverage is hard to come by.
Idaho: The Vandals open Big Sky play today at woeful Northern Colorado. Peter Harriman has a preview.
Preps: The Battle of the Bell went to Mead last night. Dave Nichols was there. He has this game story. Colin Mulvany was also at Albi and has a photo gallery. … We also can pass along a roundup of the rest of the local football action.
Chiefs: Spokane returns to Spokane tonight for its home opener. Dan Thompson has a preview, looking at how well the top line has played. … Around the WHL, Portland won at Vancouver. … Everett welcomed back a native son.
Seahawks: Can Ziggy Ansah stay healthy? How about Rashaad Penny? … The Hawks have been tweaking their roster all along. … The Cardinals will offer some watchable moments, no matter the outcome.
Mariners: Though the M's won in walk-off-fashion last night, it was the A's celebrating in their clubhouse. … The writers handed out awards last night.
Sounders: Ramon Torres is back from suspension. He should be well-rested.
•••       
• Sorry for the lack of insight today. We'll try to make up for it at around 11:30 tonight with our TV Take from Washington State's visit to Utah. If you are a Dish or Sling subscriber, good luck. The streaming services are in a battle with Fox and FS1, the channel carrying the Cougar game tonight, is a casualty. Maybe it will get worked out. Until later …
Local journalism is essential.
Give directly to The Spokesman-Review's Northwest Passages community forums series -- which helps to offset the costs of several reporter and editor positions at the newspaper -- by using the easy options below. Gifts processed in this system are not tax deductible, but are predominately used to help meet the local financial requirements needed to receive national matching-grant funds.
Subscribe to the sports newsletter
Get the day's top sports headlines and breaking news delivered to your inbox by subscribing here.
---