News > Spokane
100 years ago in Spokane: France sends medals for local veteran, but he's a hard man to find
Mon., Sept. 30, 2019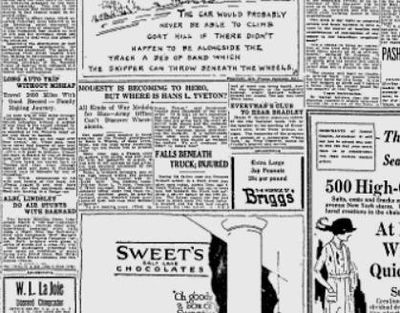 The Croix de Guerre ("with palms") and the Médaille Militaire medals were sent from France to Spokane's Army recruiting office for delivery to Private Hans L. Tveton.
The problem was, nobody could find Tveton. The office already had forwarded one medal to the address they had on file, in Sand Creek, Montana, but the package had been returned unclaimed by postal authorities.
The Croix de Guerre, with palms, and the Médaille Miliitaire were among the highest honors France could bestow. They were accompanied by a citation crediting Tveton with crawling forward, under machine-gun fire, to disable two German guns and take four German prisoners.
Spokane Army authorities were redoubling their efforts to find Tveton.
"It is only on rare occasions, and on feats of unusual bravery, that men are given (both medals) by the French," said a local recruiting officer. "They are especially cautious about distributing the Médaille. It is unfortunate that, after such acts of bravery, the man should go without the medals."
From the prohibition beat: The Twentieth Century Club, a Trent Avenue pool hall, had its license revoked because of liquor violations.
Police said they would "close the entire club" and called it a "typical stronghold of vice, which had withstood all efforts of investigation by the police."
Local journalism is essential.
Give directly to The Spokesman-Review's Northwest Passages community forums series -- which helps to offset the costs of several reporter and editor positions at the newspaper -- by using the easy options below. Gifts processed in this system are not tax deductible, but are predominately used to help meet the local financial requirements needed to receive national matching-grant funds.
Subscribe to the Coronavirus newsletter
Get the day's latest Coronavirus news delivered to your inbox by subscribing to our newsletter.
---