A&E
Home box office: The Spokesman-Review's features team shares its favorite films worth another viewing
April 2, 2020 Updated Fri., April 3, 2020 at 11:52 a.m.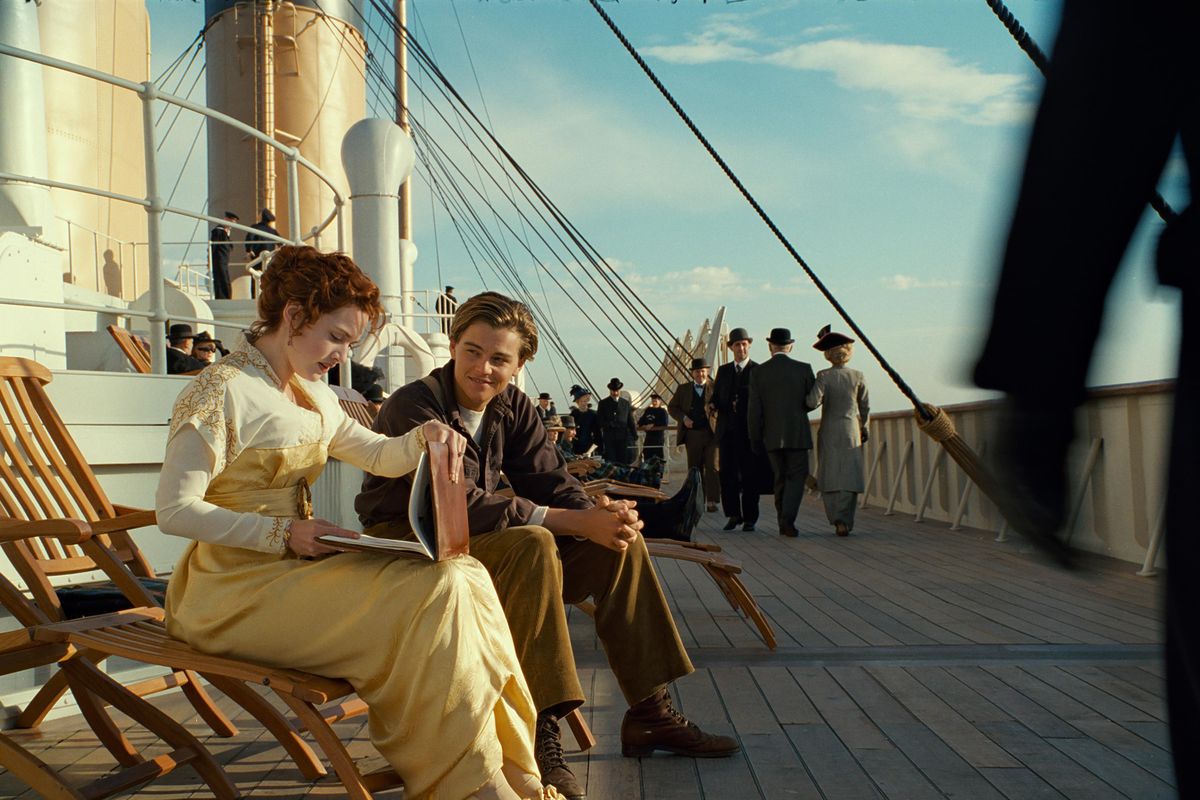 Kate Winslet and Leonardo DiCaprio star in "Titanic." (Associated Press)
There are beloved movies you'll stop to watch no matter what while flipping through the dozens of TV channels. It doesn't matter if the film has just started, the breakup has occurred, or it's about 10 minutes until the reconciliation, sealed with a kiss in the rain or snow, that wraps it all up.
In recent years, the list for yours truly has included "Pretty Woman," the first and last "Twilight" films, "The Hunger Games: Catching Fire," "The Snowman," "Fifty Shades of Grey," "Almost Famous," "The Intern," "American Beauty," "Nocturnal Animals," "Trick," "The Blind Side," "Grease 2" and "Hansel & Gretel: Witch Hunters." And, OK, the long list is still the same today.
The features desk here at The Spokesman-Review shares its all-time favorite movies to watch again in the comfort of your own home (popcorn and M&Ms optional):
Riordan Zentler
Editorial assistant
"Scott Pilgrim vs. the World": Based on the graphic novels, this film showed how to adapt a comic book style to the big screen in a way Marvel and DC has never even attempted thanks to the brilliant work of director Edgar Wright – better known for "Shaun of the Dead." It had all the markings of "cult classic" based on the trailers alone, and the 2010 film's goofy love triangle won over my lovelorn teenage heart.
Trailer: youtube.com/watch?v=7wd5KEaOtm4
"The Road to El Dorado": Remember when DreamWorks was the edgy version of Disney, and once in a while they made better, bolder movies? This 2000 film is one of those despite its commercial failure. With gorgeous hand-drawn visuals, an emotive voice cast, music by Hans Zimmer and Elton John and genuinely clever, PG-but-not humor, I can't recommend this one enough.
Trailer: youtube.com/watch?v=BlrvcaoPCEg
"3:10 to Yuma" (2007): With a stacked cast of actors including Russell Crowe, Christian Bale and Logan Lerman, this Western film crushes all the expectations of its genre. Sure, there are shootouts and grudges aplenty, but it's all a backdrop for gut-wrenching redemption plots and three fully fledged character arcs. By the end, a Western movie – a genre notorious for its black-and-white morals – will have you feeling a certain level of sympathy and respect for the villain.
Trailer: youtube.com/watch?v=wPmHo1rVoms
Ralph Walter
Sports editor*
"Caddyshack": How do I measure my favorite films? By height, of course. And by the amount of movie lines I can recite. With this golf classic, that would be all of them. So "Caddyshack" has that going for it, which is nice.
Trailer: youtube.com/watch?v=5b5RnNf9ShY
"This Is the End": OK, probably not the greatest time to watch this one, but, really, who wouldn't want to be at a party with Seth Rogen, James Franco and Danny McBride when the apocalypse arrives? Michael Cera's death is one of the greatest in cinematic history.
Trailer: youtube.com/watch?v=kliQSsD_npo
"Talladega Nights: The Ballad of Ricky Bobby": Believe it or not, it was between this and "The Shawshank Redemption" for third. I guess I probably should have gone with "Shawshank" because, in the words of Reese Bobby, "If you ain't first, you're last."
Trailer: youtube.com/watch?v=dVwdCn0ZD7Q
*Walter is currently assisting the features desk by designing the features cover pages.
Azaria Podplesky
Features reporter
"Moonlight": My sister saw "Moonlight" in Seattle and suggested we watch it together when she visited Spokane. After watching the film, written and directed by Barry Jenkins and based on Tarell Alvin McCraney's "In Moonlight Black Boys Look Blue," I remember sitting in the Magic Lantern as the credits rolled and only being able to say one word: "Wow." I then saw "Moonlight" at the Magic Lantern three more times in a two-week span because the story – about identity and sexuality through the eyes of a single person as he grows from child to teen to adult – wouldn't leave my head.
Trailer: youtube.com/watch?v=2gZ-Tmxa61g
"Best in Show": On paper, "Best in Show" sounds dull, a film about the people who enter their canine companions into dog shows. But considering it's a mockumentary written by Christopher Guest and Eugene Levy and directed by Guest, "Best in Show" is anything but dull. Though I love all the actor pairings, I'm a big fan of Catherine O'Hara and Eugene Levy, who play Cookie and Gerry Fleck. The pair are currently starring together in one of my favorite shows, "Schitt's Creek."
Trailer: youtube.com/watch?v=94y9n9lNy2Y
"Clue": I've seen "Clue" so many times, none of the plotlines or big reveals surprise me anymore, and, yet, I'm always up for another viewing. "Clue," based on the board game of the same name, was directed by Jonathan Lynn, who wrote the script with John Landis. An all-star cast, which includes Tim Curry, Madeline Kahn, Eileen Brennan, Christopher Lloyd, Lesley Ann Warren, Michael McKean and Martin Mull, fully committing to their parts makes "Clue" a classic in my book.
Trailer: youtube.com/watch?v=KEXdWfsKZ1k
Kimberly Lusk
Deputy features editor
"Star Wars": I was born in the 1970s, so the original "Star Wars" is like comfort food to me. The space opera has so much to love: inept rescuers, a princess who takes charge, crazy-looking characters, droids and the soundtrack. And, while I wish the DVD didn't have that unfortunate Jabba the Hut addition, it's one movie I'll keep watching forever. (For the record, if my family were making these choices, "The Princess Bride" would be in this top spot. It would've made my top three, too, but Treva Lind turned in her picks first.)
Trailer: youtube.com/watch?v=1g3_CFmnU7k
"Benny and Joon": I loved this movie before I loved Spokane. And once I moved to Spokane, it was that much more fun to watch. Right now, while we're all staying home to stay healthy, who doesn't want to imagine stopping by Ferguson's or Mary Lou's Milk Bottle? If seeing Spokane on your screen is your goal, another movie to consider is "Camilla Dickinson," based on a novel by my favorite author, Madeleine L'Engle. It uses dowtown Spokane (including the Chronicle Building lobby) as a substitute for 1950s New York City, and Manito Park plays the part of Central Park. Plus, "Princess Bride" alum Cary Elwes is in it.
Trailer: youtube.com/watch?v=KKQl4ewCTQs
"Say Anything": There are so many movies from the '80s to love: "Ferris Bueller's Day Off," "Pretty in Pink," "The Breakfast Club" and "When Harry Met Sally …" But Lloyd Dobler, as played by John Cusack, sticks with you. He's the nice guy who brushes broken glass on the sidewalk out of the way. He's the guy who doesn't "want to sell anything, buy anything or process anything as a career." And that boombox scene, what woman my age doesn't love that one? Plus, it was filmed in Seattle (I grew up in Bremerton), so I love the scenery. Just this week I rewatched "Sleepless in Seattle," it's another fun one for Seattle scenery. And "10 Things I Hate About You" uses the best of Tacoma and Seattle for locations.
Trailer: youtube.com/watch?v=mFV7FnbhBRY
Treva Lind
Health reporter
"The Great Escape": It's a favorite since I was a kid, and Steve McQueen might have something to do with it. I love the spirit of the POWs who were then as we are now "in this together" with combined strength, sacrifice and determination to escape or as a sense of duty in trying to divert the enemy's resources from war-related pursuits as much as possible. Some freaky parallels to today.
Trailer: youtube.com/watch?v=r9Q_WESQUVw
"Two Weeks Notice": Guessing I've watched this close to 10 times and never tire of it. Maybe it's the great banter between complete opposite characters, and Sandra Bullock nails the physical comedy and lines – she even finds a split infinitive in Hugh Grant's otherwise perfect speech. The whole movie is a guilty pleasure.
Trailer: youtube.com/watch?v=1YG-vYfz8yM
"The Princess Bride": Well, this one's an obvious crowd-pleaser for its clever dialogue, witty characters and timeless humor. Plus, it's a "true love" story with a princess, a pirate, evil prince, a giant, Miracle Max, a witch or wife, a clever Sicilian and that amiable Spaniard set out for revenge. It starts with grandpa's gift of a book. As you wish, it's an enchanting tale while stuck at home.
Trailer: youtube.com/watch?v=WNNUcHRiPS8
Stephanie Hammett
Arts and literature reporter
"The Trip": A meandering, reality adjacent story about two actor-comedian friends traveling and writing about food while they wade through their respective identity crises. This film is mainly Rob Brydon and Steve Coogan, playing themselves, doing impressions at each other over a series of Michelin-star lunches and dinners. I often have to pause and rewind for laughing so hard.
Trailer: youtube.com/watch?v=K9bPJmy68Rs
"The Lord of the Rings" trilogy: I wasn't old enough to see any of these movies in theaters, but over the course of one summer during high school, I watched the extended editions more than 10 times. I read the books cover to cover, and I can still quote most of the movie scenes, including the ones in Elvish. Take from that what you will, but, in my opinion, they are fully worthy of that sort of uncommon – and slightly weird – devotion.
Trailer: youtube.com/watch?v=V75dMMIW2B4
"Waking Ned Devine": The residents of Tulaigh More, an Irish town of 52, find out the latest winner of the national lottery is among them. The winner, Ned Devine, is found dead of an excitement-induced heart attack with the ticket still in his hand. Ned has died without claiming the winnings, so if the lottery officials discover his death, the nearly 7 million pound jackpot will simply disappear. To prevent this, the villagers concoct an elaborate ruse in hopes of sharing the winnings among themselves. This is one of the first movies I remember watching, and every time I watch it, it gets funnier and more heartwarming.
Trailer: youtube.com/watch?v=8e-W2IfpWkI
Johnathan Curley
Features reporter
"Almost Famous": The Academy Award-winning coming-of-age story centers on teen rock writer William Miller (Patrick Fugit), who wades through young manhood while touring with one of America's hottest rock bands on an assignment for Rolling Stone. A semiautobiographical account of director Cameron Crowe's experiences, the film strikes a fine line between the vulnerable, heartfelt departure from innocence to experience. Fugit wears his transformations on his sleeve, Kate Hudson is … Kate Hudson, and the late Philip Seymour Hoffman is incendiary as premier rock critic/sherpa Lester Bangs. Expect a knockout soundtrack throughout the film.
Trailer: youtube.com/watch?v=M_w8khsChx4
"Moneyball": "Moneyball" summons its power from our intrinsic belief in the underdog and the innate romanticism of baseball. Well, that and Brad Pitt playing Oakland Athletics general manager Billy Beane, and Jonah Hill. Pitt depicts a GM bent on building a contender from a team freshly stripped of star players, igniting a record 20-game win streak and a division title. The statistical revolution that "Moneyball" documents ended up pioneering how entire MLB teams are assembled today.
Trailer: youtube.com/watch?v=RAG74hfW4pM
"Reservoir Dogs": Quentin Tarantino's directorial debut established his own precedents for himself through prodigal deployments of shock, violence and tension, elements that still make his catalog equal parts revered as reviled. The dexterous (and dirty) dialogue, dizzying violence and the now-infamous use of Stealers Wheel's "Stuck in the Middle With You" cement this 1992 release an acclaimed classic for those who can stomach it. Harvey Keitel and Tim Roth become the theatrical powerhouses that push betrayal, delusion and deceit to their grittiest storytelling extents.
Trailer: youtube.com/watch?v=2KLZ4fSXtgI
Ed Condran
Features reporter
"Some Like It Hot": My personal feel-good movie and the greatest rom-com of all time. I'll never forget sneaking down to watch a midnight movie as a 10-year-old, and "Some Like It Hot was featured. I witnessed cinematic magic! I was captivated by Marilyn Monroe, Tony Curtis and Jack Lemmon's chemistry. What an introduction to the brilliant director Billy Wilder. The iconic closing line still brings a smile to my face.
Trailer: youtube.com/watch?v=rI_lUHOCcbc
"Blue Velvet": Dark, disturbing and dramatic, David Lynch's masterpiece remains compelling a generation after it was released. "Blue Velvet" is twisted, surreal and mysterious. Dennis Hopper is electrifying as the evil madman, and Kyle McLachlan excels as the morally flawed protagonist. Lynch made his mark crafting a film that is gorgeous and grotesque.
Trailer: youtube.com/watch?v=bWr4JvAWF20
"Jaws": The misconception is that Steven Spielberg's initial masterpiece is about a shark. Focus on the interplay of the oh-so-underrated Robert Shaw as the old salt, Roy Scheider's sea-fearing police chief and Richard Dreyfuss's cerebral marine biologist. It's an unlikely buddy picture that's endlessly entertaining and bolstered by one of the greatest soundtracks of all time. Who doesn't know the "Jaws" theme?
Trailer: youtube.com/watch?v=U1fu_sA7XhE
Don Chareunsy
Features editor
"Moulin Rouge": These aren't my three favorite movies of all time (they are up there, though), but they are the three movies I've seen the most in a movie theater. For "Moulin Rouge," it was nine times. Australian director Baz Luhrmann's modern musical mashup is brilliant, as are his two stars, Oscar-nominated Nicole Kidman and dashing leading man Ewan McGregor.
Trailer: youtube.com/watch?v=dtEgAx80NC4
"Titanic": Seven times. That's nearly an entire day of watching Leonardo DiCaprio, Oscar-nominated Kate Winslet and those stunning special effects. James Cameron's film holds the record, with "The Lord of the Rings: Return of the King," for the most Oscar statuettes at 11. I'll never let go, Jack – I'll never let go.
Trailer: youtube.com/watch?v=2e-eXJ6HgkQ
"Evita": Five times. A gay man liking classic Broadway and Hollywood musicals? Say it ain't so! Madonna received a Golden Globe, the film won an Oscar for best music, original song, for "You Must Love Me" performed by Madonna, and Antonio Banderas is a strong and strapping Che. Don't cry for me, The Spokesman-Review readers – we're in this together.
Trailer: youtube.com/watch?v=dvPJWpE5dvQ
Local journalism is essential.
Give directly to The Spokesman-Review's Northwest Passages community forums series -- which helps to offset the costs of several reporter and editor positions at the newspaper -- by using the easy options below. Gifts processed in this system are not tax deductible, but are predominately used to help meet the local financial requirements needed to receive national matching-grant funds.
Subscribe to the Spokane7 email newsletter
Get the day's top entertainment headlines delivered to your inbox every morning.
---