News > Spokane
'We just have a good time': Isolation order doesn't stop Spokane woman from visiting her grandmother
Sat., April 4, 2020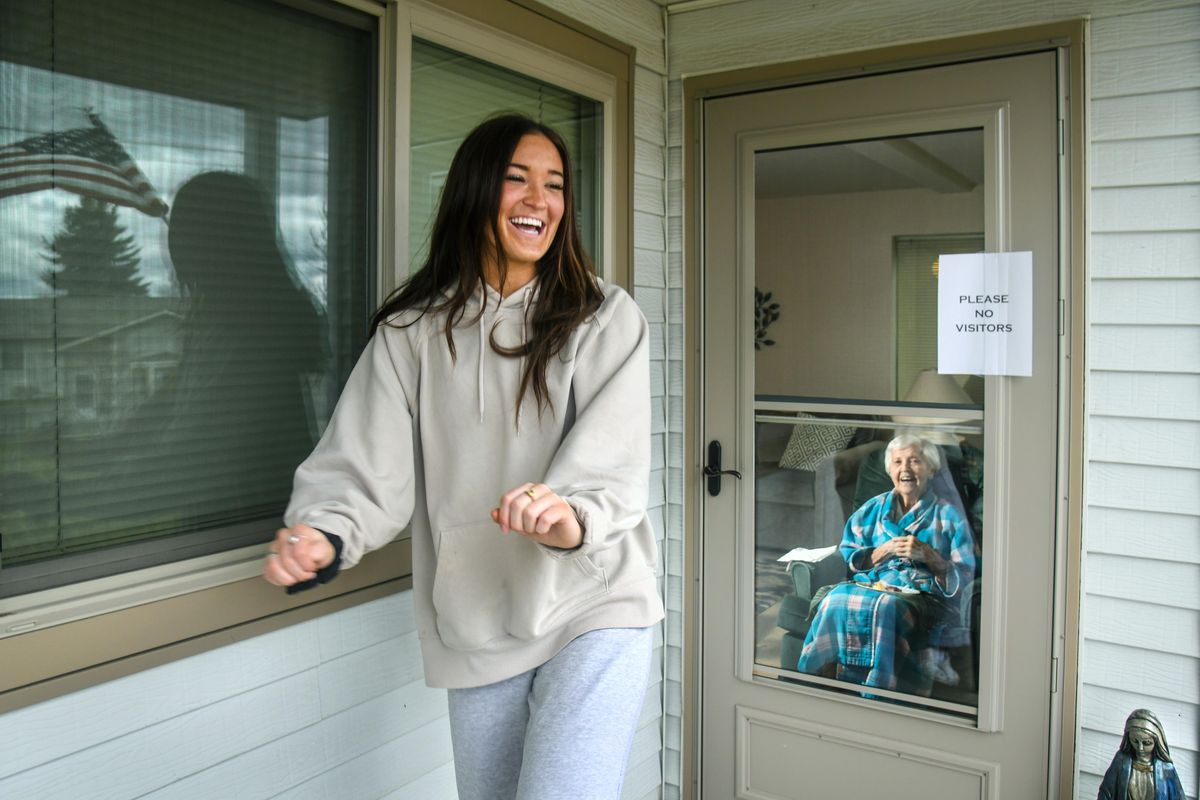 University of Washington student Michaela Laabs, 20, spent a late breakfast visiting and showing off her TikTok dance moves to her grandmother, Connie Laabs, 88, through the doorway at Holman Gardens Retirement Community, Friday, April 3, 2020, in Spokane Valley. The pair, separated because of COVID-19 concerns, try and get together twice a week to tell jokes, talk about dancing and Connie's younger days. (Dan Pelle / The Spokesman-Review)
Michaela Laabs found herself with time on her hands after her classes at the University of Washington moved online and she lost her job as the COVID-19 virus began to spread and social-distancing measures were implemented to try to stop it.
When she came home to Spokane, she found herself regularly visiting her grandmother, Connie Laabs, at the Holman Gardens retirement center.
But those visits, like so much since the coronavirus pandemic started, had to be done at a distance. Their breakfasts together were done on opposite sides of her grandmother's screen door.
A resident of the 96-unit retirement community on East 12th Avenue in Spokane Valley tested positive for COVID-19 two weeks ago. Residents are in isolation and have their food brought to their rooms, Michaela said.
"They're pretty much not allowed to leave their room," she said. "Luckily, she's on the first floor."
Before coronavirus, Michaela would call her grandmother every week or two and would make it a point to visit every time she was in Spokane. She worked in the center's kitchen when she was in high school.
"I know how good the food is," she said.
Connie, who is 88, will usually order an omelet for her granddaughter from the center's kitchen. As for Connie, her standing breakfast order is one egg, over hard, plus a piece of sausage and half a piece of toast.
"She gets the same thing every time," Michaela said.
Michaela said she values the meals she shares with her grandmother.
"Sometimes I go and we won't even eat," she said. "I just sit outside and talk. Sometimes my brother comes with me."
Isolation can be tough for seniors who suddenly can't visit with family or socialize with friends and fellow center residents. Michaela said her grandmother appears to enjoy her visits.
"I think she definitely likes the interaction," she said. "She is so sharp-minded and witty. She's so funny."
The feeling is mutual. Connie said her granddaughter is funny and fun to visit.
"She's wonderful to visit with," she said. "We just have a good time. She always asks me questions about growing up."
Connie lived in Great Falls for her entire life before moving to Spokane three years ago, so there are plenty of stories to tell.
"I like it here in Spokane," she said. "It's a big city but with a small-town atmosphere."
Connie said she's not too upset that she can't go outside now.
"I've done lots of things, been lots of places," she said. "I don't mind being here, stuck in the house. I read and do crossword puzzles."
But she definitely appreciates her granddaughter's visits.
"It's just so nice to have her here," she said. "She's so young and vibrant."
Michaela said she's happy to spend more time with her grandmother, no matter what the circumstances are.
"You never know how much time you have," she said. "I like getting this extra time with her."
Local journalism is essential.
Give directly to The Spokesman-Review's Northwest Passages community forums series -- which helps to offset the costs of several reporter and editor positions at the newspaper -- by using the easy options below. Gifts processed in this system are not tax deductible, but are predominately used to help meet the local financial requirements needed to receive national matching-grant funds.
Subscribe now to get breaking news alerts in your email inbox
Get breaking news delivered to your inbox as it happens.
---