News > Spokane
Then and Now: Union Pacific rail yard
Mon., April 6, 2020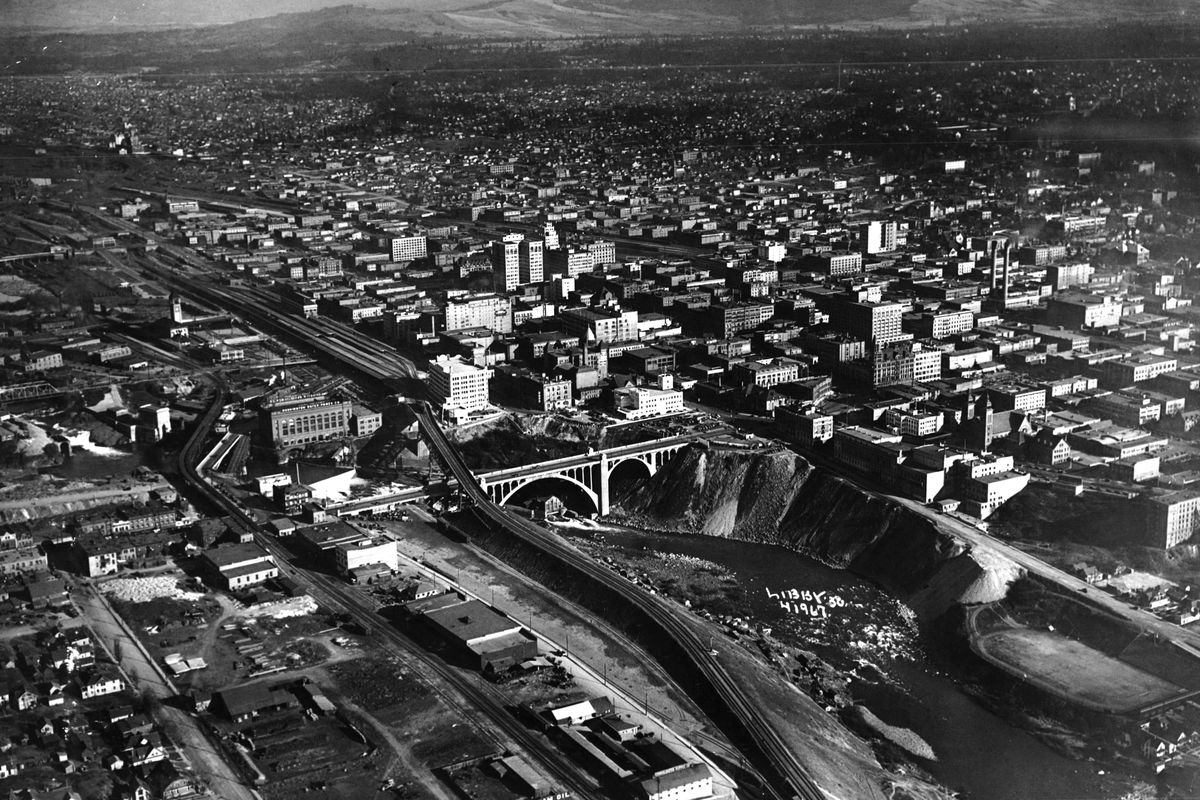 The double tracks of the Union Pacific Railroad, also used by the Milwaukee Road, run over the Monroe Street Bridge and along the north bank of the Spokane River in 1930, passing by warehouses and UP shops that stretch for three quarters of mile west of Monroe Street. In need of more room, the railroad built a new yard east of Havana Street and tore down their buildings downtown. (THE SPOKESMAN-REVIEW PHOTO ARCHIVE / Charles Libby photo)
Kendall Yards, the development of residential and commercial buildings on the north bank of the Spokane River, sits on almost 80 acres of land that once belonged to the Union Pacific railroad.
Stretching for more than three quarters of a mile along the rim of the river gorge were once tracks, warehouses, a powerhouse, a roundhouse, machine shops, a yard office and many smaller structures, including storage tanks for the fuel oil that powered the later steam locomotives.
In the post-World War II era, passenger train traffic was slowly declining, but the freight business was booming. The downtown UP yard was too small.
There just wasn't enough room to park long trains to move freight cars and engines around on their way through Spokane. In 1954, UP placed a $35 million order with General Motors' Electro-Motive Division for 205 new diesel-electric locomotives and began construction on a new $2.75 million rail yard bounded by Havana Street, Sprague Avenue & Fancher Road and the county fairgrounds.
Another factor, albeit a small one, was pressure from the Spokane River Improvement Committee, appointed by the city and county, to beautify the industrial area. The committee and its counterparts at the Chamber of Commerce had recently evicted the residents of Shacktown, the squatter encampment by the water's edge, and paid for trees and flowers to be planted.
In 1955, the rail company opened the new 750-car facility east of the city limits and began demolition of the downtown site, though the busy tracks remained.
The Great Northern and UP downtown lines were abandoned in 1973. In 1990, Metropolitan Mortgage, a Spokane company, purchased the site for development, but the company went bankrupt in 2004. Developer Marshall Chesrown bought the site in 2005 and began environmental cleanup, hauling away 223,000 tons of contaminated soil while lawsuits over the industrial pollution continued.
Following the housing recession of 2008, Greenstone Corp. took over the site, which was mired in bankruptcy debt, in 2009. Greenstone has built hundreds of apartments, houses and condominiums with the goal of more than 1,000 residential units, along with retail spaces and office buildings.
Local journalism is essential.
Give directly to The Spokesman-Review's Northwest Passages community forums series -- which helps to offset the costs of several reporter and editor positions at the newspaper -- by using the easy options below. Gifts processed in this system are not tax deductible, but are predominately used to help meet the local financial requirements needed to receive national matching-grant funds.
Subscribe now to get breaking news alerts in your email inbox
Get breaking news delivered to your inbox as it happens.
---