A&E
From Monopoly to Battleship, the 10 best board games to play at home
Thu., April 9, 2020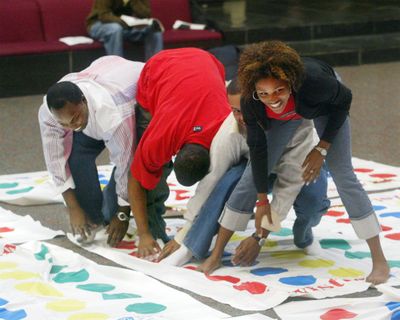 If you're bored, perhaps it's time to play board games. Turn the clock back to 1989, and indulge in a marathon of fun in which dice, cards and spinners ruled alongside hair metal, drum machines and acid-washed jeans.
Monopoly
The Parker Brothers classic is the Beatles of board games. Atlantic City reigns supreme. In so many ways, Monopoly is the perfect contest. It's inspired by the greatest and longest boardwalk in the world, a 5 1/2-mile stretch off the Atlantic Ocean. The game, which debuted in 1903, the year of the inaugural World Series, is simple. It features set pieces (everyone want to be the car), two stacks of cards and cash (you're spending cash like its Monopoly money).
It's a fun family game, but what can be learned and used as risk management, finance and negotiation? Only one person can own the expensive boardwalk, but you can sleep under the wooden paradise if you do not choose wisely. Monopoly made the jump to television in 1990. The game didn't translate to the tube, but it still works on the dining room table.
Risk
"It's a game of world domination being played by two guys who can barely run their own lives." Jerry Seinfeld's amusing line about Risk directed toward Kramer and Newman on "Seinfeld" is a reminder that anyone can play the well-devised game. World conquest is the goal, and it's as much fun as it sounds as long as the roll of the dice goes your way. It's all about acquiring and defending territories around the globe.
Risk, hence the name and strategy, is what the contest comes down to during the marathon session. It's a game for all ages. I remember playing Risk for the first time when I was a prepubescent, but the intensity level can get extraordinarily high. The lengthy game is perfect for the coronavirus hiatus. When normalcy returns, there is a way to play an abridged version.
Twister
On the surface, it seems as if Twister should be the last game to play during the coronavirus. But if you're a family sequestered at home together, why not? If everyone in your brood is healthy, reach back to a time when tactile play was the norm. Twister is the true throwback game. Johnny Carson was the first to play Twister on "The Tonight Show." Jimmy Fallon even revisited the game with Kristen Stewart with a twist: Jell-O shots.
Operation
My medical career ended at age 7 when I failed to extract butterflies from Cavity Sam's stomach with tweezers. It's uncertain how well the game develops your fine motor skills, but it's a blast, especially for children who can experience how fun old school games can be when they're dusted off.
Pandemic
When I played this board game a year ago, I never would have guessed life would imitate Matt Leacock's out-of-the-box sensation. Unlike most other games, Pandemic is cooperative. Scientists, researchers and medics work together to contain a pandemic sweeping across the world. If it sounds too close to home, and you would rather play something that takes your mind off an all-too-real catastrophe, venture elsewhere.
If you're like many folks, you're enamored of the relevant game. The most enjoyable part of Pandemic is the collaborative aspect. Playing Pandemic is different from watching "Contagion." You are actively trying to save the world, and there's a visceral thrill that's part of that accomplishment.
Trivial Pursuit
It's another game that can be collaborative. Teams often form to take part in the contest, which features six challenging categories such as sports, entertainment and geography. The player who fills his wheel first and answers a question inside the trivia zone wins the game. The game is fun, but it's also edifying. I've learned something each time I've competed.
There also are interesting variations of Trivial Pursuit. My favorite is the Beatles edition, which is filled with all sorts of factoids about John, Paul, George and Ringo. The next time you say your mind is filled with useless knowledge, reach for Trivial Pursuit, and put what you know to play.
Life
So reminiscent of the good old days of last month when we could travel to work, plan a wedding or have an outing with children. "You learn about life when you play the game of Life" was the hook of the commercial a generation ago. Jump into a car, which is your game piece, spin a wheel, and navigate through a lifespan. Do you go to college? Have you planned well for retirement? It's more about luck than making monumental decisions. It's a classic that holds up.
Clue
Who doesn't love a whodunit? The legendary game is about who, where and how the crime was committed? A mansion is the setting, and players move from room to room looking for, you guessed it, clues. It's all about deductive reasoning and fact-based research skills. Was it Col. Mustard in the library with the candlestick? There's only one way to find out.
Scrabble
It's a no-frills classic. It's basic but a blast. The word game features two to four players who score points by placing tiles, which bear a single letter, onto a game board. Words must be formed in a crossword fashion. The words must be in the Webster dictionary.
Battleship
Guess the grid coordinates that will successfully sink your opponent's five ships. The grid has many applications to geometry and math. Attention to detail is integral. Battleship will help kids with their deductive skills.
Local journalism is essential.
Give directly to The Spokesman-Review's Northwest Passages community forums series -- which helps to offset the costs of several reporter and editor positions at the newspaper -- by using the easy options below. Gifts processed in this system are not tax deductible, but are predominately used to help meet the local financial requirements needed to receive national matching-grant funds.
Subscribe to the Spokane7 email newsletter
Get the day's top entertainment headlines delivered to your inbox every morning.
---