News > Spokane
Pinecroft Mobile Home Park approved for new water system
Thu., April 9, 2020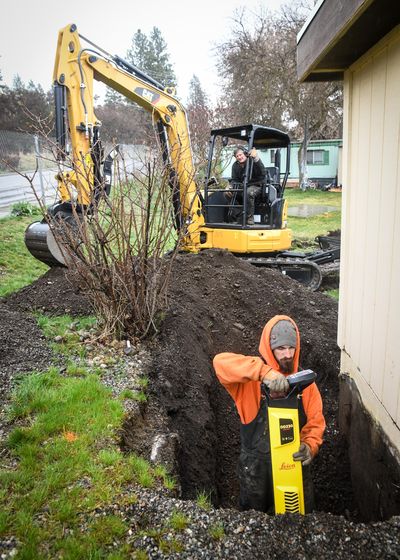 Residents of a Spokane Valley mobile home park who have been boiling water since last year may be only a month from clean drinking water, a change both park management and one resident say can't come soon enough as COVID-19 makes all aspects of life more difficult.
Pinecroft, which is on Mansfield Road in Spokane Valley, has been under a boil water order since July 3 after E.coli was detected in the park's well water.
Regional Park Manager Steve Crook said the park's new water system was recently approved by the state Department of Health. The new system will expose the well water to chlorine for longer by installing 220 feet of pipe. He said he hopes it will be complete in a month or less, and residents will be able to drink it after a few more inspections and tests.
"I feel for them, I really do," Crook said. "We've done everything we could."
Residents have been dependent on bottled water provided by the park's management since July. The water, which residents must pick up from the main office, is now kept in a locked room much of the time to keep those who are stockpiling from stealing the supply of drinking water out of the park.
Crook said Pinecroft hasn't had an issue buying its supply of bottled water from stores, receiving a few pallets a week from Home Depot, but has had issues with those outside the park driving in and stealing it in recent months.
Kathy Schlenker, a 68-year-old retired mental health counselor who lives in the park, said the past few months have been incredibly difficult for residents.Many are older, disabled or have medical conditions, who want to stay home, but need clean water.
"We had to deal with the water, and now you have to deal with the corona(virus)," she said. "For all of us that have to go through that, that's stressful in itself."
Schlenker said she gets help from her son, who is disabled and lives with her, and her grandson, who sometimes stays with her because school is out, but many park residents are completely reliant on their neighbors checking on them.
Crook said a group of park residents has volunteered to deliver water to those who can't get it for themselves, and anyone who needs additional help should contact the park managers at the main office.
Schlenker said she was disappointed when she found out someone had come in and taken their bottled water, because the residents need it more than anyone else right now. She said she's hopeful during a time of difficulty, people will look out for themselves, but also think about the well-being of their neighbors.
"The people in the park need that water, that's a necessity," she said. "I want people to be aware that during this time in our lives, we need to take care of each other."
The extra piping and chlorination, called a 4-log system, was one of several options the park had. It could have built a new well, or hooked up another water system.
Though recent tests have not shown the presence of E.coli in the water, residents still need to boil their water before drinking it until the new system is installed and tested. It is safe for both bathing and hand-washing, but not for brushing teeth.
Local journalism is essential.
Give directly to The Spokesman-Review's Northwest Passages community forums series -- which helps to offset the costs of several reporter and editor positions at the newspaper -- by using the easy options below. Gifts processed in this system are not tax deductible, but are predominately used to help meet the local financial requirements needed to receive national matching-grant funds.
Subscribe to the Coronavirus newsletter
Get the day's latest Coronavirus news delivered to your inbox by subscribing to our newsletter.
---