Sports
A Grip on Sports: Aren't we past the time when folks would actually argue about national championships? Guess not
Fri., April 10, 2020 A GRIP ON SPORTS • One of the reasons we strive to be here every day is to help you remember what day it is. So we'll do that today. It's the last day before the weather turns cooler again. Does that help?
•••••••
• Today is also a good day to argue about some subject or two. Here's one that got my blood boiling first thing this morning.
South Carolina women's basketball coach Dawn Staley thinks her team should be given the national title trophy.
"Why not?" she told media members Thursday. "A national championship trophy was made. It's sitting somewhere."
By all means, let's give it to someone. (Where the heck is that darn satire font when you need it?)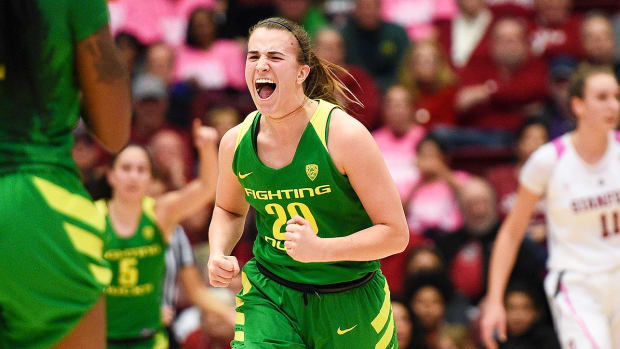 And here I thought we were past the days when folks gathered somewhere in a room and told the rest of us who is the best. You know, like happened for a hundred years in college football. Then again, we still have schools – we're looking at you Alabama – claiming national titles in football they don't deserve, so this is sort of in that tradition.
Not that South Carolina doesn't deserve a title. If the 32-1 Gamecocks had won it on the court, then they would have been deserving titlists. Due to COVID-19 that didn't happen.
No one had the opportunity to prove they were the best. At least the best the last three weeks of the season.
That's one reason we love the NCAA Tournament. There are numerous examples in which the best team all year – most obvious example: Georgetown's men in 1985) didn't win the title, in every sport and every gender. The trophy has always been handed to the school that earned it on the court, not voted on by a committee.
Look, I could make a persuasive argument 31-2 Oregon deserves the trophy as well. That the Ducks were the best team all year, no matter what the polls decried. After all, Oregon had the best player and played the toughest schedule.
Sabrina Ionescu was a unanimous choice for the former, and great players, especially point guards, have a history of leading teams to national title. And the Ducks played 13 times against teams ranked in both final polls (South Carolina played 12) – including eight games against teams in the top 10 (SC played five). The Pac-12 was the toughest conference in the nation (RealTimeRPI has it first, with the SEC fourth), with the 12 teams winning a nation-best 84 percent of its nonconference games.
Not enough? Let's dig a bit deeper.
Yes, South Carolina defeated Baylor and Maryland, both top five teams, but both wins came before December, as did the Gamecocks' lone defeat.
And the teams played one common opponent this season. That would be Washington State.
The Gamecocks defeated the Cougars by 15 in the Virgin Islands over Thanksgiving, a day after their upset loss (by 14 to a ranked Indiana team). The Ducks played WSU once as well, in Eugene, and won by 33. That was part of their 19-game winning streak to end the season. Included in that streak were seven wins against teams ranked in the top 10, including a 28-point win at UConn, snapping a ridiculously long Husky home winning streak. (South Carolina also defeated UConn by 28, but in Columbia.)
Add it all up and what does it mean? Nothing. Nada. Zilch.
Basketball has a tradition of awarding the national title trophy to the winner of the NCAA's year-end tournament. Polls don't matter. Statistics don't matter. Opinions don't matter. It is decided on the court. Unless a pandemic interferes. Then no one is the national champion. No one has proved it's the best team – on the court.
The sad truth of the matter is, due to a virus that is killing thousands of people around the world, no one had a chance to win on the court. No one had a chance to cut the nets. No one had a chance to hoist the trophy. No one.
Every year from here until the NCAA basketball tournaments fade away, people will look at 2020, see a blank and remember why. That's sad, but it's also appropriate.
Once final thing.
The Ducks' season-opening exhibition game this season? It was against the best team in the world, the U.S. National squad. Except on that Saturday night in November, the National team wasn't the best team in the world. The Ducks were. With Ionescu scoring 30 points, Satou Sabally adding another 25, Oregon pulled away in the fourth quarter and won 93-86.
On the court, in one game, the Ducks were the better team. Just like they would have been if the NCAA championship game had been played. One of those sentences is reality. One is opinion.
And trophies, at least in college basketball, are not handed out because of an opinion. Thank goodness.
• Oh, and it's Friday. Remember when that meant something? Me too. Actually today does mean something. It's Good Friday, which used to be my favorite Friday of the year.
Growing up Catholic, I enjoyed the pomp and circumstance of the religion. And nothing was more in that vein than the Stations of the Cross.
Maybe it was the incense, but even as my Sunday attendance lapsed as I grew older, the Good Friday tradition was one service I rarely missed. Even when I was working downtown, I would steal away from the Review Tower and walk over to the cathedral to find a spot in the back.
That's not happening. Not this year. Though, I'm guessing, if I look hard enough, I could find a virtual service online. It just wouldn't be the same and we're not talking about the lack of the incense aroma, either. At least completely.
How does that translate to sports? Not sure it does. Just got thinking about it is all.
•••
Gonzaga: OK, it's a long time until next season, and a lot could change, but the Zags are once again atop an early poll. And a No. 1 seed in an early bracket.
WSU: One of Kyle Smith's charges when he took over at Washington State was to improve the level of recruits the Cougars attracted. If Dishon Jackson is any indication, Smith is succeeding. Theo Lawson spoke with the 6-foot-11 post who has committed to WSU and has this story. … Smith will also join Theo is a Virtual Northwest Passages Forum today, starting at 11 a.m. You can watch here.  … Around the Pac-12, what is happening at Arizona? When will the Wildcats get back to what they once were? … What happened last season for Washington? Mike Hopkins isn't looking back. He's looking ahead. … UCLA enticed a Kentucky transfer to return home to Los Angeles. … An Oregon State basketball player left to be closer to home. … Arizona is hoping to attract some transfers as well. … A former Stanford basketball player has some big responsibilities. … In football, both Oregon State and Oregon will have inexperienced quarterbacks in charge next season. … The Ducks will have one tight end a bit longer. … Colorado still uses tight ends. How quaint. … Chip Kelly wants football to be played in the fall. But the UCLA coach doesn't think the games should go on with empty stands. He doesn't see the point. … Finally, every athletic director in the nation is trying to figure out what to do this fall, with or without football. I'm pretty sure they all hope football is played. Like Oregon State, they've all been hit with a big loss of revenue already.
EWU: Football coach Aaron Best announced last night he is taking a 10% pay cut this season to help the athletic department beset by financial issues. Ryan Collingwood has more in this late-breaking story. … Larry Weir spoke with former Eastern head basketball coach (and GU assistant) Ray Giacoletti yesterday as part of the latest Press Box pod. 
Preps: There will also not be State champions in track this year, at all levels. Ryan talked with a few athletes who lost the chance to compete for another championship and shares their thoughts. … Last year during the State track meet in Cheney, a young woman made news for remembering those who sometimes are forgotten. About a year later, Dave Trimmer checks in with Rosalie Fish, who honored missing and murdered indigenous women by running with a red handprint across her mouth. 
Seahawks: Want another argument? Then argue what was the Hawks' worst draft ever. … If the Hawks don't grab another productive receiver, how will this draft rate?
Mariners: The M's are holding a blood drive at T-Mobile. This is a good thing.
•••       
• Let's see. The official unofficial Vince Grippi National Champions for 2020 in NCAA Division I college basketball are … Sorry, no. I'm not going to give my cardboard trophy (adorned with a the tube from inside a paper towel roll) to anyone. Not even UC Irvine, who had a better chance to win it this season than anytime since the award was created oh so many years ago. Until later …
Local journalism is essential.
Give directly to The Spokesman-Review's Northwest Passages community forums series -- which helps to offset the costs of several reporter and editor positions at the newspaper -- by using the easy options below. Gifts processed in this system are not tax deductible, but are predominately used to help meet the local financial requirements needed to receive national matching-grant funds.
Subscribe to the sports newsletter
Get the day's top sports headlines and breaking news delivered to your inbox by subscribing here.
---