News > Idaho
Sandpoint company Kochava offers free smartphone data to nonprofits interested in mapping the spread of coronavirus
April 10, 2020 Updated Fri., April 10, 2020 at 7:35 p.m.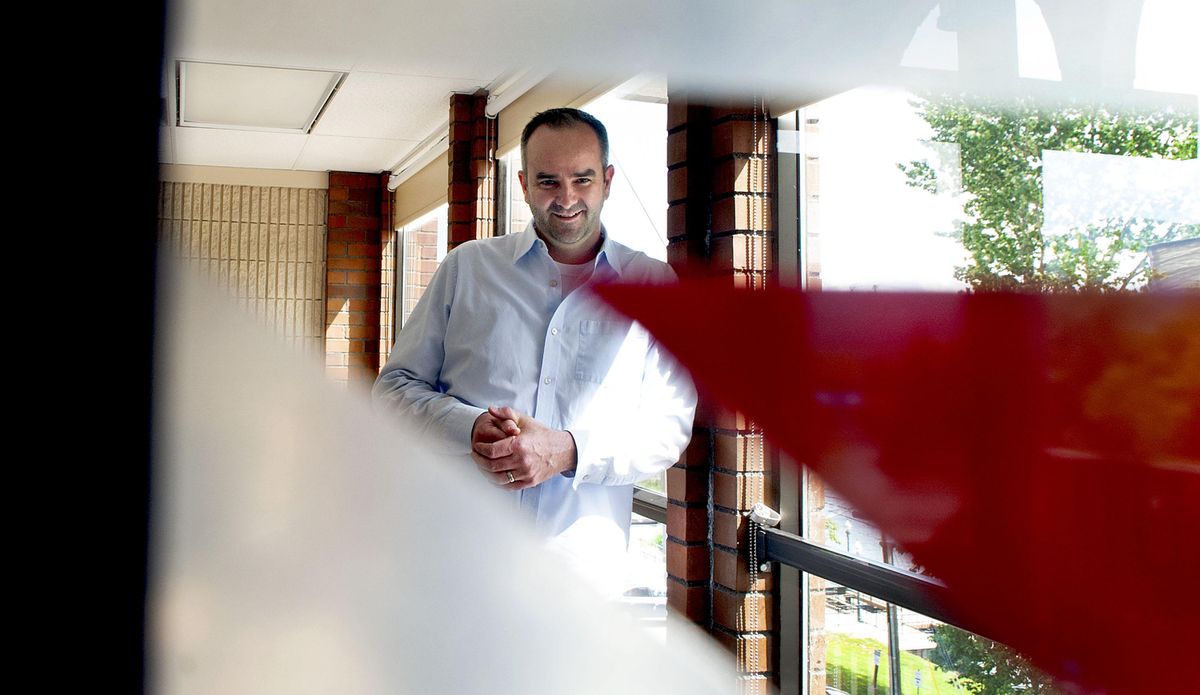 Charles Manning, pictured here in May 2014, is the CEO of Kochava, a tech company that helps advertisers and web companies track how people use apps. The company is releasing some of its data for free to nonprofits and other entities interested in modeling the spread of the novel coronavirus. (Kathy Plonka / The Spokesman-Review)
In the first few weeks of the new year, Sandpoint's Charles Manning began receiving frontline reports from overseas about the spread of a new, deadly virus prompting lockdowns in China.
"We were hearing from our colleagues in our corresponding offices internationally, well before it was a hot topic here," said Manning, founder and chief executive officer of advertising data firm Kochava Inc.
The stories prompted Manning to look at the data collected by his company, which works with firms interested in gathering information from mobile device users and helps them develop advertising strategies based on that behavior. Kochava has partnered with news outlet Reuters and several nonprofit organizations to document travel trends following government orders to stay home.
The service, something Kochava is calling "Data for the Greater Good," was rolled out at the same time many began expressing concern that the intrusion into a person's privacy needed to be balanced against the potential benefits of information that could benefit public health. Google and Apple announced Friday that they are developing mobile phone software that could be used to alert people if they'd come into contact with someone infected with the highly contagious virus.
That has prompted some concern that the United States could soon be headed for the type of digital surveillance that was effective in stopping the spread of the coronavirus overseas, but may be unpalatable to Americans accustomed to some degree of privacy protection.
Kochava's data is being released in an anonymized, aggregated way, Manning said, which means clients will not be able to track an individual phone's movements. That differentiates his company's offering from a demonstration that went viral earlier this month, a partnership between the companies Tectonix and X-Mode, that showed the migrating devices of spring breakers in Florida returning home and, the implication was made, potentially infecting others. As of Friday, the video had been viewed 6.5 million times.
"We're very friendly with them. They're very nice people," Manning said. "But one of the challenges I saw in that demo, although it was very slick and very appealing to watch, there was really no notion of anonymized, aggregated data there. You're looking at specific devices."
That's what has some civil rights and privacy groups calling for caution and safeguards in the sharing of data that could be used to help slow the virus' spread. Pam Dixon, executive director of the World Privacy Forum, told the Associated Press on Friday that she'd reviewed the ideas for the Apple-Google software with Apple executives and that she was satisfied personal privacy would be protected.
"I think they've taken care of some of the really big problems," Dixon told the AP, noting the companies say they can turn off the system when it's no longer needed. "The government is not going to have identity information of those testing positive."
The Center for American Progress, a politically left-leaning think tank, released a plan to address the coronavirus outbreak last week, including guidance for a technology-driven surveillance system through a phone app. Such an app should not be monetized, the group argued, and data should be automatically deleted after 45 days.
Asked Friday about the Apple-Google partnership, President Donald Trump expressed some openness to the idea, but also reservation.
Trump called it "very interesting," but expressed concern that "a lot of people worry about it in terms of a person's freedom. We're going to take a look at that."
Kochava's data allowed Reuters to track, by county, how much travel had either increased or decreased from a baseline week in February.
"We're not providing data that's unique down to households, specifically," Manning said. "But it's reduced down to the county level. It shows the mean difference of movement from one's household."
That's expressed on a continuum ranging from more travel to less travel, based on distance, Manning said. Data is only provided in counties where there are a minimum of 500 devices running apps that have contracts with Kochava for free data collection that includes location services, which can be turned on and off by the user and that are outlined in end-user license agreements, he said.
The data, as reported by Reuters, showed that people in Spokane and Kootenai counties, in the final week of March, had reduced travel by more than 50% over the same period in February.
Manning said he hadn't been analyzing the company's own data, instead ensuring that it would be put in the hands of nonprofits and others who wouldn't seek to profit off the information available. The company is signing three-month agreements that can be extended for the length of the pandemic, Manning ordered, but he didn't envision the data being available for free for long.
"It's not the plan to make this a long-standing thing," he said. "But if it's helpful in flattening the curve, we want to make that available."
Information from the Associated Press was used in this report.
Local journalism is essential.
Give directly to The Spokesman-Review's Northwest Passages community forums series -- which helps to offset the costs of several reporter and editor positions at the newspaper -- by using the easy options below. Gifts processed in this system are not tax deductible, but are predominately used to help meet the local financial requirements needed to receive national matching-grant funds.
Subscribe now to get breaking news alerts in your email inbox
Get breaking news delivered to your inbox as it happens.
---