A&E
Family, friend reminisce about Chuck Jones, Spokane's award-winning Looney Tunes illustrator
April 14, 2020 Updated Wed., April 15, 2020 at 10:04 a.m.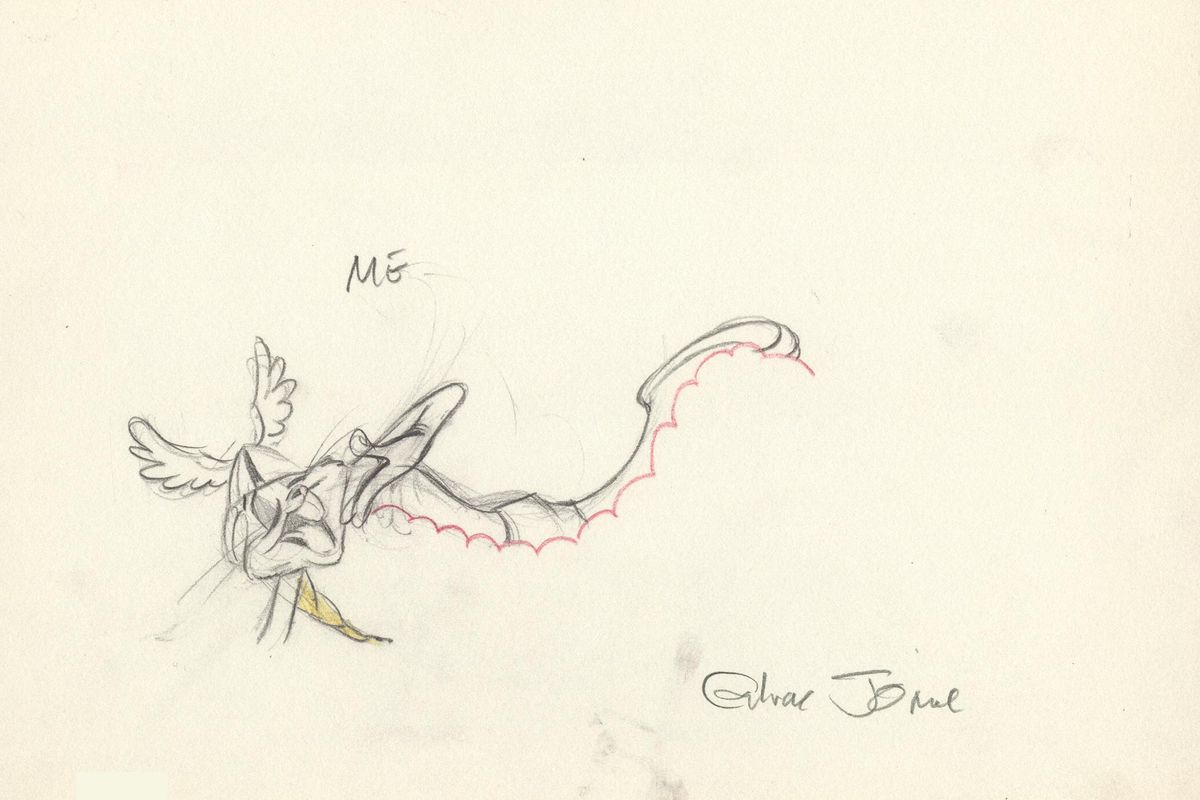 (Courtesy of the Chuck Jones Museum)
Bugs Bunny, Daffy Duck and Porky Pig are iconic characters most children have become acquainted with courtesy of television. It was a little different for Craig Kausen. His unique introduction to the beloved Looney Tunes characters was via 16 mm films screened in his home. The man behind the projector was his grandfather, Chuck Jones, who wrote, produced and directed many of the amusing shorts.
"We would watch the cartoons with him in our living room, and it was so much fun," Kausen said. "It was just the five of us (his mother, brother, sister, grandfather and him.) It was the greatest time. We would ask Chuck questions about the cartoons, and he would give us the details. He really enjoyed the family time with us showcasing what he did so well for a living."
Kausen's mother, Linda Clough, one ups her son. Before the release of his shorts, Jones would deliver the ultimate bedtime story by acting out his work before its release.
"He would come home and climb onto the dresser and fall on to the bed if the character fell off of a cliff," Clough reminisced while calling from her Orange County, California, home. "He would do all of the voices that we all know so well today."
This year is the 90th anniversary of Looney Tunes, and the series has been resurrected. HBO Max will feature a wide array of new and classic Looney Tunes shorts in May.
Kevin Reilly, the chief content officer for HBO, is excited about the launch. "As we build and expand our kids and family programming slate, we're reintroducing some of the most cherished and iconic characters and creating new animated friends to fall in love with," Reilly said during a news conference in October.
Jones, who was born in Spokane in 1912 and died at age 89 in 2002 in Newport Beach, California, enjoyed a 32-year run, which ended in 1962, at Warner Bros. The bookish illustrator was nominated for eight Academy Awards, winning three times. Jones was a driving force behind characters such as the Road Runner, Pepe Le Pew and the Three Bears.
Legendary animator Willie Ito, who worked on acclaimed cartoons such as "The Flintstones," "The Jetsons" and "Hong Kong Phooey," cut his teeth with Jones during the 1950s.
"Chuck was one of the masterful cartoon directors," Ito said while calling from his Los Angeles home. "Chuck's characters had personality. The characters' eyes would look toward the audience. There was a delayed reaction. The Road Runner and Bugs Bunny would interact with the audience. You watch those cartoons today, and they're still great."
Ito, 85, lovingly looks back at the sequences he worked on with Jones and animator Ken Harris. "One of my favorite things was working on the dancing sequences between Bugs and Elmer Fudd," Ito said. "They're still so funny and helped make Looney Tunes what they are."
Jones continued making a splash post Warner Bros by directing the TV adaptation of the classic "Dr. Seuss' How the Grinch Stole Christmas."
"He knew Dr. Seuss (Theodor Geisel) from the war (WWII, when they made amusing animated training films), and he just asked him about doing the Grinch project – and it happened," said Kausen, who also resides in Orange County.
Many of the vintage Looney Tunes clips remain laugh out loud funny. "Chuck had a great sensibility when it came to comedy, but he wasn't a guffaw funny guy, like Robin Williams. Chuck saw what was funny. He made quips quickly. He saw things differently than other people."
Kausen, 57, who is the president of the Chuck Jones Gallery, experienced how outside the box Jones was on numerous occasions. While visiting Sea World in San Diego with his family during the 1970s, Jones drifted off and sketched the whales, sea lions and seals. Jones was fascinated by how the sea lions swam.
"He focused on how they were confined in this fat," Kausen said. "He had a theory that if a human were constrained the same way, they would swim in the same manner. He brought my brother and I to a house in Newport Beach, and he tied us at the ankles, knees and elbows and put fins on us. He pushed us in the pool and fortunately we were competitive swimmers as kids and so we didn't die. But we proved his theory to be correct."
Jones, who idolized Mark Twain, was a voracious reader. "I tried to buy books for his birthday, and he always already had the books," Kausen said. "He would get the books before they came out. Chuck had a photographic memory. He would remember key passages from novels. He was unlike anyone I ever met. He was a humble guy who always had a satchel of pads. He was always about creating."
Kausen, who has yet to visit his father's hometown, remembers speaking with Jones about Spokane. "Chuck said he was ridden out of town on a rail," Kausen said. "He was just joking. His father moved around. It all started for Chuck in Spokane. He left when he was 2 years old. I'll have to travel to Spokane at some point."
Clough, 82, visited Spokane in 2008 in search of her father's birth certificate.
"I went to the courthouse, and I found out that the courthouse that had his birth certificate burned down 12 years after he was born (in 1924)," Clough said. "There is no real record of his birth. But at least I did get to see Spokane. I love the town and the waterfall."
Clough wouldn't mind revisiting with her son, but he's tied up for the foreseeable future.
"I'm here trying to spread the word about the Chuck Jones Center for Creativity," Kausen said.
Art classes at the Center for Creativity (chuckjonescenter.org), for which Kausen is chairman, are now free online. Artists can join the group and take part in downloadable DIY projects. The "Chuck Jones on Your Phones & in Your Homes" endeavor are live classes each day with the option to view later. Last week, the assignment was How to Draw Bugs Bunny (chuckjonescenter.org/s/step-by-step-bugs.pdf).
"It's a great deal of fun," Kausen said. "You also learn something, and it's for all ages. My grandfather would love that people are still drawing Bugs Bunny. This is all a tribute to Chuck, who was like no one else I ever met."
Clough concurs with her son. "My father was unique, attentive and just an ideal dad," Clough said. "I was so proud of him. We would go to the movies when we were kids and just watch the cartoons all day. I remember seeing his name, Charles M. Jones, on the screen, and I impulsively told a boy next to me, who I didn't know, 'That's my daddy.'
"He looked at me with disdain and said, 'Clark Gable is my father.' I didn't know if he was telling me the truth since we were in Los Angeles, or if he was making it up. (It was a fabrication since Gable's only son was born in 1961.)"
It was evident that Jones had a cool job, even to a 10-year-old. "I knew of only one daddy who had a better job than my dad," Clough said. "I knew a little girl who had a father who owned a bakery."
Clough is excited about the new shorts HBO Max will debut. "I'm thrilled that the films are shorts since that's what they lend themselves to," Clough said. "I've seen a couple of them, and they look good so far. If the creators are reasonably good, why not make more? Who doesn't love Looney Tunes characters? This is all so good because my father's legacy lives on."
Local journalism is essential.
Give directly to The Spokesman-Review's Northwest Passages community forums series -- which helps to offset the costs of several reporter and editor positions at the newspaper -- by using the easy options below. Gifts processed in this system are not tax deductible, but are predominately used to help meet the local financial requirements needed to receive national matching-grant funds.
Subscribe to the Spokane7 email newsletter
Get the day's top entertainment headlines delivered to your inbox every morning.
---