News > Crime/Public Safety
Police release details about man shot while charging officers with a machete in Ritzville
UPDATED: Wed., April 15, 2020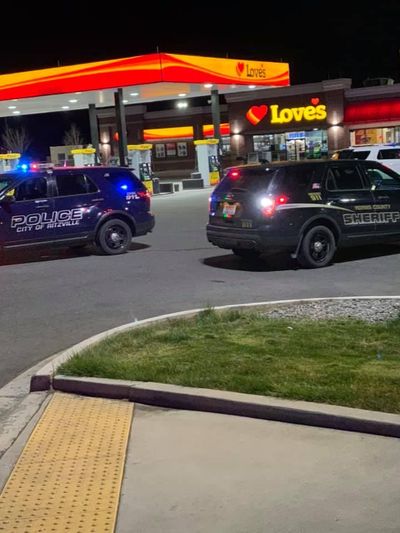 The family of a suicidal man called Ritzville police to a local Love's Travel Stop multiple times before the man threatened police with a machete and was shot by an officer, according to a statement from the Columbia Basin Investigative Team.
Shawn Lee, 48, was shot late Saturday night after swinging a machete at officers, the Columbia Basin Investigative Team said.
Lee was passing through Ritzville with a family member Friday when his vehicle broke down, the investigative team said. He had his car towed to the Love's Travel Stop.
Early the next morning, police received multiple calls about Lee, including two from Lee himself, saying he was being tracked and that his truck was bugged. Family members from other areas called police, saying Lee was suicidal and had a sword, according to investigators.
When police arrived, the family member with Lee at the truck stop said the situation was under control and police left.
Then, at about 11:30 p.m., the family member with Lee asked for help inside the Love's Travel Stop.
Ritzville police Officer Jeff Lane and Washington State Patrol Trooper Nate Romaneshi responded.
Shortly after police arrived, Lee came out of a parked car and started swinging a machete "aggressively," according to investigators.
Officers tried to get Lee to drop the machete, and the family member also tried to intervene.
Lee ignored the family member and began to advance toward the officers, according to investigators.
Lane deployed a stun gun on Lee, but it didn't work. Lee continued swinging the machete and moving toward officers, according to investigators.
Lane shot Lee when he got within about 10 feet of the officers, investigators say.
Multiple bullets struck Lee, and he dropped the machete. The incident was captured on the dash camera of a police car on scene. Investigators said they are not releasing the video at this time.
Officers treated Lee on scene, but he was pronounced dead after being transported to the hospital.
The Columbia Basin Investigative Team, a group of detectives from law enforcement agencies in Grant and Adams counties, will continue to investigate.
Local journalism is essential.
Give directly to The Spokesman-Review's Northwest Passages community forums series -- which helps to offset the costs of several reporter and editor positions at the newspaper -- by using the easy options below. Gifts processed in this system are not tax deductible, but are predominately used to help meet the local financial requirements needed to receive national matching-grant funds.
Subscribe to the Coronavirus newsletter
Get the day's latest Coronavirus news delivered to your inbox by subscribing to our newsletter.
---